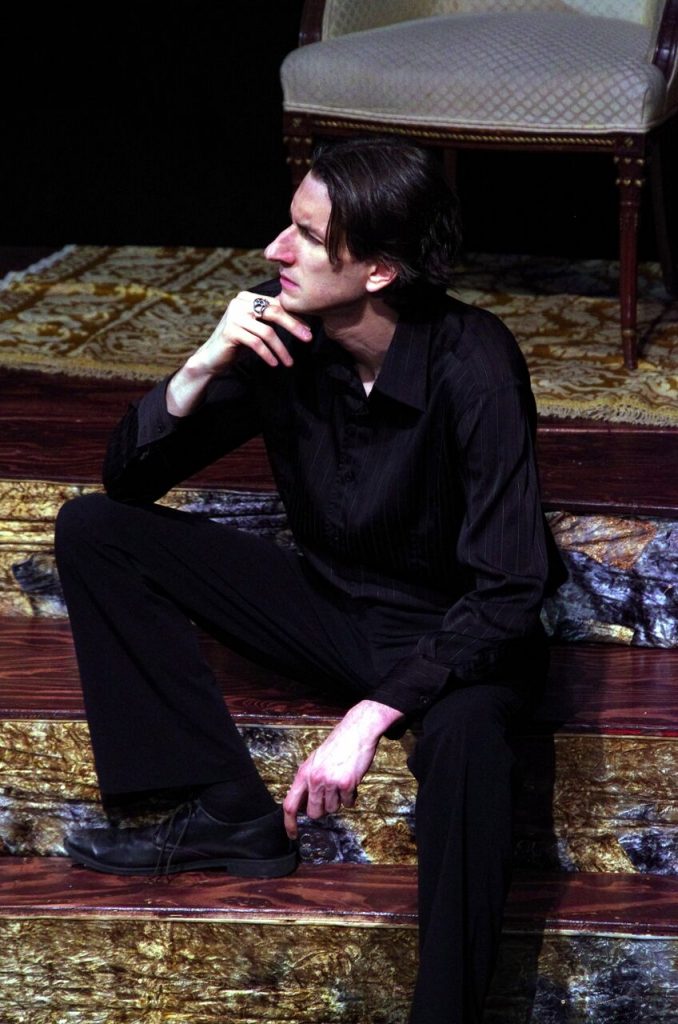 At the Vancity Culture Lab at The Cultch, June 8-10, 14-17 and 21-24, 2017
Tickets from $25 at 604-251-1363 or tickets.thecultch.com
Posted June 9, 2017
Heard at curtain from an enthusiastic pair of patrons: "Bravo" and "Well done". It's a good reminder for a critic that has seen at least a dozen productions both big and small, that there's a Hamlet for everyone. For this couple, it was the first time they'd seen the play and they loved it.
I've said it before and I'll say it again, there's something about Shakespeare performed in small spaces like the Vancity Culture Lab. The plays are easily accessible and the archaic language just doesn't seem to be an obstacle when the actors are up close and personal.
Don't get me wrong; I love Shakespeare at Bard on the Beach, Ashland and Stratford – all that pomp and ceremony, the blare of trumpets, the fantastic costumes, set and sound design. But there's something to be said for small and modest. One of the best Hamlets I've seen was mounted by The Honest Fishmongers, directed by Kevin Bennett in the tiny Havana Theatre back in 2012. Low-ish budget, high value.
This Sandbox Theatre Productions' Hamlet is modest: minimal set, some intro music, pretty straightforward lighting. All the focus is on the play, which is undoubtedly great, and the players, who bring to this performance varying degrees of skill.
Director J-C Roy has contemporized the play with present-day clothing. Ophelia (Meghan Hemingway), for example, wears a short, floral sundress and work boots. Gertrude (Yvonne Gustafson) is outfitted in a cherry-red cocktail-style dress and beads. Long-winded Polonius is, in this production, a woman (Tatiana Robinson) in a lavender suit. Rosencrantz (Lloyd Darling) wears fashionably ripped jeans. A cellphone appears a couple of times and the play begins with Ophelia teaching Hamlet (Kurtis Maguire) some dance steps. They cuddle. They kiss. It's a sweet puppy-love moment. All this brings the play into a modern mode.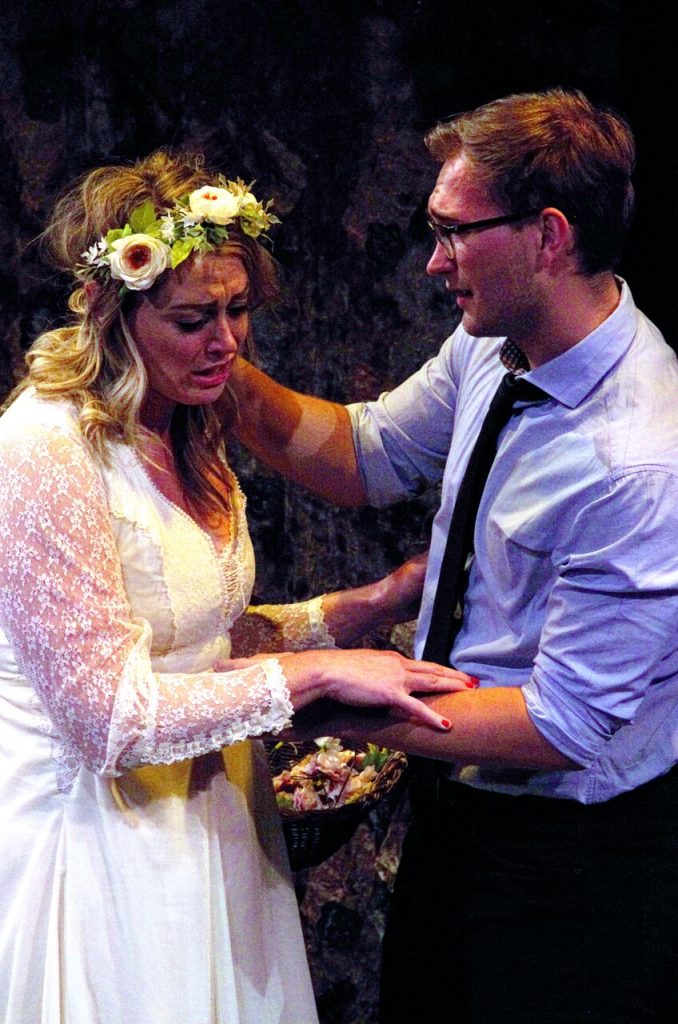 Director Roy has made some interesting choices in addition to switching genders. The first one is obviously to shift what is almost invariably the opening scene – the ghost of the murdered King stalking the castle ramparts – to much later in the play. And ten actors play all the roles. Who's left? Claudius (David Quast), Laertes (Devon Oakander), Horatio (Tara Webster, another gender switch), Guildenstern (Ryan Caron) and Marcellus/Gravedigger (J-C Roy) as well as Ophelia, Gertrude, Polonius, Rosencrantz and Hamlet.
Gone are the travelling players who perform Hamlet's play ("The play's the thing/Wherein I'll catch the conscience of the King"). Instead, Hamlet hands scripts to Gertrude and Claudius. It doesn't take Claudius long to realize the lines Hamlet has written for him amount to a confession of murder most foul.
Another interesting choice is to have the ghost of Ophelia deliver the rapiers to her brother Laertes and Hamlet before the duel. It creates a moment of foretelling: Hamlet will soon be joining Ophelia beyond the grave. Added to the earlier deaths of Ophelia and Polonius, then Gertrude and Claudius and finally Laertes and Hamlet and you have the bloodbath that we know and love.
Some directorial choices don't work as well. Keeping in mind the tiny venue, it's imperative to keep things on the subtle side. While Kurtis Maguire as Hamlet does a terrific job of doing much of the heavy lifting in this play, his exaggerated gestures and physicality are simply too big for the space. And there's no reason for Guildenstern to be so fey.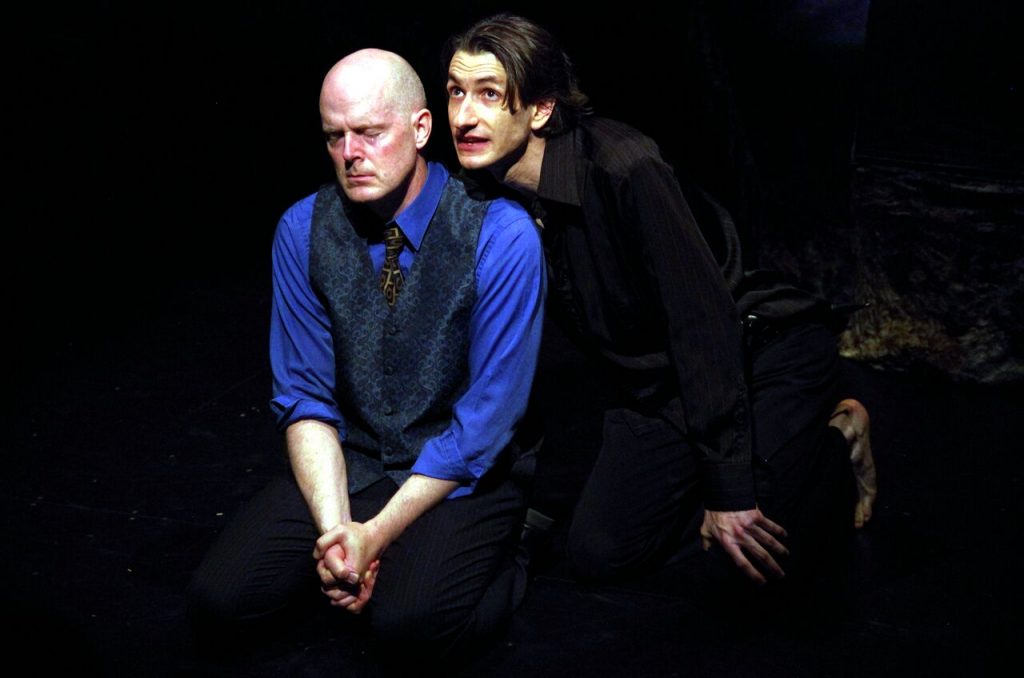 But there are also some solid performances here, too. Hemingway's Ophelia is a more forward Ophelia than others I've seen but it works here. Webster and Quast do good work as Horatio and Claudius, respectively; and Roy shows some fine comedic chops as the Gravedigger.
Hamlet must contain more quotable quotes than any other Shakespeare play and it's enjoyable hearing them within the context of the play: "This above all, to thine own self be true"; "To be, or not to be; that is the question"; "Frailty, thy name is woman"; "Neither a borrower nor a lender be"; "The lady doth protest too much"; "I must be cruel only to be kind"; "I know a hawk from a handsaw", "Brevity is the soul of wit" and so many more.
Taking Shakespeare up a notch, Bard on the Beach is now in previews and opens with Much Ado About Nothing next week. Hopefully, this Sandbox Theatre Productions has whetted those first-timers' appetite for Shakespeare and perhaps they'll venture down to Vanier Park for one or more of the offerings this summer: The Winter's Tale, The Merchant of Venice, Two Gentlemen of Verona and Mark Leiren Young's Shylock.