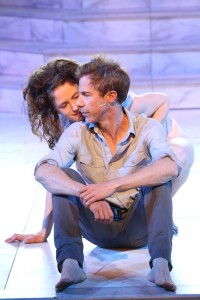 At Bard on the Beach until September 12
604-739-0559/bardonthebeach.org
Posted on July 2, 2013
Kim Collier and Jonathon Young – two of the founders of the always-inventive Electric Company Theatre – crank up the voltage at Vanier Park.
Under Collier's brilliant direction this is a Hamlet as you've never seen before: post-Post Modern complete with cellphones, computer laptops, surveillance cameras, iPods and iPads. Young, as Hamlet, appears to control the music from his iPod and it's not music of the hey nonny-nonny variety. (Original music by Torquil Campbell and Chris Dumont includes metal, fusion, punk rock and comes in snatches, never whole songs, as Hamlet's mood changes gears.) The usurping king Claudius (Bill Dow) and his security men keep track of distant wars and revolutions on a large computer screen. There's not only something rotten in the state of Denmark, there's something very high-tech in the state of Denmark.
The story, however, is not lost in all the gadgetry and iThings. Hamlet returns to Denmark from university abroad in time for the coronation of his late father's brother Claudius. After a shamefully brief mourning period, Hamlet's mother Gertrude (Barbara Pollard) is now in bed with Claudius. When the ghost of old King Hamlet appears to Hamlet, he reveals that he was murdered by Claudius and bids Hamlet revenge his death. Thus the tragedy of Hamlet begins.
With the assistance of Errol Durbach (Professor Emeritus, UBC Theatre and English departments), director Collier has cut the script down from over four hours to less than three. In spite of the cuts, there are more gains than losses; the text is spare and clean and clear. There is a pared-down elegance to it.
And in perfect accord to that elegance is Pam Johnson's mainstage set – which has to work for both Twelfth Night and Hamlet. The tent opening to the North Shore mountains (in Twelfth Night) are now five or six huge sliding glass doors; white leather-upholstered 'boxes' function as furniture and dominating the stage are two beautifully ornate, silver his-and-hers thrones.
Gerald King's lighting is bright and clean – almost surgical – and perfectly in keeping with the ultra-modern, high-tech world in which Hamlet lives.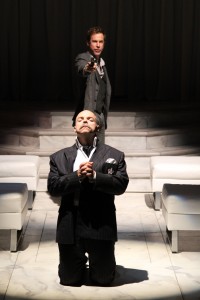 And, as everyone anticipated, Jonathon Young's portrayal of the Prince of Denmark is riveting. He doesn't appear to be playing Hamlet as much as he inhabits him. Lines are not merely spoken, they are felt, lived, believed. In his personal life, Young is intelligent, articulate, sensitive, funny and wise: all this he brings to his characterization of Hamlet. In taking his revenge, Young's Hamlet is highly conflicted: he questions the morality of 'an eye for an eye' thinking. And yet he has been charged by his father to do so. There is a mercurial quality to Hamlet and Young takes his character from heavy introspection to feigned madness readily and playfully. Kings, queens and courts aside, Young's Hamlet is one we can relate to. Collier's last image is one to leave you thinking.
Bill Dow and Barbara Pollard are well matched as Claudius and Gertrude: he is forceful and commanding, a rather corporate king in costume designer Nancy Bryant's handsome contemporary threads. Pollard's Gertrude is a lusty, rather pathetic queen who has hopped into her brother-in-law's bed too soon. Bryant dresses her in shimmery flowing lamé gowns.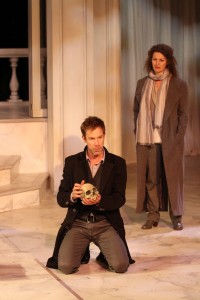 Rachel Cairns is a sweet Ophelia first appearing in panties and camisole with Hamlet – Collier's way of setting up what is, in this production, a pre-existing sexual relationship. Todd Thomson, as Ophelia's brother Laertes, executes some very fancy swordplay late in the play after Laertes loses not only his father Polonius (Richard Newman) but his sister, too.
Repertory theatre, such as Bard, has both its advantages and disadvantages: the advantage is hiring one cast to do two shows running alternate evenings. But there are disadvantages, too, the chief one being that the cast from one show must 'fit' its companion piece. In Collier's Hamlet, Rosencrantz (Naomi Wright) and Guildenstern (Craig Erickson) are a handholding young couple. It sort of works. But marvelous Jennifer Lines is cast as Horatio, Hamlet's bosom friend and that works less well because of the distinctive relationship that is possible between men. It calls into question the Ophelia/Hamlet relationship: puppy love on one hand and a deep and abiding love and respect on the other. But Horatio is a big role and a big actor had to fill it. Lines is just such an actor.
It's a small distraction from what is a fabulous, truly memorable Hamlet. The production brings together all the excitement and innovation we have come to expect from Collier and Young and the style and charm that is Bard on the Beach.