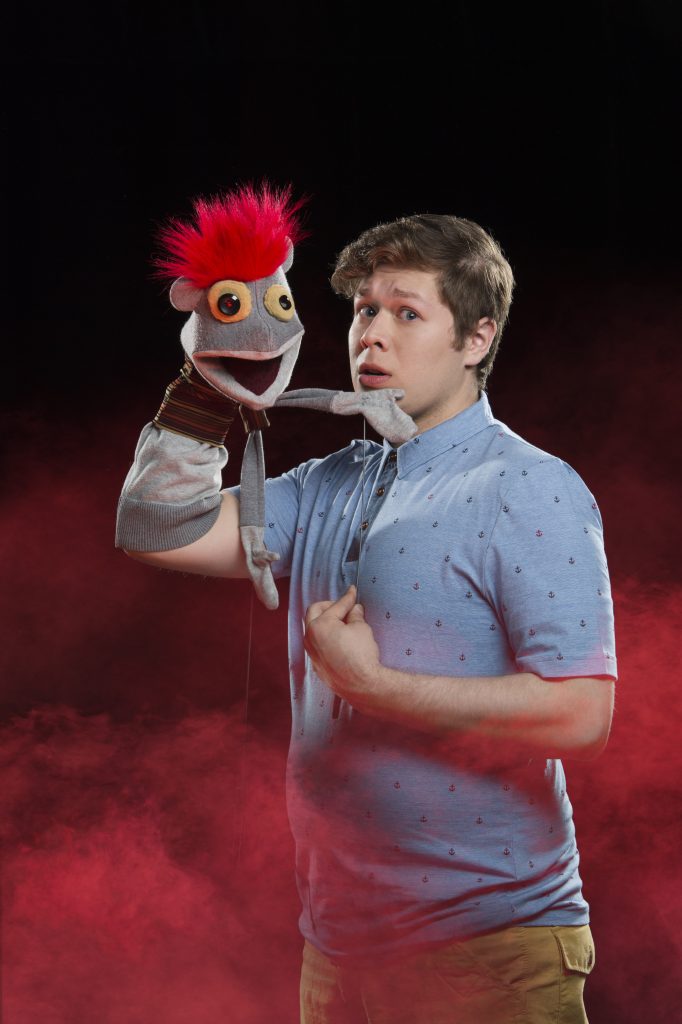 At the Goldcorp Stage at the BMO Theatre Centre until June 25, 2017
Tickets from $29 at 604-687-1644/artsclub.com
Posted June 3, 2017
As Hand to God proves, you can get too much of a good thing. Following the huge success of Avenue Q last season, Hand to God – another show with hand puppets – must have appealed to the Arts Club as a no-fail season closer: fewer puppets but more puppet sex – much, much more puppet sex. The New York Times raved about Robert Askins' play, calling it "a festival of filthy hilarity" while The Guardian headlined its gushing review with, "a filthy triumph . . . at its funniest when it's at its most puerile." Hmm. The Manitoba Theatre Centre production garnered comments like, "raunchy and funny as hell".
The Arts Club's opening night audience loved it – woo-hooing and hollering like crazy. I thought they'd have to take the guy across the aisle from me out on a stretcher he laughed so hard and so long and so loud. Me? Not so much.
It's not its "filthy hilarity" that I found offensive. It's that Hand to God panders to a kind of adolescent entertainment that's troubling. Buried deep inside the script, the playwright has something to say about grief, sublimation, the nature of good and evil but you have to get through so much stuff to find anything of value.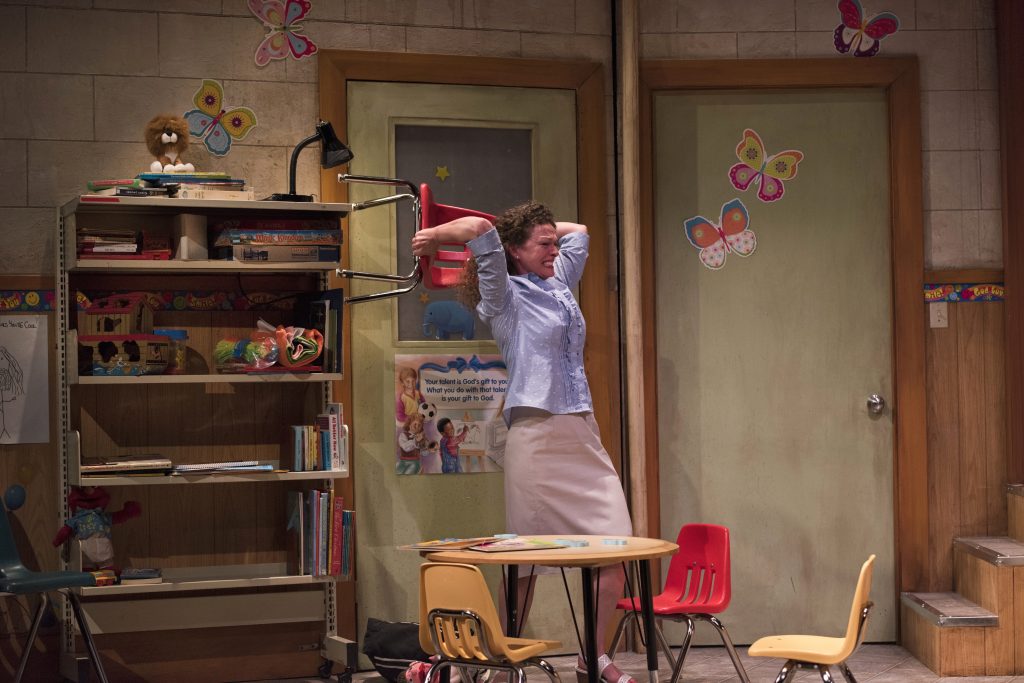 In the play, Margery (Jennifer Lines) has recently lost her husband and is having such a rough time – emotionally and financially – that she hasn't noticed her teenaged son Jason (Oliver Castillo) is also in distress. Trying to get herself together, she turns to the church where, as she says, she can't sing and she can't preach so she starts a puppet group for teenagers to pass along the Christian message. In the club are her son Jason, Timothy (Mike Gill) and Jessica (Julie Leung). Timothy is a good-looking, bad-ass kid; I don't know what he's doing there unless he's in some kind of rehab. Jessica is a good kid, the kind that makes straight 'A's in school, faithfully practices the piano and makes her bed every morning before school.
Jason's sock puppet, whom he calls Tyrone, has a mop of red hair, a big mouth and a lot of attitude and when he goes tyrannical and starts spouting all of Jason's innermost thoughts, including wanting to have a sex with Jessica, everything goes to hell quite literally.
Meanwhile Margery is falling apart and Pastor Greg (Shekhar Paleja) tries to comfort her while suppressing his urge to comfort her between the sheets.
If the script leaves a lot to be desired, the performances do not. An aside: there are scenes from various plays that I'd pay to see again. Maybe a fundraiser. Colleen Wheeler's geeky dance in The Leisure Society; Genevieve Fleming, table-top, with a pair of six-shooters in The North Plan; and Shannon Chan-Kent's dirty, dirty dance in The Flick. I can now add Jennifer Lines in her ultimate meltdown scene in Hand to God. It's an unforgettable doozy and Lines really gets into it.
Gill takes his character Timothy on a wild ride that, strangely, leaves us feeling sorry for the kid. He, like Margery and Jason, is so lost. Paleja has a tough job finding the balance between really caring for Margery and suppressing his character's urges. He comes off rather scuzzy and that doesn't help the play at all.
Leung's job is easier: Jessica just has to be good until she's 'bad' which, ironically, is when she's really good. Perhaps the most interesting thing about this play is that it is this decent, rather ordinary teenager who finds the way to get through to Jason.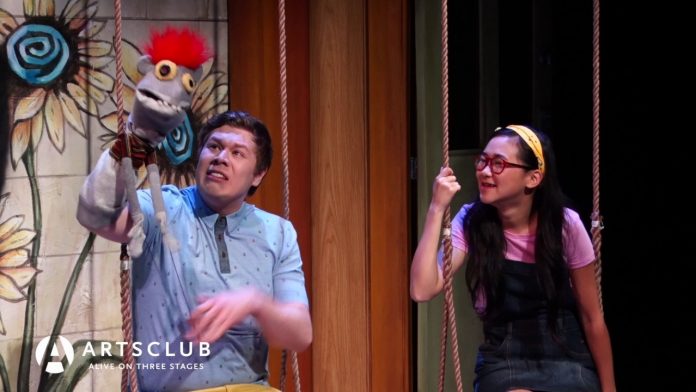 Demanding in every respect – including spending ninety minutes with a sock puppet on his arm – is Castillo who plays Jason and his sock puppet. Two distinct voices; two distinct characters. Jason: good. Tyrone: satanic. Castillo is terrific in both from troubled, shy Jason to hellish, foul-mouthed Tyrone. It's amazing that Castillo and Leung don't collapse from hyperventilation in an extended puppet-sex scene that had some people rolling in the aisles.
Directed by Stephen Drover on Brian Ball's 'Sunday School' set (kindergarten chairs, colourful Christian posters), one of the real stars of this show is Jeff Harrison and his sometimes-explosive lighting design: great balls of fire.
Apparently, playwright Askins at sixteen lost his father and he, like his character Jason, was involved in his mother's 'puppets for Christ' group in their church. So he knows, firsthand, what putting a puppet on one's hand can lead to. Good reason for keeping your hands in your pockets, say I.