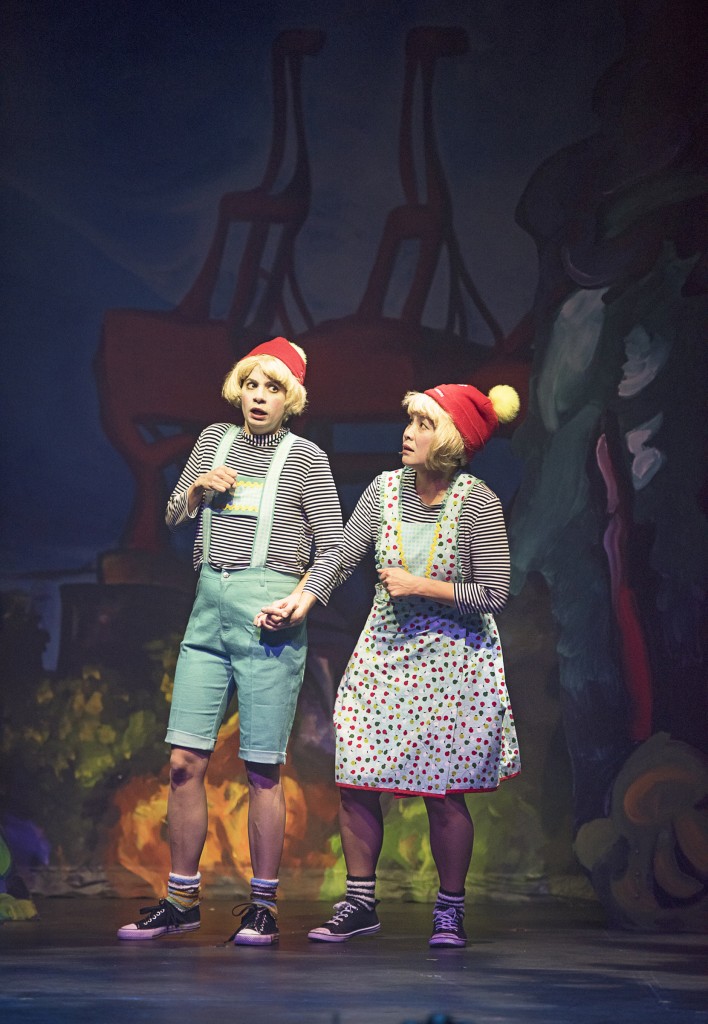 At the York Theatre until January 3, 2016
604-251-1363/tickets.thecultch.com
Posted December 5, 2015
Hansel and Gretel: An East Van Panto has more jokes than Granville Island has rats. Or more puns than the bike lanes Gregor Robertson proposes for Vancouver. It's loaded with 'em. Crazy rhymes like "sing and dance" with "drop our pants" or "stairway to heaven" with "7/11" proliferate like abandoned Easter bunnies in Stanley Park.
Musician/composer/lyricist Veda Hille jumpstarts it with the best 'sponsor acknowledgement blah blah blah' ever heard; she rocks it out on electric guitar backed up by percussionist Barry Mirochnick and, wow, do those sponsors/supporters ever get their money's worth. Hille almost got a standing ovation for what usually gets polite applause. The crowd went wild.
And stayed wild. Encouraged by Josue Laboucane to cheer and boo, and holler "Look behind you" or "No, it isn't", the opening night audience really got into the East Van spirit: rowdy, irreverent and ready to party. "Imagine you live in a country where Stephen Harper is no longer the Prime Minister"; that's how loud and long he tells us he wants us to cheer. There are squirrels and skunks and an amazing, gigantic seagull (concocted by Tamara Unroe) but absolutely no sacred cows.
Written by Charlie Demers, lyrics by Hille and directed by Stephen Drover, Hansel and Gretel is the third panto presented by The Cultch and Theatre Replacement and it's the best: tighter, funnier and, without losing the 'anything goes' attitude, it's slicker and more professional. And the little kids, oh, the little kids: such a riot when they come out on stage wearing beards and carrying coffee cups. Later, in costumes designed by Marina Szijarto, they're adorable little creatures of the forest. It's Leaky Heaven writ large and it's filling the gap the Leakers left when they stopped doing their much-loved Christmas show.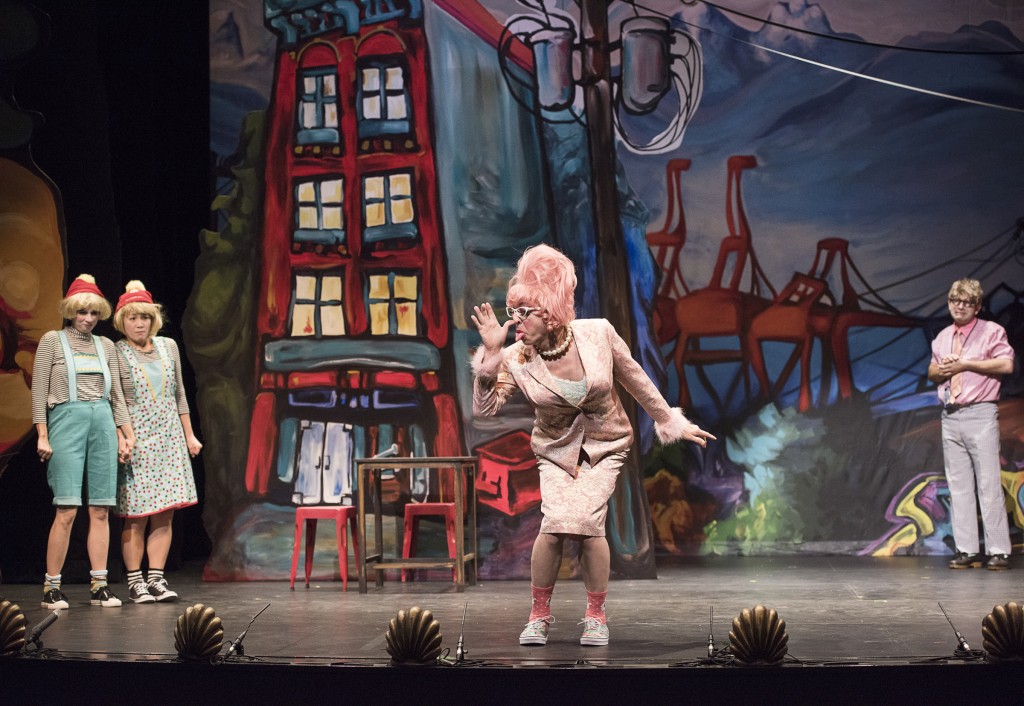 The panto follows the basic storyline very well; little kids in the audience will be able to follow Hansel (Dawn Petten) and Gretel (Maiko Yamamoto) lost in the woods, stumbling across the gingerbread house and the witch (Allan Zinyk) and, finally, reuniting with their father. What they won't catch are all the jokes and jabs, the puns and wordplay that, for the adults, are so hilarious. It's also a little long – at a little over two hours with an intermission – for toddlers Recommended age is 5+.
But it's not just about the story. Hille writes new lyrics to more than two dozen pop songs including the themes from The Brady Bunch and Gilligan's Island, Stairway To Heaven, Witchy Woman and We Go Together but the best of the bunch is Petten and Yamamoto soulfully singing Without You: "Can't live/if living is without food/Can't live/Can't live anymore". The reason Hansel and Gretel's wicked stepmother (Zinyk again) persuades their father to take them into the woods is, you'll remember, the fact that the family is starving. In Demers'  script, the family is destitute because a restaurant critic has closed their place down with a bad review. They could have done with a more "Naan-judgmental" review.
A trio of women – Lillian Doucet-Roche, Caitlin Goruk and Carly Pokoradi – are backup singers as well as appearing as spandexed exercisers and larger, not-so-nice critters in Stanley Park.
Zinyk is his usual outrageous self in both roles: wicked stepmother in pink suit and beehive hairdo, and wicked witch with dreadlocks, half coconut-shell (?) boobs and multi-layered rags. Laboucane, as well as being the narrator and the kids' father is Ginger Brad, one of the children the witch has turned into gingerbread. Szijarto's Ginger Brad costume is wonderful and wait 'til you see Hansel after he's been fattened up.
Performances are terrific; the music is grand; the storybook set – designed by Drew Facey, lit by Adrian Muir, is wonky and wonderful. Demers' script is clever and rib-ticklingly silly.
If this doesn't get you laughing, you're missing a funnybone. Buy a ticket for your inner child and a few more for stocking stuffers. No one is too Bah, Humbug! or too grownup for Hansel and Gretel: An East Van Panto.