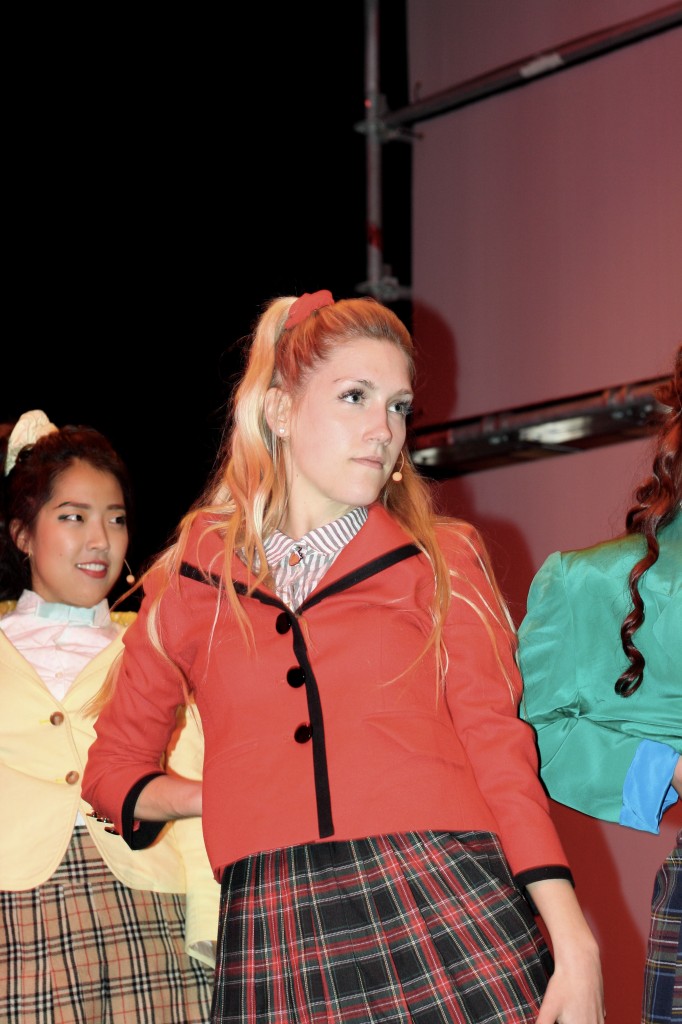 At Waterfront Theatre until August 26, 2016
ticketstonight.ticketforce.com or at the door
Posted August 11, 2016
Forget Scottish heaths, kilts and bagpipes, these Heathers are all-American, bitchy teenaged girls lording it over their Westerburg High School classmates. In awe of Heather Chandler (Alishia Suitor), Heather McNamara (YooRa Kang) and Heather Duke (Leah Newson) is Veronica Sawyer (Julia Ullrich), new to the school and looking for a way into the powerful triumvirate. Forging a note that gets the Heathers out of detention, Veronica is invited to join them, is given a makeover and made their servant/slave whose duties include forging another note as a wicked prank against her old friend Martha (Annastasia Unger).
It's a Faustian bargain with deadly consequences.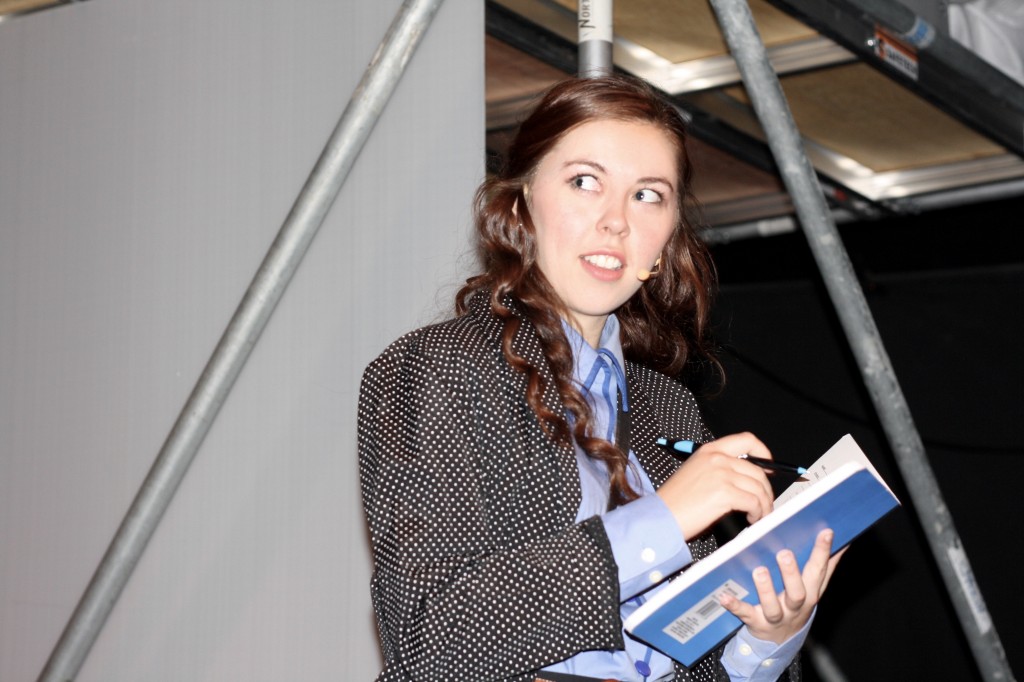 Heathers: The Musical began its life in 1988 as the cult film Heathers but Laurence O'Keefe (Legally Blonde: The Musical) and Kevin Murphy (the musical version of Reefer Madness) saw potential for a rock musical. Co-written (book, music and lyrics) by O'Keefe and Murphy, the musical opened off-Broadway in 2014.
Billed as a comedy, it's not really funny – at least to those us well out of our high school days. When buddies Ram (Thomas King) and Kurt (Ben Bilodeau) are left alone when their dads go fishing together, it's party time. The whole ensemble breaks into "Big Fun" and that big fun includes oral sex, plain ordinary on-the-couch sex, drinking that leads to puking and eventually to what can only be called a girl-on-guy, lose-your-virginity seduction scene. It's disturbing when the Heathers set Veronica up for an unwanted three-way with Ram and Kurt – what would be a rape if the guys weren't so drunk. And although initially J.D. (Jian Gomeshi look-alike, David Z. Cohen) is seen as some kind of smart, sexy, avenging angel, it soon becomes apparent that J.D. is seriously messed up.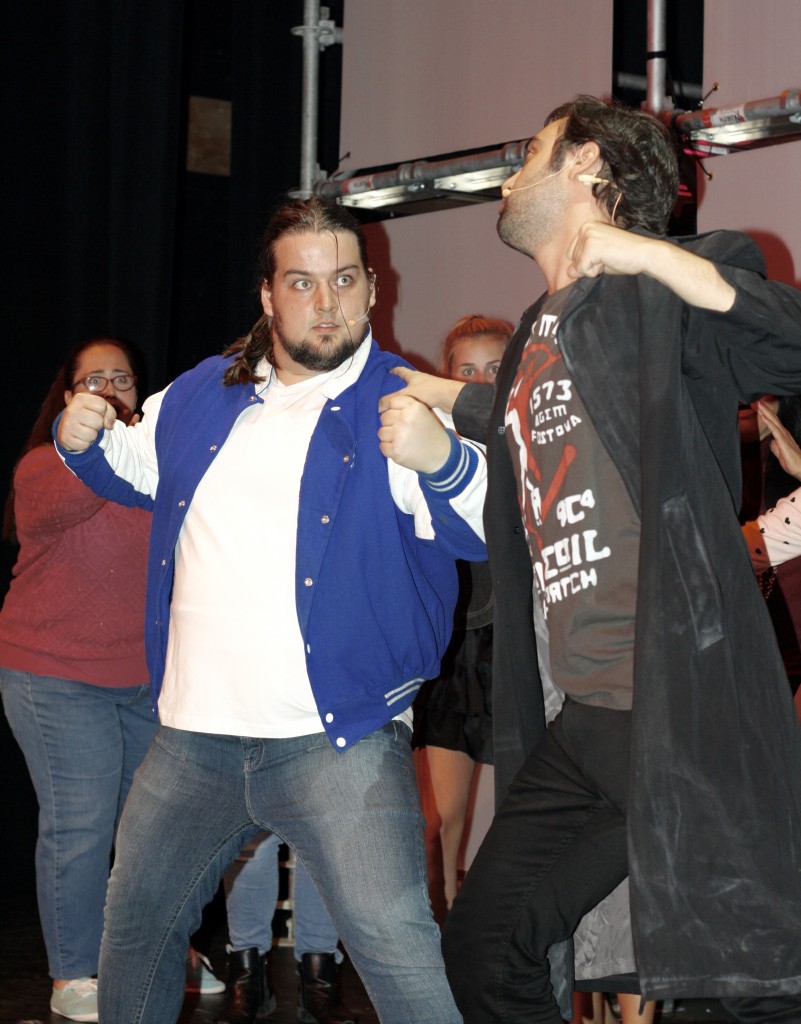 While few of us saw our high school years as the best years of our lives, these kids seem – as they sing – badly 'damaged'. A teenager I know said she and her friends – who all loved the film – saw it as a funny send-up, very American and not meant to be realistic. It's up there with The Rocky Horror Show.
It's certainly not the stuff of comedy. Indeed, Heathers: The Musical isn't sure what it wants to be and that's a problem.
Directed by Ryan Mooney for Fighting Chance Productions it is, however, boisterous and the music is 'big fun'. Performances by this young cast are energetic and enthusiastic; some of the voices are outstanding – including Linda Leong Sum ("Shine a Light), Unger ("Kindergarten Boyfriend"), Kang ("Lifeboat") and Ullrich, in the especially poignant "Seventeen" with David Z Cohen.
Looking at the target audience and considering the subjects – bullying, teen suicide, violence and homophobia – it should be a good show for, say, twelve-year-olds and up but the language ("Suck my dick" and "F**k me gently with a chainsaw", for example) is rough.
Tim Driscoll's set design – tubular aluminum scaffolding with inset panels lit by Nicole Weismiller – is sharp, colourful and practical. Under the musical direction of Clare Wyatt, the band (Wyatt, Mike Allen, Jamison Ko, Adrian Sowa and Joanna Yoo) really rocks, although in the opening number – the set-up to the story, Ullrich struggled the night I attended to make herself heard over the band. Lyndsey Britten ably choreographs some full company numbers especially the curtain ringing reprise of "Seventeen".
This edgy stuff, appealing to a younger demographic, is the stock-in-trade of Fighting Chance Productions and they do it well. Past shows include Rent, The Laramie Project and, still their best production to date, the incomparable Sweeney Todd. Artistic director Ryan Mooney mines Capilano University and other theatre schools for young fresh talent, giving these soon-to-be-professionals a good start, making it a win-win situation for the company, the performers and audiences interested in seeing new faces. Heathers: The Musical runs alternately with American Idiot.