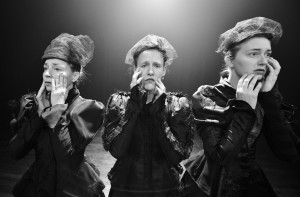 At The Cultch until May 4
604-251-1363/tickets.thecultch.com

Posted May 4, 2013
"Oh, Death, where is thy sting?" It isn't at The Cultch from April 30-
May 4 where brilliant dancer/choreographer Tara Cheyenne Friedenberg and four dancers perform the world premiere of Friedenberg's new work, Highgate.
Inspired by a 2008 tour of North London's Highgate Cemetery (dating back to 1839), Friedenberg was captivated by the culture surrounding death that gripped Victorian England. There were rules about mourning: what to wear and for how long: "Mourning for children should last nine months," was one of the peculiar dictates, for example.
Every detail of this performance has been thought out from the three somber mourners dressed in black standing at the entrance to the theatre, to the twisted vines and withered roses hung like a trellis all around the lobby and the life-size b/w photos of the dancers in mourning garb hanging down one long wall.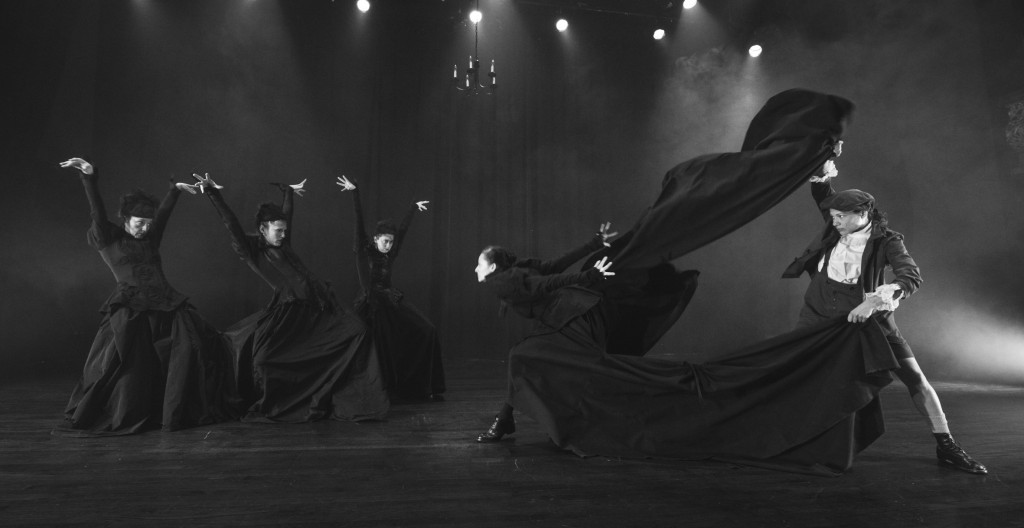 What might be considered morbid is completely offset by Mr. Stone (Friedenberg), a sprightly but quirky undertaker in silk hat, tailed jacket, not-terribly-clean, baggy cotton drawers and white spats. "Welcome to the beginning of the end", he cackles in a Cockney accent. "I do have a box for each of ye." Oh. A coffin, he means.
Friedenberg's trademark is dance with a very strong narrative; she fuses drama and dance in a way that adds value to both artistic forms. In her alternate role as Mrs. Graves, garbed in a long black mourning gown, little black hat and long veil, Friedenberg is lithe, visceral and fierce. Swishing or slapping her gown on the stage, fixing us with a glittery eye, she appears like an angel of death easing our way into the afterworld. As Mr. Stone she's quick and darting, nimbly moving from the stage to the balcony, up and down the stairs, her bare legs pumping and scissoring.
The humour is dark and there's plenty of it. Mr. Stone, for example, comments on our futile efforts to forestall death: vitamins, vegetables and exercise but warns, "You can never run fast enough." And, as if to make death palatable, he recounts the weary tedium of our lives: "workin' and sleepin and eatin' and drinkin' and breathin' and, oh, listenin', too." And then there's "that great gob of flesh" we have to haul around.
There are four other extraordinary dancers in Highgate: three female mourners also in long, black, high-necked Victorian gowns and tiny hats with small veils and a strange little creature called Boychild (Justine A. Chambers) in short pants, knee sox and little lace-up boots. Chambers has a way of moving her hands that is almost hypnotic: they seem not to belong to her at all as they flutter in a kind of sad despair.
As well as Friedenberg's ferocious dancing and rivetting charisma, the three mourners (Alison Denham, Bevin Poole and Susan Elliott) create an amazing image: their long gowns (designed by Friedenberg's mother Alice Mansell) are stitched together at the side so the dancers move as conjoined triplets, dipping back and forth, twisting, turning, slipping across the stage like Shakespeare's three weird sisters or a dark echo of Gilbert and Sullivan's Three Little Girls From School.
They are, actually, more like poisonous crows and composer/sound designer Marc Stewart frequently injects the sound of crows cawing in a soundscape the includes deep, tolling bells. James Proudfoot's lighting, including some sulphuric side lighting and drifting fog adds to the eerie, funereal atmosphere.
I've never seen death treated quite so beautifully or quite so playfully. There's an invitation at the end that keeps the audience in its seats a little longer than usual but I won't spoil the surprise on the chance you manage to snare one of the few remaining tickets. It's a cheeky conclusion to an evening akin to an Edgar Allan Poe tale choreographed for five dancers.