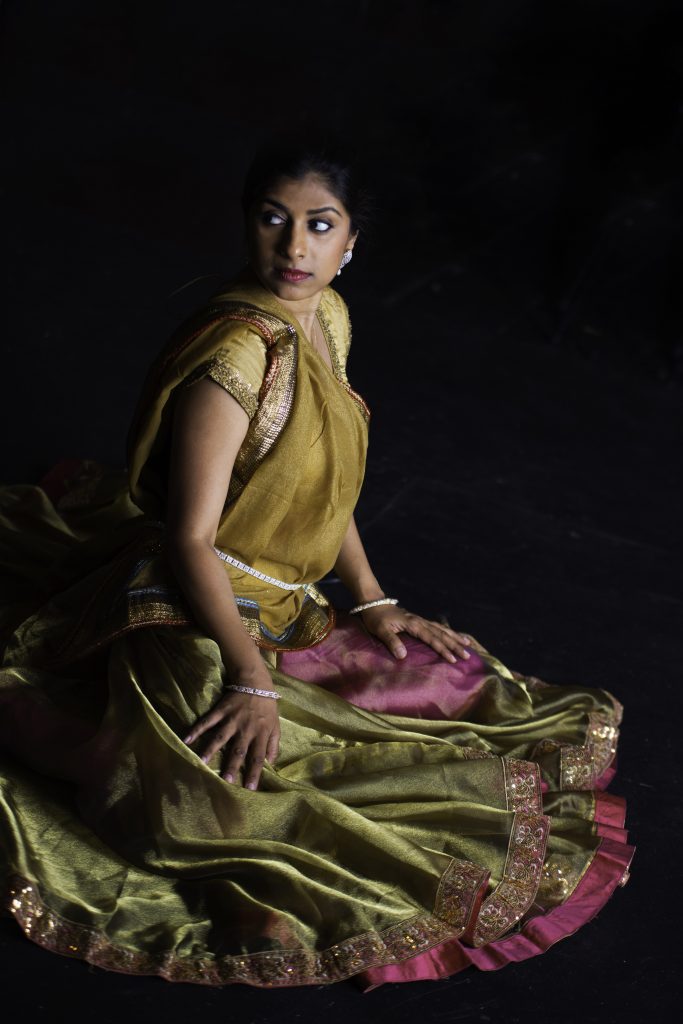 Vancity Culture Lab at The Cultch until November 4, 2017
604-251-1363/thecultch.com
Posted October 25, 2017
I don't often stay for the talkback sessions after a show but this one was fascinating and added immeasurably to the tremendous pleasure I got from the performance. Writer/performer Dipti Mehta grew up in Mumbai in what she says was a "patriarchal, traditional family". Born a female into an upper middle class family, she was expected to be educated – but only to a certain level – in order to teach the children it was assumed she would have when she got married. Marriage and children: these were the expectations her father had for her. As Mehta says, she "fought" to go on to university where she earned a PhD in molecular biology, specializing in prostate cancer research.
Bus numbers 102 and 105 took young Mehta down Falkland Road, commonly referred to as Fuck Road, one of the many Mumbai sex trade districts. Through the bus window she saw heavily made-up women encouraging men to come behind makeshift, curtained doorways and half-naked kids running around. Curious, she wondered about these women and the future of the children. "I wanted to know how their souls were different from us, the normal women. Why were they doing what they were doing? Where were the concerned adults speaking for them or with them? Why were they forbidden from religious gatherings and uniformly denied respect of any kind?" These questions led to the creation of HONOUR: Confessions of a Mumbai Courtesan, winner of the Best Solo Show at the New York Fringe in 2016 as well as the winner of many other awards.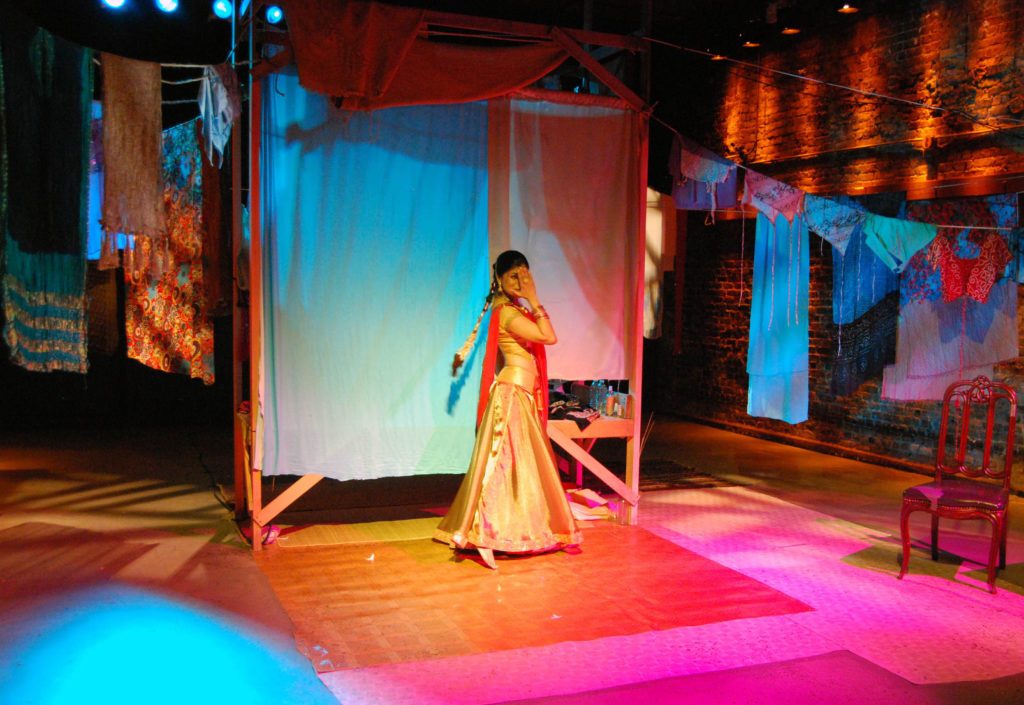 Mehta's purpose in writing HONOUR was "to raise awareness and break down the social stigma that exists around sex workers". A portion of the proceeds of the show go to support Apne Aap, an international aid organization involved in rescuing and rehabilitating trafficked victims. Trafficking for the sex trade is estimated to be a thirty billion dollar industry worldwide. And it is not simply a third world problem.
Dipti Mehta is, as well as a scientist and a social activist, a very fine storyteller. In HONOUR she intertwines the stories of Rani, a sixteen-year-old girl born to a prostitute and raised in a brothel, and Draupadi, a princess from the Indian epic Mahabharata. Rani's virginity is about to be sold by her prostitute mother – herself sold at the age of thirteen to a brothel by her father – to the highest bidder. But Rani has a boyfriend and she has plans to run off with him. Thwarting that effort is the eunuch Meena, a family friend.
Mehta plays all the roles: beautiful Rani as a teenager as well as a curious six-year-old; beedie-smoking Shyam, Rani's intended pimp; Chameli, Rani's scheming mother; garrulous Meena; Laal, an old customer of Chameli; and a priest.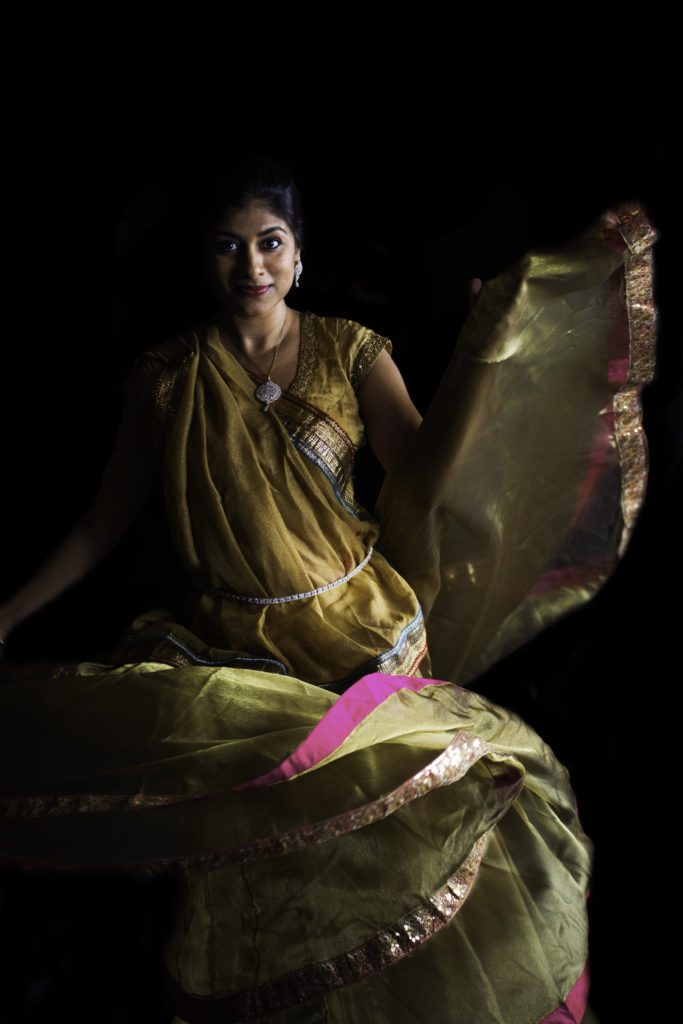 These roles are all played in one costume: a long, shimmery, gold-trimmed skirt over pink trousers and a tight bodice laced with gold and heavily ornamented with jewellery. Mehta keeps these characters apart with completely different voices and body language: weary Chameli, cocky Shyam, talkative Meena. There's not a moment's doubt who's speaking.
Like exotic laundry, the stage is hanging with colourful silk 'shawls' amongst which is a small bed. Don't worry: you won't witness a deflowering.
As well as being dark-eyed, dark-haired and stunningly beautiful, Mehta is insightful and compassionate. The prostitutes and their pimps are not 'bad' people. They are people for whom there are very few options. Children of the sex trade workers are bullied at school and quite likely do not get an education. Older prostitutes, with fewer and fewer clients, have few options, the most obvious of which is to sell their daughters into the trade. And so it continues.
The dancing is sinewy and seductive, the staging is exotic and Mehta is mesmerizing. And while it is certainly not true for all sex trade workers in Mumbai or elsewhere in the world, Rani has pride: she sees her future not as a whore or a prostitute but a courtesan – trained how to walk seductively, how to look entrancing, how to dance provocatively and how to entertain the men with pleasant conversation.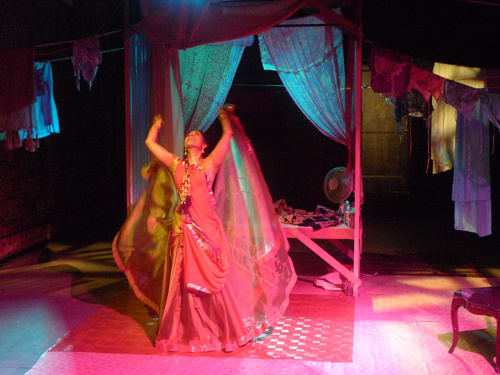 Mehta takes a controversial position and some would say she whitewashes the horrors of prostitution. But, just like those few women who say prostitution got them through university, she offers a different look at the sex trade. It's possible sex-for-money will always be with us but Mehta's support of trafficking rescue work tells us that she believes these women do not deserve to be shunned, despised and deprived of health care and education to which the rest of us feel entitled.
Gloria Steinem had this to say about the show: "HONOUR is as mysterious, kind, tragic, empathetic as life itself". High praise from one of the most celebrated social activists in the world. The show is presented by The Cultch and Diwali in BC (as part of the ongoing Diwali Fest.)*
Correction: Diwali in BC is not part of Diwali Fest but a new initiative created this year by Rohit Chokhani.