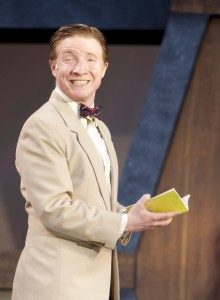 At Theatre Under the Stars until August 16
604-696-4295/www.TUTS.ca
Posted August 7, 2013
What a pleasant surprise this show is after reading a couple of reviews that diss it because it's so dated. How To Succeed in Business Without Really Trying is, indeed, dated but almost all musicals – from Oklahoma! To Grease – are out of sync with contemporary culture anyway. Many, if not most, musical comedies trade on 'the way we were' and How To Succeed, which premiered in 1961, is no exception.
The setting is the office of the World Wide Wicket Company and much of the action takes place in the steno pool. I worked in one of those at BC Hydro in the late 50s between university terms; even when you weren't busy you were expected to look busy: no nail filing, no chatting, no reading. Good grief.
Highlights of our day were lunchtime and morning and afternoon coffee breaks – taken at our desks – when we were, for fifteen minutes, allowed to chat. "Coffee Break", therefore, really struck a chord with me when the whole ensemble, desperate for coffee, sings, "If I can't take my coffee break/Something in me dies". Shelley Stewart Hunt's choreography is particularly strong in the big ensemble numbers like this one. Later in the show she throws in Dance of the Cygnets from Swan Lake which, danced by a bunch of men in business suits, just cracks everyone up. Andrew Cownden's grand jetés in "Rosemary" have the same effect.
The musical is based on Shepherd Mead's 1952, best selling, satirical book How to Succeed in Business Without Really Trying. With book by Abe Burrows, Jack Weinstock and Willie Gilbert, and music and lyrics by Frank Loesser, How To Succeed went on to win seven Tony Awards in 1962.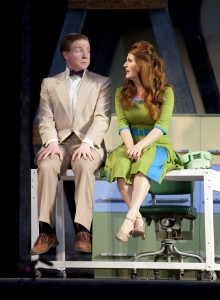 The story follows window-washer J. Pierrepont Finch, a golly, gee whiz kind of young man (engagingly played by Cownden) in his drive to become Chairman of the Board of World Wide Wicket. He starts on page one of Mead's book and works his way through the book, following all the tips there beginning with getting a job in the "right company" – that is, "one that's big enough so that no one knows what anyone else is doing."  On his first day he meets pretty, young secretary Rosemary Pilkington (Georgia Swinton, a little firecracker with a big voice). Rosemary has an agenda of her own: help Finch get to the top and then marry him.
The biggest obstacle in Finch's way is the big boss's nephew Bud Frump (played like a panto villain by Victor Hunter). Mr. Big in the company is Mr. J.B. Biggley, energetically played by a blustering Joel Wirkkunen. Rosemary's confidante is Smitty (Caitlin Clugston, one of the best voices in this show).
Putting this show right up over the top is Cailin Stadnyk as Hedy LaRue, Mr. Biggley's 'bit on the side'. Stadnyk in a skintight red dress and matching elbow length gloves sashays on stage in red spike heels – and all the male characters start to salivate. Stadnyk does that squeaky New York little girl voice so convincingly and the woman can sing which she does with Wirkkunen in "Love From a Heart of Gold". Jennifer Suratos, as Miss Jones, knocks it out of Stanley Park with the scat number, à la Ella Fitzgerald, "Brotherhood of Man".
Chris Sinosich whipped up a whole lot of costumes for almost three dozen actors. The office girls are all in pastel frocks – fitted bodies, full skirts – and the guys in suits. A very early 60s look.  And Christopher King enthusiastically directs a 16-piece orchestra in the pit.
These balmy nights are a godsend to Theatre Under the Stars and an encouragement to dine out on the lawn by the rose garden. It's a Vancouver thing, a family entertainment and this show, joyfully directed by Sarah Rodgers, is a musical walk down memory lane.