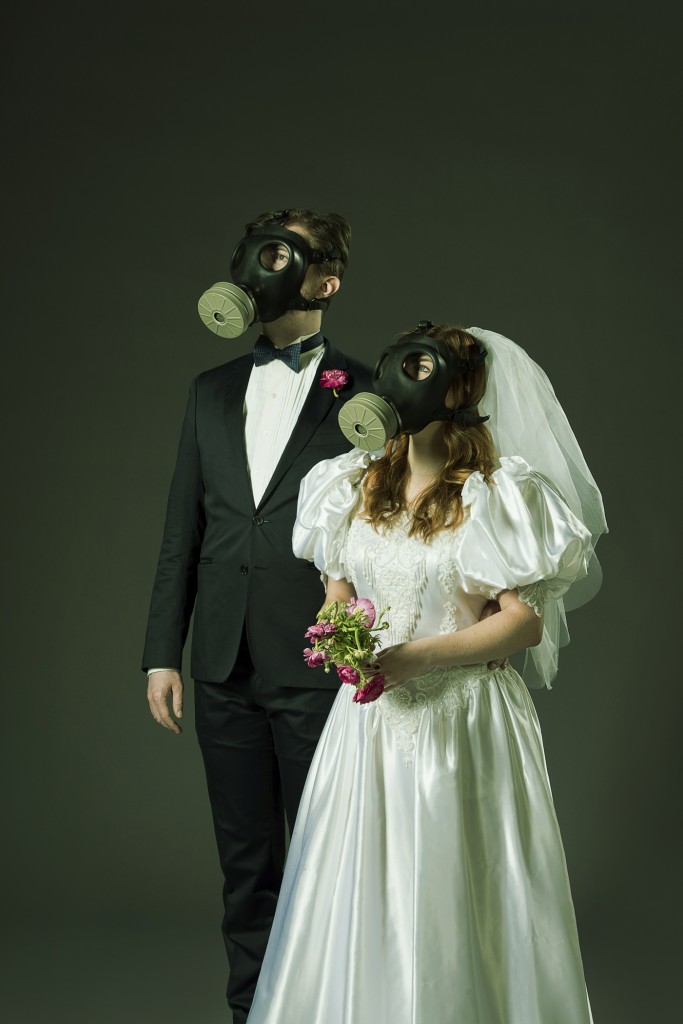 At The Firehall Arts Centre until June 11, 2016
604-689-0926/firehallartscentre.ca
Posted June 5, 2016
Do people really talk like these characters? Not in my circle of witty, articulate friends. But Jen (Claire Hesselgrave) talks like she's scripted by someone very smart, funny, hip, and totally up-to-date on pop culture. That someone would be playwright Jordan Hall whose play, Kayak, won the 2010 Samuel French Canadian Playwrights Competition. Favourite line in How To Survive An Apocalypse? "No one listens to ugly feminists". Runners up? "The apocalypse will not be gluten free" and, re her friend Abby (Lindsey Angell), Jen says, "She's the kind of train wreck guys throw themselves under." Lines like these just keep coming at you.
The play is the culmination of Touchstone Theatre's fifth Flying Start cycle, a program designed to get scripts by emerging professional playwrights off the page and onto the stage. In the spirit – and the economics – of the times, How To Survive is a collaborative effort between Touchstone, Playwrights Theatre Centre (PTC) and the Firehall Arts Centre.
Directed by Touchstone's artistic director Katrina Dunn, it's a fast-paced two hours with some very rapid scene changes as David Roberts set – with its lovely backdrop of painted trees – is transformed from inside the trendy apartment (Olympic Village? Yaletown?) of Jen and Tim (Sebastien Archibald) to a campground and back again.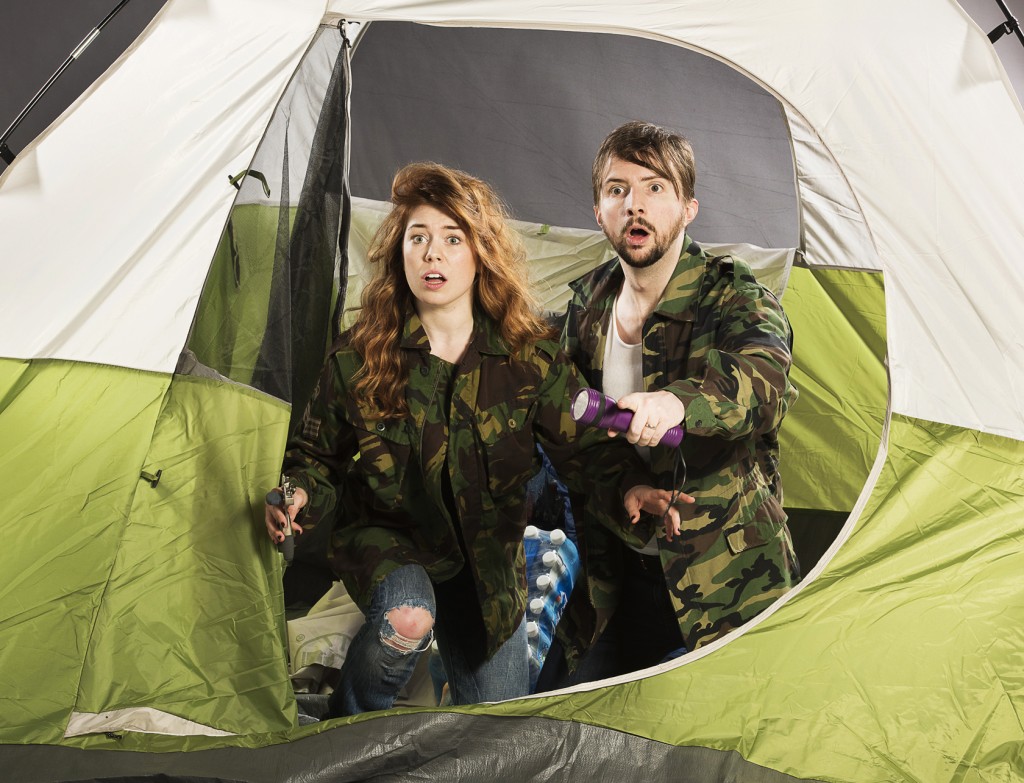 In a recent CBC interview, playwright Hall described her play as a "romantic comedy" and hoped audiences will find it funny. With all those snappy one-liners, audiences will laugh but if the world that Jen and Tim have inherited is soulless, so is this play until very near the end when the real plight of Jen and Tim – the breakdown of their relationship – is apparent. The world is not going to end but 'their world' might be collapsing. Do we care? Not enough. Self-absorption is not endearing and all four characters suffer from it.
At 27, Jen is the editor/publisher of a magazine with falling readership and declining revenue. The chairman of the board has brought in Bruce (Zahf Paroo), a high-powered, entrepreneurial consultant to "re-brand" the magazine in an effort to save it. Jen and Bruce lock horns until they lock lips. That's not a spoiler alert; it's so obvious.
Jen is married to six-month unemployed Tim, a game designer who eventually gets carried away designing a video game in which he and Jen face floods, earthquakes and nuclear disasters. Meanwhile, Jen has turned into a "prepper", someone convinced the apocalypse is nigh and buying bottled water because, as Tim tells an astonished Jen, "water will not come out of the taps" when the world ends.
Abby, Jen's friend, dumped by her husband for a younger woman, drinks too much and is the train wreck under which Bruce throws himself. But only once or twice. He does that one-night thing a lot. For most of the play Abby is drunk, ditzy and horny and Angell is wonderfully goofy in the role. Costumer Christopher David Gauthier puts Abby in lovely, filmy shawl-y things and ambitious, mouthy Jen in tight, bum fitting pants.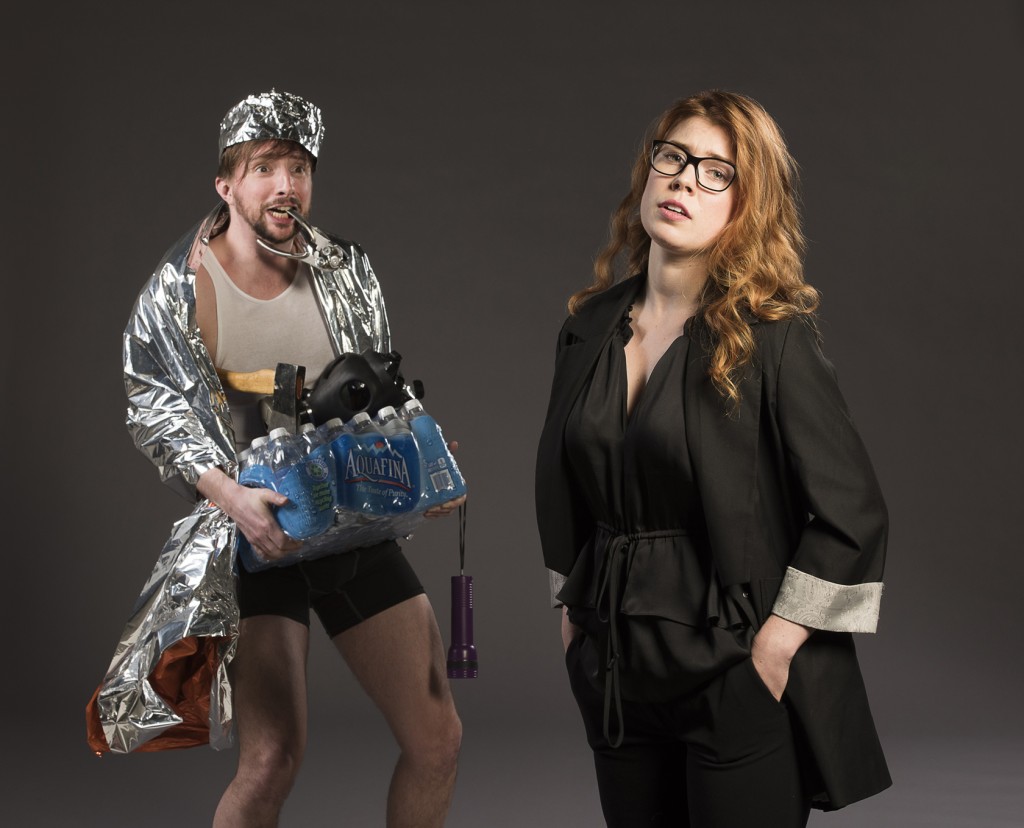 So who do we like in How To Survive An Apocalypse? No one in particular. There's very little chemistry between Hesselgrave and Paroo so the relationship between Jen and "Mr. Head-and-Shoulders" Bruce doesn't appear to have a future. We do feel sorry for Archibald's hapless, hopeless Tim, but Tim's five-year marriage to Jen is founded on her always looking after him; he's basically incompetent.
Ultimately, we feel sorry for all the real millenials who believe, as did Jen, if they get an education and work hard, the world is their's for the taking. The best they can hope for, however, is that Mommy and Daddy bought a house in Vancouver back in the 60s or 70s and that they inherit that windfall before they, too, need hip and knee surgery.