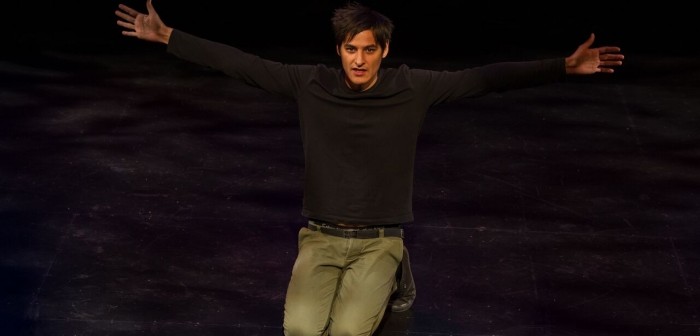 At the Firehall Arts Centre until February 6, 2016
pushfestival.ca
Posted February 5, 2016
Huff is one of those shows that leaves the audience quiet, unable or reluctant to applaud for several moments. It's not the kind of show that you 'like'; it's the kind of show that, even when laughing, fills you with deep sorrow.
According to the PuSh Festival guide, huff is "what you do with gasoline when you've got nothing left to lose. You inhale the fumes and get high." High is a strange word for how it alters the lives of those who use gasoline this way. After a brief high, inhaling brings users so far down they often end up as yet another suicide statistic. "Gas tastes like metal but also like someone's screaming in your face", one of the play's characters tells us.
Writer/performer Cliff Cardinal is utterly fearless. Our hearts are in our mouths as he goes through various suicide games that the three First Nations brothers play: plastic bags duct-taped over the head or strangulation with hands and belts. When there's nothing else to do – and there mostly isn't anything to do on the reserve – the brothers play various "pass-out" games.
It wasn't always that way for these boys. Their father, whom they mythologize as a famous warrior, fell in love with the most beautiful girl in the world – their mother. The first son was born, then a second and a third. The father began to drink, to beat their mother and finally to abandon them. She begins to drink, hangs herself and sets in motion a downward spiral for the boys that includes sexual abuse, arson and solvent sniffing.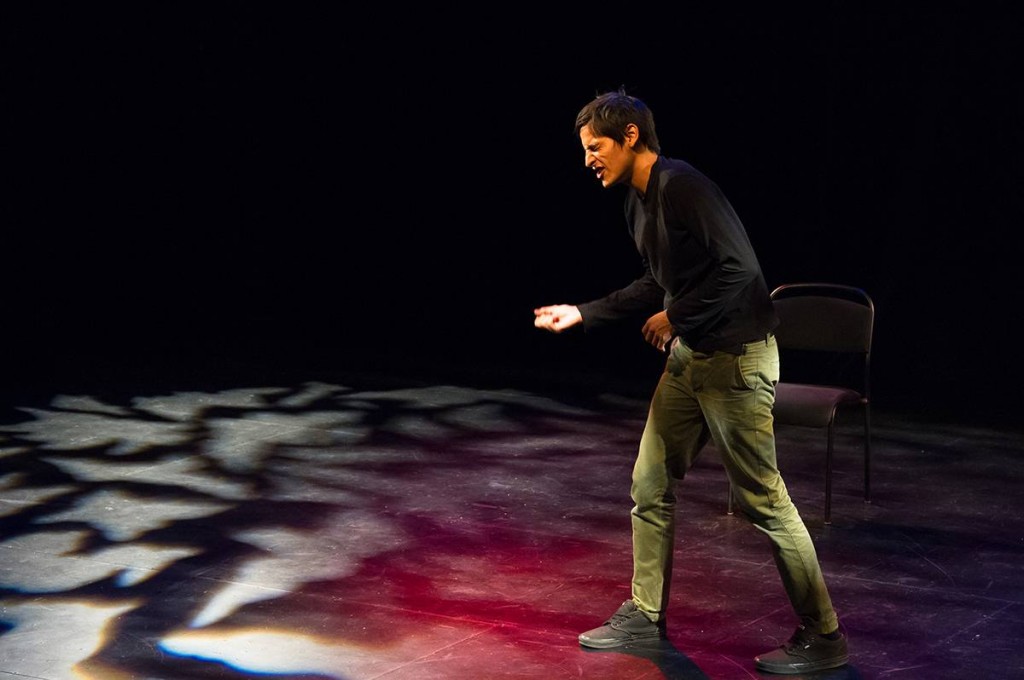 .
But there's not a whiff of self-pity or accusation in Huff. Instead, the tragedy – and it is one – is laid on the doorstep of Trickster, the real or mythical presence that steps in when he sniffs fear.
Cardinal, a ruggedly handsome, gangly young man and the son of celebrated Canadian actor Tantoo Cardinal, is a keen observer. He plays ten characters including the family dog Angelina (who gets into a confrontation with a skunk), the boys' father and mother, their stepmother Donna and even a row of beer bottles. Favourite characters are the boys' kokum, their grandmother, a no-nonsense old crone who loves the boys and hates their father over the death of her daughter, the most beautiful girl in the world. And even though Cardinal's central character is the middle child, it is the sweet younger brother who steals our hearts with his oft repeated, little voiced, "Awesome."
Huff is full of energy, passion and humour. Only in hindsight did I understand the skunk episode and it's very clever. The boys end up covered in 'skunk' and their kokum sends them out with a big bottle of stewed tomatoes to get rid of the smell. Cardinal splashes it all over himself, all over the stage – front row beware – then offers, with hands covered in tomatoes, to high five someone in the audience. Okay, maybe it's a stretch but it's a baptism of sorts and the person who accepts the high-five is 'red' for moment. From a CBC interview with Cardinal back in October 2015, he said, "Well, the cool thing about the tomatoes is that they replicate shame. When your clothes are covered in tomatoes, or when you smell bad, you are automatically apologizing for who you are. And that's what it's like to be a little Indian kid in some of these situations. You have to stand there and feel like you're not good enough."
Cardinal makes several direct addresses to the audience and they are profound – not casual. In one confrontation, he begs someone in the front row to remove the plastic bag over his head that is slowly suffocating him.
This is a very intelligent writer and a fine performer who doesn't tell us how to solve the problem but lays the situation out in cold, hard light. Co-produced by Native Earth Performing Arts, the Firehall Arts Centre and the PuSh International Performing Arts Festival, Huff makes us laugh, not often, but enough to take the edge off, and we leave knowing something must be done. This is a problem that is not simply going to go away but the recent election of Melanie Mark, the first First Nations woman elected to the BC Legislature, is a damn fine start.