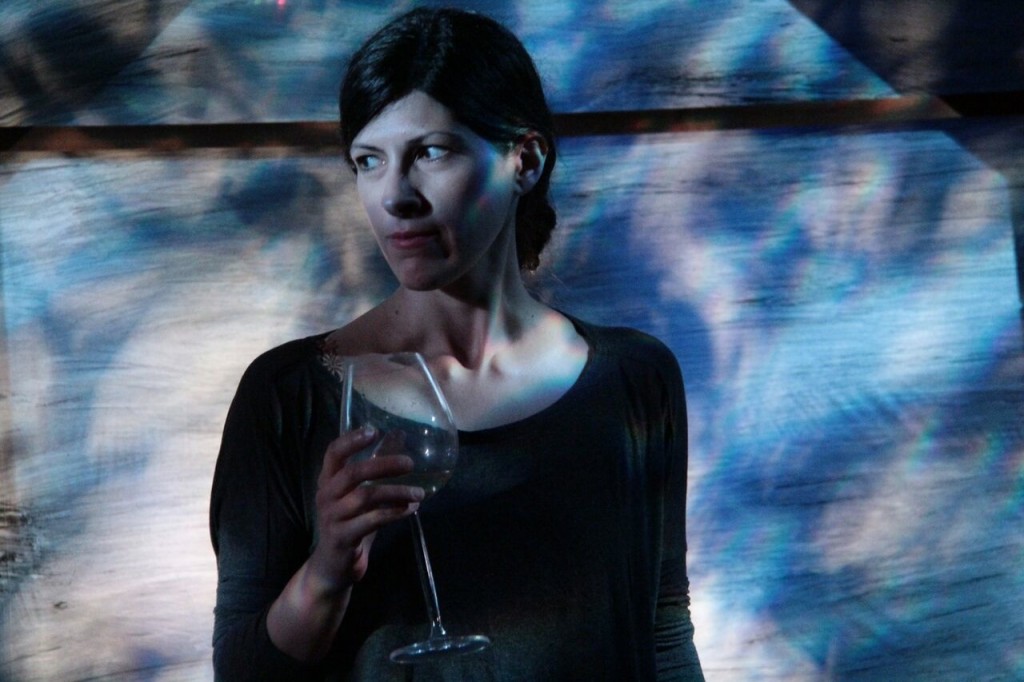 At Havana Theatre until May 30, 2015
 nakedgoddess.brownpapertickets.com
Posted May 24, 2015
The potential for incest hangs over In A Forest, Dark and Deep like a huge thunderhead just waiting for lightning to strike. Once Bobby (Carlo Marks) comes into his sister's lakeside hideaway (designed by Triane Tambay, lit by Graham Ockley), you can feel brother/sister sex in the air. If the production had a smell, it would be musky.
This is no Hansel and Gretel story. If you're looking for light entertainment, playwright Neil LaBute (Dark Dark House, Shape of Things, Bash) consistently never provides it. In A Forest is a searing exploration of a relationship that swings ferociously to and from all points on the sibling relationship compass: carnality, conditional/unconditional love, rivalry, jealousy and the happy or unhappy familiarity of a shared past.
Ably directed by Tamara McCarthy for Naked Goddess Productions, it's an excellent vehicle for two actors and an emotional rollercoaster – more intensity than some theatregoers will be able to withstand. LaBute has been called "American theatre's reigning misanthrope" by The Village Voice and even LaBute's wife says he writes to shock his audience. There's plenty of shock in this forest and lots of words your mother forbade you to say.
But LaBute does deal with some material that doesn't come up very often: the destructive – yet sexually arousing – effect of a promiscuous older sister on a younger brother. Betty (Sandra Medeiros) is, by most people's definition, a slut. She's been sleeping with anyone and everyone for years. Brother Bobby caught Betty, age fifteen, fellating one of her teachers who subsequently lost his job, his wife and his family. Her behaviour continued even after her marriage to Bruce, although she took a break until she discovered he was sleeping with his secretary.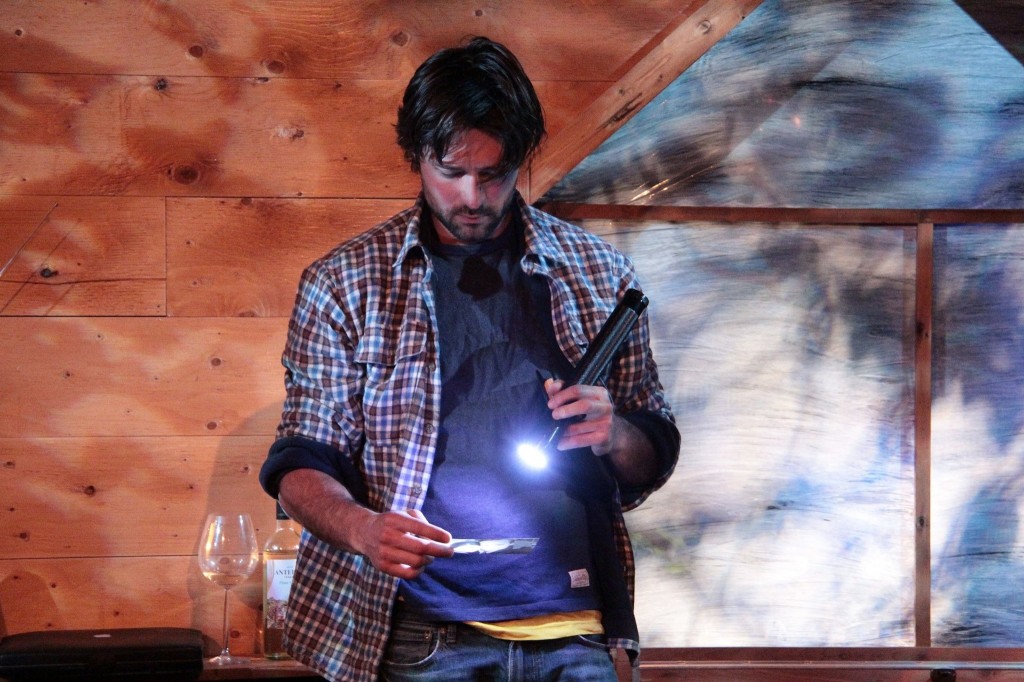 She's not only promiscuous, she's an irredeemable liar. And a sort-of Christian. Is sleeping with one of her college students actually against God's law? She has to ask?
LaBute, unfortunately, gives only scraps of back-story – not nearly enough – to explain Betty's rampant sexuality. Maybe Dad didn't love her enough. Maybe dad was having sex with her. So all we're left with is: Betty's a bad, bad girl. The play, therefore, is drenched in misogyny.
Brother Bobby's no saint, either. He's coarse, abusive, would definitely have sex with Betty if she'd let him and despite the integrity he boasts about having, when the truth finally comes out, he has none.
Medeiros and Marks are fantastic together. There's a lot for Medeiros to work with: Betty is a college teacher; she's articulate, beautiful, trendily dressed in ripped jeans, an off-the-shoulder sweater and suede boots. Medeiros's character has a journey to take. There are ups and downs and Medeiros makes all the right moves – sometimes convincing us Betty is a paragon of virtue; at other times, that she's just a bitch in heat. Medeiros does a sexy boody-shaker that, if Bobby weren't already hot for her, he soon would be.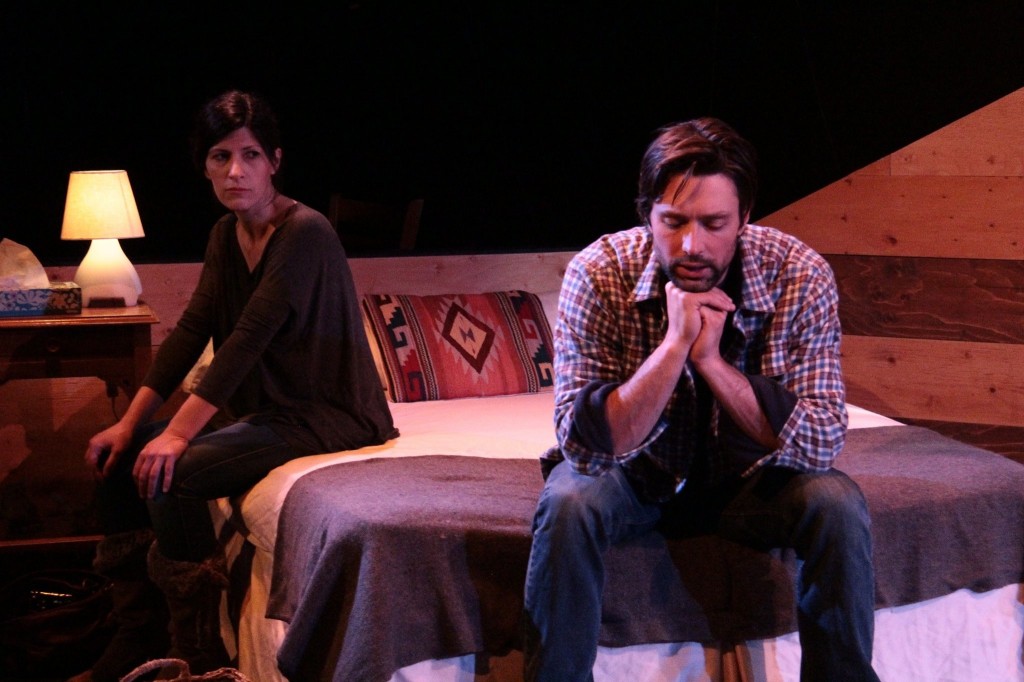 Bobby comes in already a little boozed up and ready for a fight. And he escalates from there. Marks ends up yelling on enough occasions to keep your stomach tied up in knots. And he maintains an element of physical menace that keeps us wondering when Bobby will completely lose it.
Terrific performances, both.
While I appreciate LaBute tackling tough subjects, I can't say I like his work. In A Forest is emotionally charged theatre and I was engaged all the time. But there's an indescribable something missing: does In A Forest, Dark and Deep have any redeeming value other than its theatricality? It ends up being a kind of thriller with the bad guys wondering if they've disobeyed the Ten Commandments. If not, it's all okay. She's a bitch and he wants into her pants. Ultimately, who gives a damn?