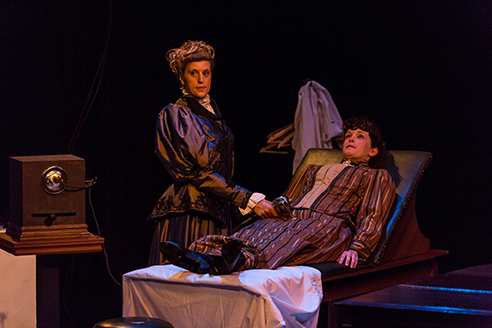 At Jericho Arts Centre in repertory with Master Class and A Prayer For Owen Meany until August 17, 2017
Tickets from $25 at www.ensembletheatrecompany.ca. Pay-what-you-can Wednesdays at the door
Posted July 22, 2017
THIS REVIEW WILL APPEAR IN THE JULY 27 EDITION OF THE WESTENDER
With all due respect to American playwright Sarah Ruhl and the Ensemble Theatre Company (ETC), I think In the Next Room is highly over-rated.
It's a mash-up of Ibsen's A Doll's House and Eve Ensler's The Vagina Monologues with a pinch of Anne of Green Gables. A "brilliant comedy" according to The Guardian critic Michael Billington, it's only funny if you're amused by women having orgasms on the business end of what looks like a rubber-tipped rotary sander. Ruhl throws in the dawning of the age of electricity, unhappy marriage, repressed sexuality, "hysteria" in women, jealousy, difficulty breastfeeding, incipient lesbianism, the liberating capacity of art, a kind of Mme. Bovary attachment to romanticism and the joy of having sex in the snow with the woman on top.
Set in late 19th century America, the 'next room' refers to Dr. Givings' "operating" room a term his patients find frightening, so the doctor and his nurse simply refer to it as "the next room". It adjoins the drawing room of his home where his wife Catherine can overhear the sighs, moans and shouts of Dr. Givings' female patients when he applies his rudimentary vibrator to their lady parts as treatment for hysteria.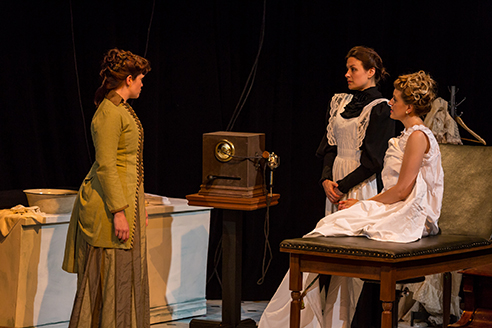 Married at seventeen to a much older man, Sabrina Daldry (Christine Reinfort) has been diagnosed by Dr. Givings (Sebastian Kroon) with hysteria; she's restless, anxious and irritable and who wouldn't be, married to geriatric Mr. Daldry (David Wallace). But she exits 'the next room' glowing, refreshed and apparently happy. A vibrator will turn her life around? Make up for being married to an old grump? Orgasm is a bit like having a massage: you feel great for half an hour and then your neck begins to hurt again.
The obvious happens: Mrs. Givings (Lindsay Nelson) can't resist sneaking into her husband's consulting room, hopping up on the examining table and turning on the juice. Then she's happy, too!
To playwright Ruhl's credit, In the Next Room is not just about vibrators and orgasms, it's about overcoming the cultural taboos of the period and engaging in loving, equal-opportunity, married sex.
For ETC, Keltie Forsyth directs a solid cast. Lindsay Nelson is sweet as Catherine Givings but she seems patterned after Anne in Anne of Green Gables; she's talkative, excitable, forthright and irritatingly perky. "I say whatever's in my head," she says unapologetically.
Kroon does his best as the doctor. But, as in A Doll's House, Dr. Givings tells his wife more than once she's "a good girl"; you can cut the condescension with a dull knife. And I'm amazed that Kroon refrains from laughing out loud with his hand holding the buzzing vibrator under the sheet while Reinfort sighs and moans, "Oh, oh, ohhhh."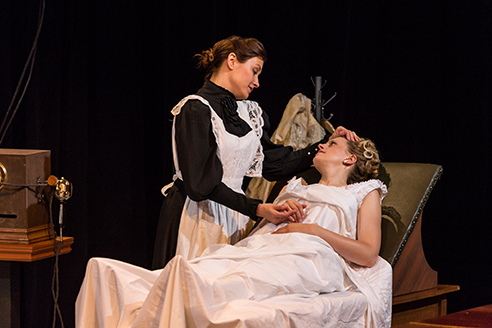 I don't know what to make of Leo (Francis Winter), the artist, who comes to be treated with Dr. Givings' other electrical contraption that looks like a cross between an excavator and woodpecker. He blithers on about the sexual freedom that exists in Europe. Does Mrs. Givings actually fall for him or does she just use him to make her husband jealous?
There's a stunning array of gorgeous gowns by Julie White; a pretty set by Lauchlin Johnston (including a piano that is played – but for what purpose? – by both Mrs. Givings and Mrs. Daldry); a quiet, dignified performance by Alexis Kellum-Creer; and a powerful portrayal of the black, wet nurse by Mariam Barry.
I encourage you to see In the Next Room. Tell me I'm wrong and that you were rolling in the aisles. Or tears filled your eyes as the snow, Kroon's underpants and the curtain fell.