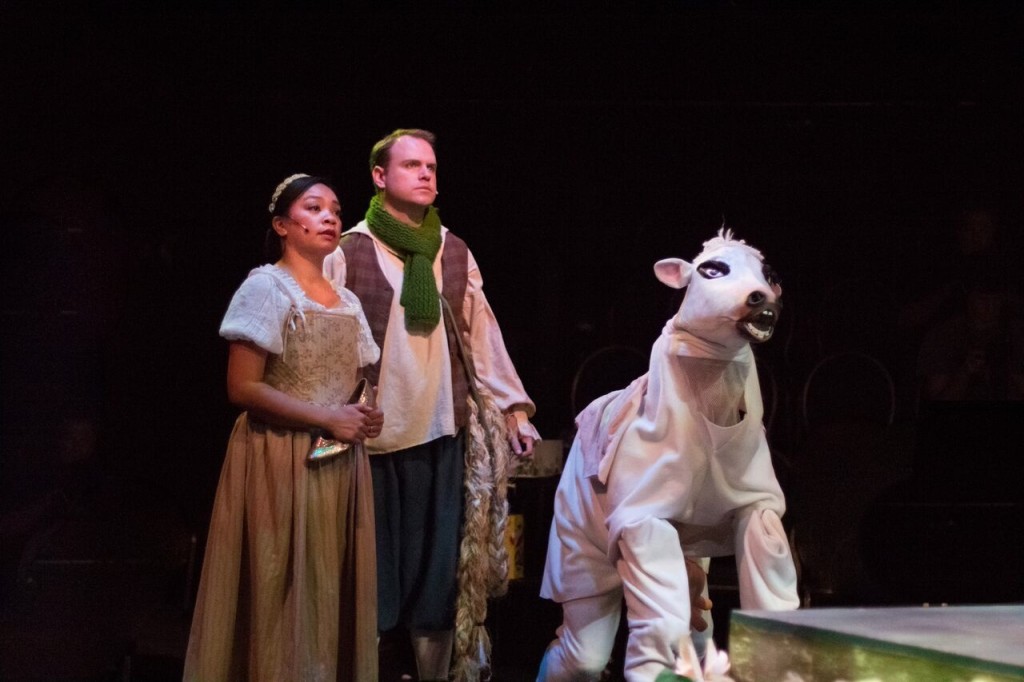 At the Jericho Arts Centre until May 16, 2015
604-224-8007/www.ticketstonight.ca
Posted May 1, 2015
Stephen Sondheim fans got lucky this spring with both Sweeney Todd and Into the Woods on Vancouver stages. At the Queen Elizabeth Theatre, the Vancouver Opera Association's Sweeney Todd is a big, elaborate, costly and fully professional production. (Closes May 3.) Into the Woods, at the Jericho Arts Centre, is an enthusiastic, mostly non-professional show mounted by Fighting Chance Productions. From the perspective of the company's founder and artistic director Ryan Mooney, Into the Woods is both ambitious and costly to produce in spite of having only one professional Equity actor (out of a cast of 17) to pay. But then there's rental of the Jericho Arts Centre, rights, rental of equipment, five-piece orchestra (under the direction of Angus Kellett), costumes and marketing. It all adds up. With a cast that large, Into the Woods has probably been relegated to non-professional or theatre school productions. Or New York.
And it's not an easy musical: Sondheim's trademark music, with its constantly changing rhythms and fast-paced, tumbling lyrics, challenges both performers and audience. The plot (with book by James Lapine) is easily as twisted and circuitous as anything Shakespeare ever wrote – even though it's based on stories by the Brothers Grimm.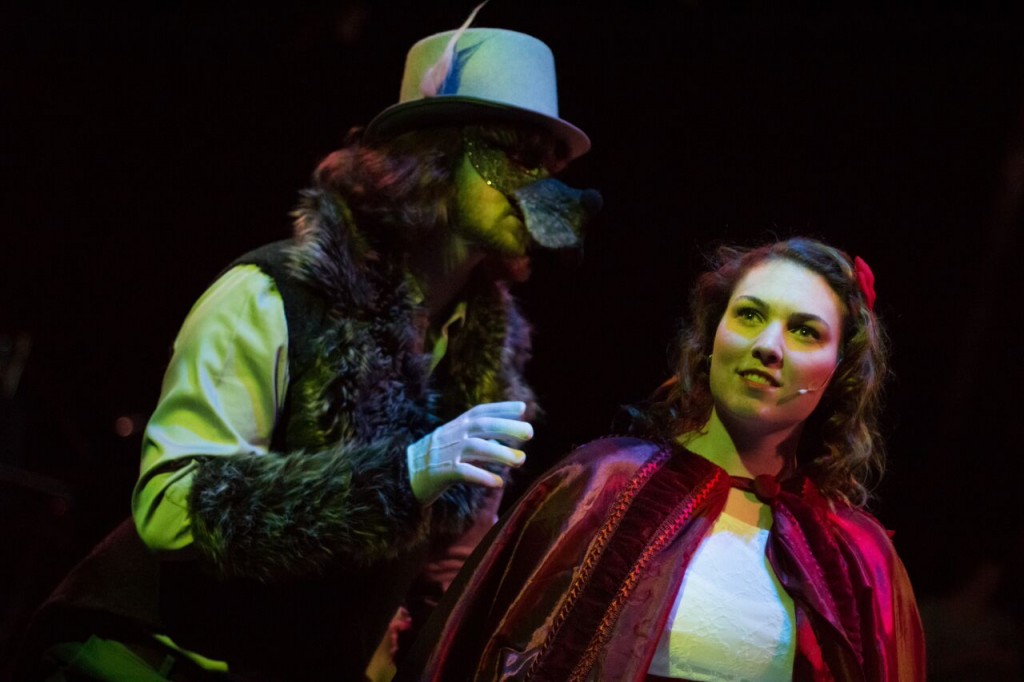 Into the Woods is a very clever mash up of Cinderella, Rapunzel, Jack and The Beanstalk and Little Red Ridinghood. When the Baker (Christopher King) and the Baker's Wife (Jennifer Suratos) strike a bargain with the Witch (Sarah Wolfman-Robichaud) in order to conceive a child, the quartet of fairytales and all the associated characters – including Milky White, a cow (Ryan Lino) and a wolf (Jason Cook) – get into the action. The Baker and his wife have three days to lift a curse on them by finding a cape as red as blood, hair as yellow as corn, a cow as white as milk and a slipper of gold. Item by item they get them, then lose them, get them back. By the end of Act 1, things are looking up.
But there's still Act 2.
And this is when the Sondheim we know and love really turns the screws. The 'Woods' reveal themselves as a metaphor for 'real life'. Diving in, taking chances, suffering disappointment, being betrayed, getting what you ask for – and then not wanting it at all. Settling for less and then finding it may not be what you wanted but it's what you need.
It should be clear by now that this isn't for the kiddies. Happily ever after it isn't.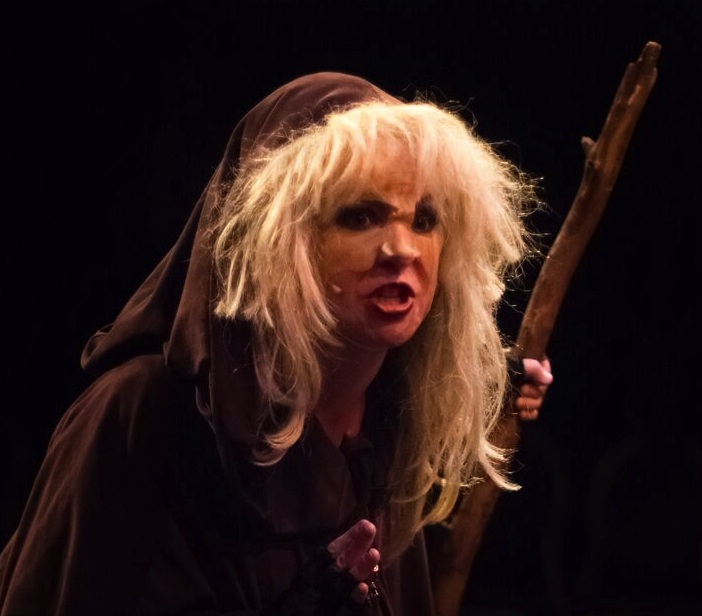 The lyrics are so densely packed that unless the singer enunciates extremely well and the head mike is working (and there were problems with several of them on opening night), the lyrics whiz by in a blur and the story becomes a bit of a guess. Sondheim twists and wraps the Grimms' tales like a ball of string:  the magic beans that foolish Jack (Henry Beasley) takes in exchange for Milky White are the same beans that his father stole from the Witch's garden, making her so mad she put a curse on the Baker (hey, it wasn't his fault his father stole her vegetables) so that he and his wife would be childless. The Witch, it turns out, took Rapunzel (Olivia Lang) from the Baker's father to punish him for stealing her beans. Hardly a fair trade. And, with Rapunzel all she has, the Witch locks her in a tower and doesn't want any princes hanging around, thank you very much.
It's complicated.
There are some excellent performances in all this mayhem. King and Suratos (the Baker and his wife) are a real life married couple and so good you never have to guess at the lyrics. Together, they are the focal point around which the story turns. Jason Cook is so nasty and sexy as the Wolf and so enamored of himself as the Prince, that he provides lots of comic relief.
Caroline Buckingham (Cinderella) has a lovely, clear voice and if she seems a little glamourless it's probably because, as the Witch says, "You're not good and you're not bad – you're just – nice." She pronounces 'nice' as if she were actually saying 'stupid.' Elise Sherwood makes a merry, skipping Little Red who finds the wolf scary but more than a little titillating.
"Agony", is sung by the two Princes (Cook and Zach Wolfman) in Act 1 and reprised in Act 2. In Act 1, their agony results from not getting what they want – Cinderella and Rapunzel. In Act 2, their agony arises from getting what they wanted: Cinderella and Rapunzel. Marriage, they find, is not what's it's cracked up to be. But the song is a highlight.
Compared to the Arts Club or the VOA, this is a shoestring production but it's enthusiastically tackled. It's hard not to give director Ryan Mooney and Fighting Chance Productions (in association with Renegade Arts Company) full marks for pouring everything they've got into it: heart, soul and money. With a couple of sold out houses already, maybe they'll be out of the woods in no time.