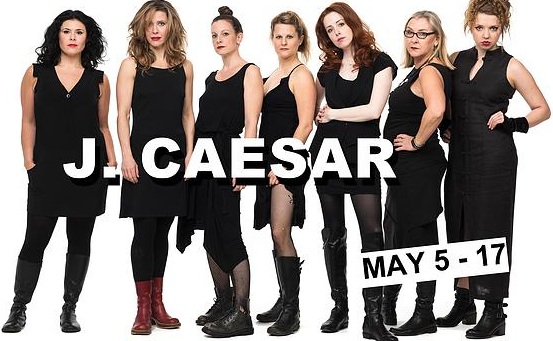 At Performance Works until May 17; Kay Meek Centre, May 21-29. In repertory with Miss Shakespeare.
604-684-2787/ticketstonight.ca
Posted May 11, 2015
Images posted May 12, 2015
Writer/composer/performer Tracey Power bemoans the fact that women are under-represented in the theatre. She figures it's about 70/30 men to women. What to do? Well, why not take a male-dominated Shakespeare play and cast only women. Why not?
It's a gutsy move but the result, adapted by The Escape Artists (Power and company) and set in some indefinite future, is a bit of an oddity. Gone is the male pronoun 'he', Mark Anthony is Antonia and Julius Caesar is Julia Caesar.
It's really hard to accept the eulogy to Brutus that has rung like a bell across the four hundred years since Shakespeare penned it, "Her life was gentle, and the elements/So mix'd in her that Nature might stand up/And say to all the world, 'This was a woman.'"
I don't know what would have been the more awkward: female actors referring to their characters as 'he' and 'him' or changing the pronoun to 'she' and 'her.' It's strange either way.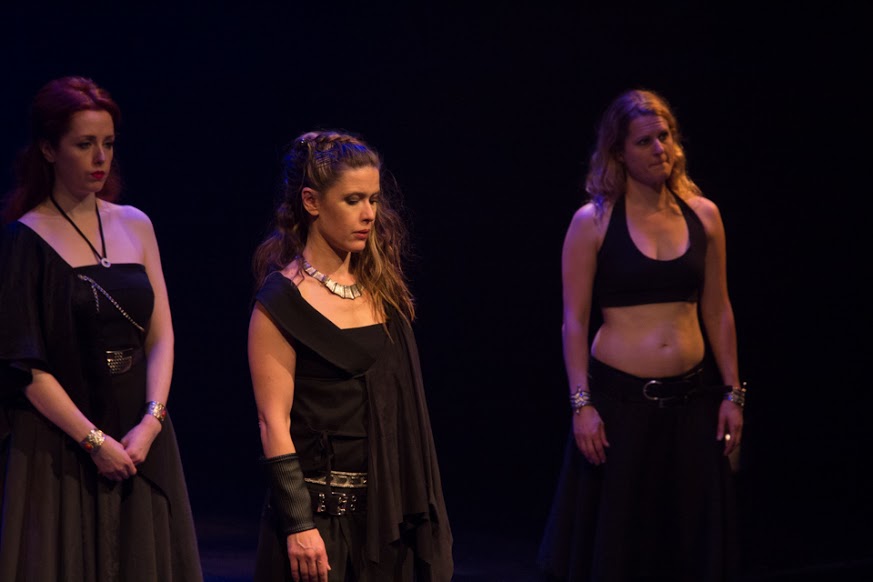 J. Caesar sticks pretty closely to Shakespeare's words, otherwise, and there were times when, in the intimacy of Performance Works, I felt the significance of some lines that previously had never sunk in. For example, Cassius's apology for Caesar's ambition, "Poor Caesar. . He were no lion were not Romans sheep."
Certainly, in this production, Cassius's famous line, "The fault, dear Brutus, is not in our stars/But in ourselves, that we are underlings", comes like a feminist call to arms.
Indeed, from a kicking-boxing beginning – seven women all in black with metal belts and black army boots – to the end, the mood is defiant, and under James MacDonald's direction, it feels relentlessly angry. Lines that would carry so much more weight or menace were they delivered quietly, are often shouted. Power, in the role of Antonia, did not, on opening night, find the subtlety in the subversive address to the Romans, "If you have tears, prepare to shed them now." It came as one long rant.
The production, however, is so handsome from Cory Sincennes' set and dramatic lighting with lots of blood red to Barbara Clayden's futuristic, layered costumes. Red-haired Lisman (as Caesar), when lit from above or behind, appears like a raging bonfire. Sound designer Steve Charles sits upstage and elevated and is often red-lit. Most of the time it works; sometimes it's a distraction.
Performed in rep with Miss Shakespeare, J. Caesar tempts the audience to compare the actors from one play to the other. Medina Hahn (Cassius) is much tougher in this larger role than as Katherine in Miss Shakespeare. Upright as Susanna Shakespeare-Hall in Miss Shakespeare, Caroline Cave is nuanced and very powerful as Brutus. The falling-on-the-sword scene is as moving as any I've seen. Lisman is equally effective as both Judith Shakespeare and Julia Caesar. Pippa Mackie, Erin Moon and Susinn McFarlen complete the cast.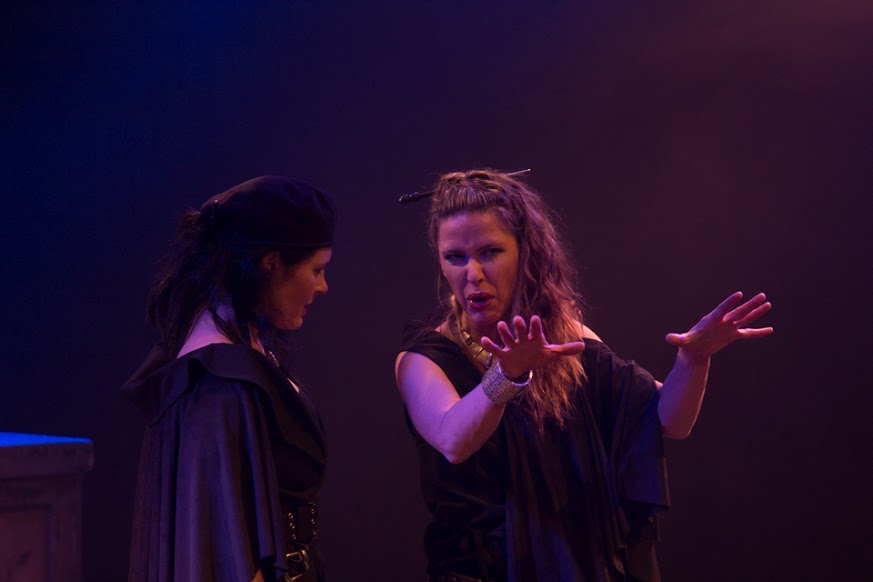 The pairing of Miss Shakespeare and J. Caesar is a bold and interesting experiment. There's no doubt that Tracey Power, with that 70/30 fire in her belly, will continue writing some original scripts – like Miss Shakespeare – to take advantage of the abundance of talented women who are ready to sink their teeth into something really meaty. Perhaps she will be able to improve that 70/30 ratio and make it 50/50.