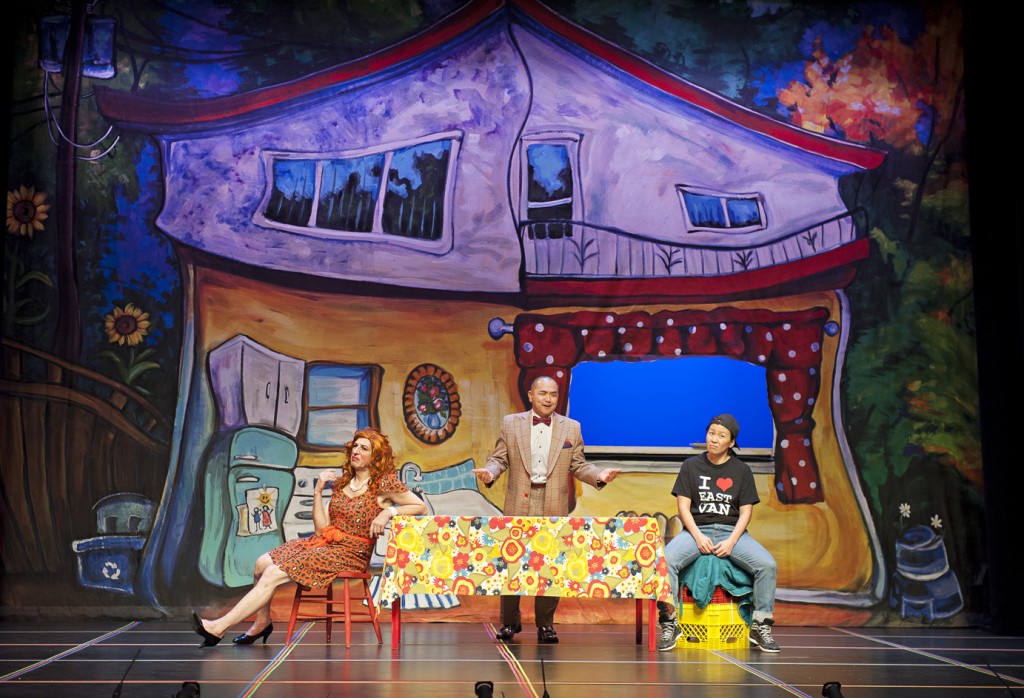 At York Theatre until December 29 (7PM curtain)
604-251-1363/www.thecultch.com

Posted on December 8, 2013
Well, the beans have now been spilled: the York Theatre, operated by the Cultch, is open again for business. And this time, it's monkey business in the form of an East Van pantomime complete with a bone-grinding giant and a naïve little boy who trades the family's precious cow for a handful of worthless beans.
Built in 1913 as the Alcazar, the theatre – after many re-namings and re-purposings – was scheduled for demolition in the early 2000s. But as magically as Jack's beans sprouted and grew, individuals and organizations came forward to save the building.
Completely renovated, the York Theatre opened its doors to this Cultch and Theatre Replacement production of the old favourite, Jack and the Beanstalk. But the story has been completely 'renovated' by Charles Demers, directed by Amiel Gladstone with music by Veda Hille. It's full to bursting with local references to Vancouver realtors (who sell shoeboxes for half a million dollars), Aldergrove (that exists only so Langley has a town to make fun of), food allergies, 3-ply toilet paper, composting, bike lanes – in short, there are no sacred cows left standing.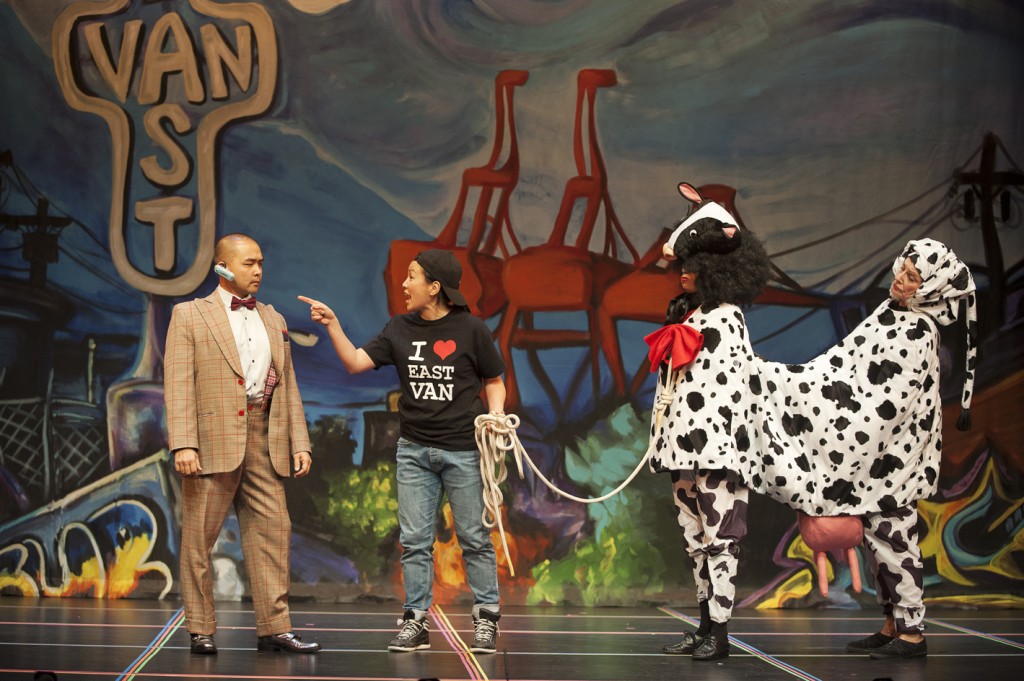 In her program notes, Heather Redfern, executive director of the Cultch, points out that this inaugural show reflects the East Van roots of the Cultch where the Leaky Heaven Circus, created by a group of East Van theatre artists, their kids and dogs, was born.
As Ray Nator (the Narrator and CEO of Buy Now, Pay Nator Realty), Raugi Yu kicks the show off and introduces Jack (Maiko Bae Yamamoto), Jack's mom (Allan Zinyk) and Old Mudder Udder (with Dawn Petten at the front end and Patti Allan bringing up the, uh, rear). And then, pretty much, all heck breaks loose.
Zinyk, as always, is hilarious in a red wig, red dress and high heels and, later, as the Giant, all rigged out as a Vancouver Giants hockey player sans skates. But he really rocks the place with his "East Van Single Mama-Ma-Mama Blues". Oh yeah. And lines like, "I haven't had my hopes dashed since the last election", drew roars of approval at the opening night gala.
In a backwards baseball cap, Yamamoto (whom we discover can sing like an angel) is an enthusiastic little Jack, referred to by his mother as "my compostable little banana peel", "my flaky little coconut", "my smelly little durian fruit", my translucent little lychee" until she runs out of fruits and vegetables.
Petten triples as half a cow, an off-key, singing harp and Dr. Stargazer, an Eastern-style guru. With a twitch of her nose or a grimace that passes for a smile, Petten can – and does – induce laughter. Patti Allan doubles as the hind end of a cow and, dressed in a brocade gown appropriate to Bard on the Beach, as lonely and possibly over-sexed Mrs. Giant.
You ain't seen a chicken until you've seen Yu in his chicken suit (designed by Redfern). But, really, it's the startled chicken look on his face that's the killer.
Pam Johnson's painted set (with scenic illustration by Laura Zerebski) is cartoony, larger than life and brightly coloured; Veda Hille offers a couple of original songs as well as providing keyboard accompaniment to re-worded tunes like "Somewhere Over the Rainbow" ("Somewhere East of Cambie")," I Want to Take you Higher", "Those Were the Days" and a dozen more. Petten amazes us with a high speed, "cheesy" interpretation of "I Will Always Love You" ("I Will Always Love Blue").
The kiddies will love the familiar central story while the young at heart will get a kick out of all the puns and clever rhymes (like "babies" and "Libby Davies").
And, yes, Virginia, you will sing Silent Night (new words provided) that ends with, "Give your mother some peace/eat your broccoli and peas."
It's good fee-fi-fo-fum fun for the whole family.