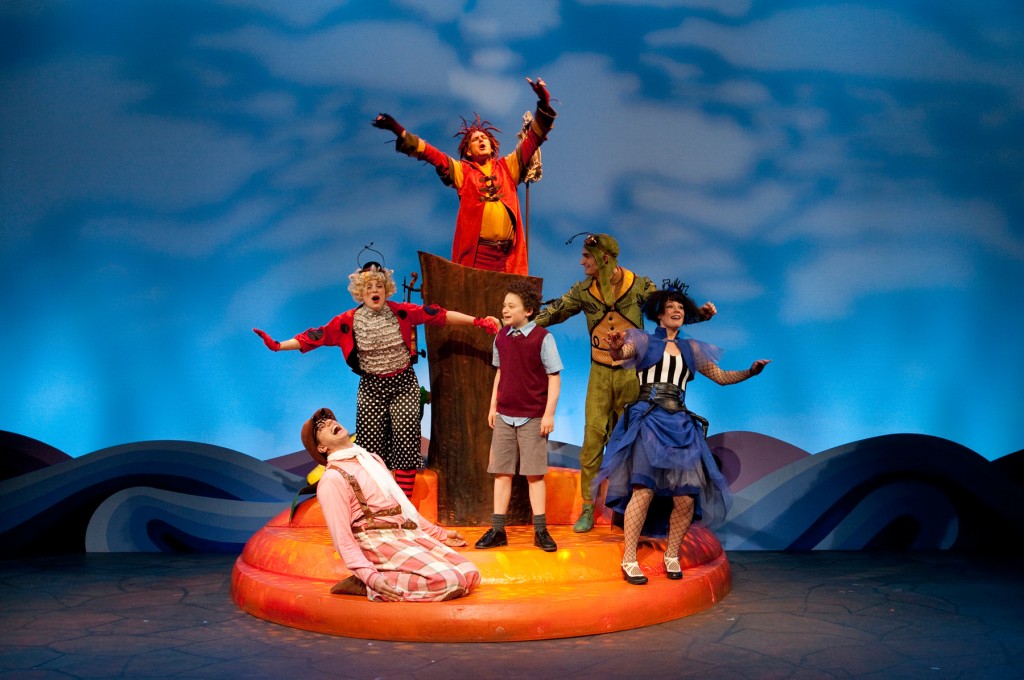 At The Waterfront Theatre until January 4, 2015
604-685-6217/carouseltheatre.ca
Posted December 10, 2014
It's not unusual in TYA (Theatre for Young Audiences) to have actors dressed up like cute little bunnies, raccoons or squirrels but it's out of the ordinary to find the stage 'peopled' with creepy crawlies. While we're fine with ladybugs and grasshoppers, for some people there's a definite 'eeuuw' factor around earthworms and a bit of fear concerning spiders and centipedes.
A big part of the message of James and the Giant Peach, written by Roald Dahl and adapted as a children's musical by Benj Pasek and Justin Paul (words and music) and Timothy Allen McDonald (book) is this: the more you get to know someone/something, the more you find you can trust them – even if they're bugs.
Getting to know lascivious Aunt Spiker (Patti Allan) and gluttonous Aunt Sponge (Deborah Williams) will not endear them to you, however. Four-year-old James Henry Trotter (Julian Lokash) is orphaned when his parents are eaten by an escaped rhinoceros; his aunties are obliged to take him in. They live high on an isolated hill near the white cliffs of Dover and make their living by picking pockets and other nefarious activities. Turn Allan and Williams loose and they run with it, garnering the most laughs – especially for the grownups – in the show.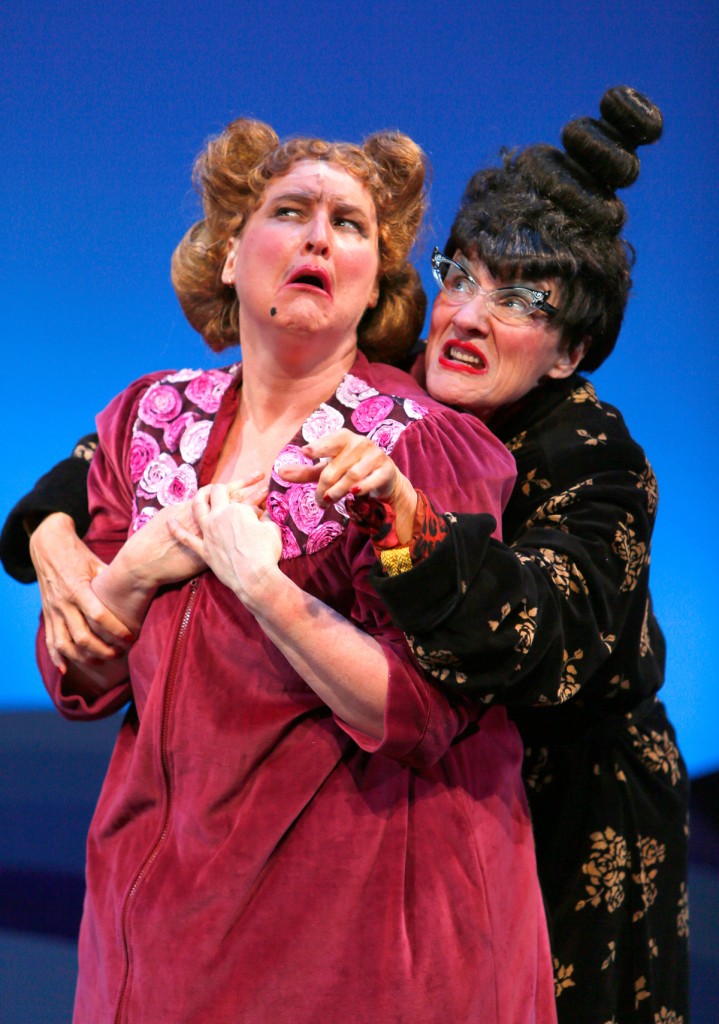 After a mysterious old wizard (Jonathan Winsby) turns up, ill-treated little James brews up a magic potion but before he can drink it, he spills it on a barren peach tree in the garden. Amazingly, the tree suddenly produces a house-size peach. Some of the potion splashes on the bugs and they, too, increase in size and take on human qualities including speech.
Adventure after adventure follows.
It's a charming tale given delightful treatment by director Carole Higgins, artistic director of Carousel Theatre for Young People. Before the concoction gets spilled, the bugs are handheld puppets crafted by Annett Mateo, originally for Seattle Children's Theatre. But once the potion is out of the bottle, the bugs become human-size. Costume designer Barbara Clayden then whips up fantastic costumes for polka-dotted Ladybug (sprightly Kaylee Harwood), green and skinny Grasshopper (Alex Rose), nervous Earthworm (Winsby again), elegant Spider (Makayla Moore) and multi-legged Centipede (Scott Bellis). A Bard on the Beach veteran, Bellis stands out; he just has that undeniable star quality even when he's just an arthropod.

A little star in the making is eleven-year-old Julian Lokash. With his tight curls and angelic face, he looks like a cherub out of an old Master's painting except that he's wearing short pants, wooly sox, lace-up shoes and a knitted vest: the perfect little English schoolboy. Lokash has a sweet soprano voice that, now and again, was overtaken by the enthusiastic three-piece band (under the musical direction of Steven Greenfield) on opening night.
Al Frisk's set design features a giant peach on which James and his entomological friends sail away. Gerald King splashes light over it all: sometimes warm and peachy, sometimes ocean-blue and wavy.
A testament to the magic of James and the Giant Peach is the rapt attention the kids (six and older) pay to the show; the evening performances begin at seven o'clock and run about two hours, just a little past bedtime. There are also weekend matinees.
Young, bright eyes riveted on the stage, the children are captivated by the story of an unhappy little boy who finds a new family – albeit multi-legged and antenna-ed.
Carousel Theatre and Carole Higgins deserve a big shout-out for introducing thousands of kids to the theatre. They'll grow up thinking this is part of the joy of living: we go to the theatre. Some of them – like Julian Lokash, if he wants it – will make a life there.