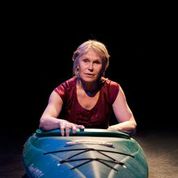 At The Cultch until May 26
604-251-1363/tickets.thecultch.com
Posted on May 19, 2013
We're all in the same boat. And it's rocking. What to do? What to do?
Kayak really got me where I live: I recycle, drive a small fuel-efficient car, carry my own mug and shopping bags, buy local produce. I support Ecojustice, Greenpeace, Wilderness Committee and the Suzuki Foundation. I don't eat farmed salmon. Or veal.
But have I gone to Peace Summit conferences to stand on the line? To China to protest the damning of the Three Gorges? To Kitimat to stop the Northern Gateway Project? No. Doing our best might no longer be enough.
In Jordan Hall's 2010 award-winning Kayak, BMW-driving Annie Iverson (Susan Hogan) is trying to do all the right things, too. Okay, she might want to think about driving a SmartCar or a Fit, but she's trying. The whole thing reaches the breaking point when her son Peter (Sebastian Kroon), a third-year Sauder School of Business student, hooks up with Julie (Marisa Smith), a young activist bent on saving the world. When Peter falls for Julie and it looks like he will follow her to places where they shoot activists, Annie is prepared to do anything to keep Peter out of harm's way.
I know that feeling.
Like some activists, Julie can be a self-righteous pain in the butt. Socrates said the unexamined life was not worth living; but the constantly examined life is exhausting: where were your runners/cellphone/t-shirt/bicycle/jeans/sunscreen/yoga pants/kayak/every little thing made?
Playwright Hall so carefully crafts the dynamics that it's almost impossible to take sides. And she forces you constantly to consider where you are on the continuum of the economy and the environment.
Susan Hogan looks made for the role: she's the right age, maybe even the right demographic. Seated in the centre-stage kayak up on supports, her hair is wet and she appears weather-beaten as she sips water from an almost empty plastic bottle and takes tiny bites from a smore (graham wafers, chocolate and marshmallows). Annie has been lost at sea for six days.
Over the hour Hogan has us alternately sympathizing with Annie who has been constantly criticized by Julie, and being irritated by her character's insensitivity to the younger woman's deeply felt fear for the planet. But Hogan is completely compelling when, as Annie, she talks about her love for Peter. He is her life. And she will do anything to keep him safe even it means breaking his heart. Hogan breaks ours.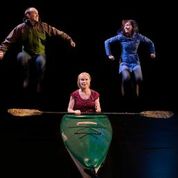 Smith's Julie can be smugly self-righteous; there's no denying it. It's one thing to make choices for yourself but it's another to lay those choices on others. Unless, of course, you think the world is in its endgame and there is no time to be nice about it.  And that's where Julie is. Smith holds a very fine line with this character: in-your-face enough for Annie – and us – to be irritated by her yet committed enough to command our respect.
Kroon, as Peter, is the middle ground. Raised in middle class comfort, Peter has expectations of a life of affluence until Julie comes into the picture. Without the conviction of Julie or his mother's belief in her – and his – entitlement to financial security, Peter shifts back and forth desperately seeking a compromise that will keep both women happy. Getting an MBA with a minor in Biology won't cut it.
This is a terrific, even terrifying, play that delivers some surprises. The intimacy of the Cultch's Vancity Culture Lab cranks up audience engagement. The conclusion goes a bit sideways but you will – or ought to – talk about this play for ages. Directed by Rachel Peake, produced by Alley Theatre as part of the rEvolver Festival, Kayak reminds us that whether we're in a rowboat or a yacht, ultimately we're all in the same boat. And it's probably sinking.