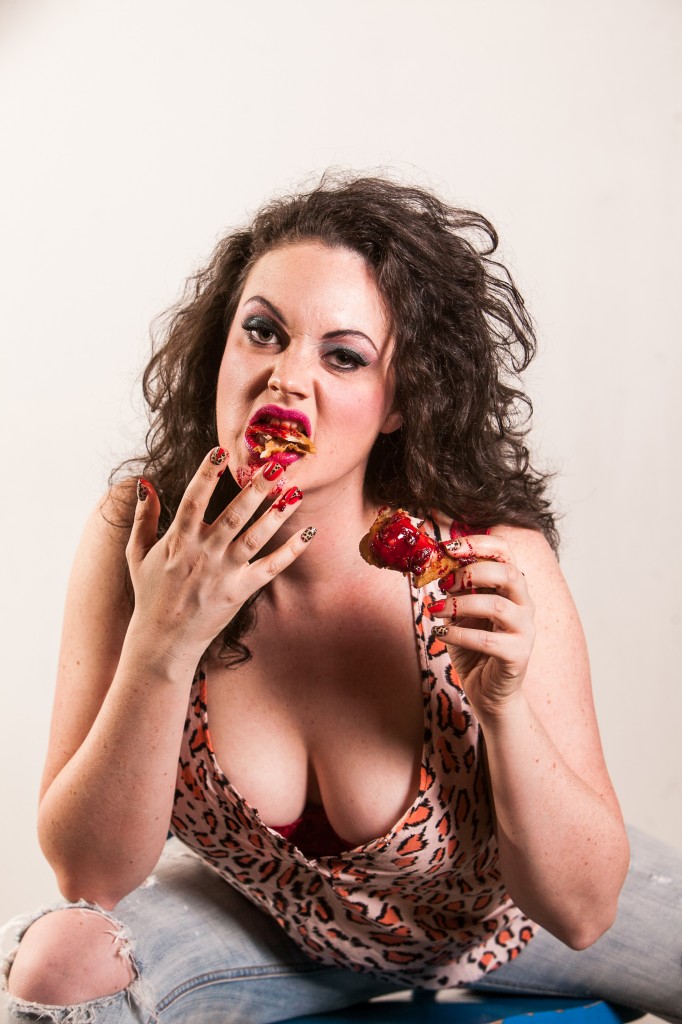 Italian Cultural Centre parking lot (southwest corner) until May 4
www.brownpapertickets.com or at the door (cash only)
Posted April 18, 2014
The windstorm howling around the trailer on opening night was nothing compared to the storm going on inside as Chris Smith (Sebastien Archibald) persuades the rest of the family to hire a hit man to off his mother. The Smith family – Chris, his father Ansel (Ted Cole), stepmother Sharla (Emma Slipp) and sister Dottie (Meaghan Chenosky) are everything you've ever imagined about Texas trailer park trash. The place is a mess (thanks to set designer Lauchlin Johnston): garbage, beer cans, crappy furniture and wonky lampshades. Outside, a dog barks all the time.
Chris has got himself into money trouble over a dope deal gone wrong and the only way out that he can see is to collect on his estranged, alcoholic mother's $50,000 insurance policy. Nice family. Aren't you glad they don't live near you.
There's so much squalor in this ITSAZOO Productions, directed by Chelsea Haberlin, you feel like standing in a hot shower for a very long time afterwards. It's sordid, tawdry, and scuzzy and when the psychological brutality hits its peak, the thirty-odd in the audience packed into the trailer holds its communal breath.
But apart from being a vehicle for some very colourful performances, I don't know why a theatre company would choose to do Tracy Letts' Killer Joe. There's always something suspiciously voyeuristic and 'superior' about a play that focuses on a marginalized group; it's like shooting fish in a bucket – a too-easy target. Killer Joe is often billed as a 'dark comedy': dark, I get. Comedy, not so much.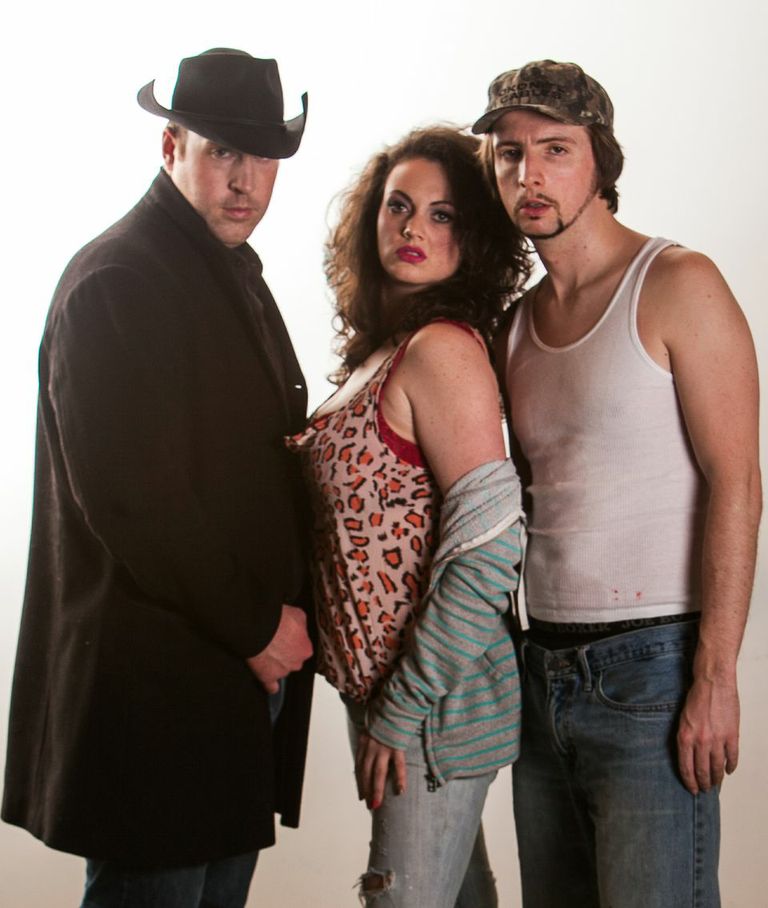 If this entertains us, we have to question whether as a society we've risen above bear baiting, dog fighting or other blood sports.
What is, however, completely riveting are the performances. Seldom have I felt so much menace coming from an actor on stage. True, the intimacy of the space contributes to the effect Colby Wilson (as Killer Joe, a cop-by-day, hired-killer-by-night) has on us but when he says, very quietly, to Dottie, "Take off your brassiere" and "Take off your panties", he made my skin crawl. Wilson's calculatedly quiet, 'gentlemanly' voice is so much more terrifying than had he been yelling. The downside of such a performance is that I may never see Wilson again without thinking of him as Killer Joe. An occupational hazard for an actor.
Slipp is so raunchy and sleazy as Sharla you imagine the smell of the cheap perfume and wonder at the cleanliness of Sharla's underwear. She's brash, she brays like a mule when she laughs and she's just falling out of her low-cut blouses.
Cole and Archibald make a great pair of lowlifes; scruffy, beer drinking, dope smoking Chris and Ansell are the hopelessly stupid.
Meaghan Chenosky plays the most faceted, most sympathetic character. Seemingly 'slow', she is sometimes the quickest of the bunch. Dottie knows what's going on and right in the middle of a conversation she says something that cuts through the crap. It is for Dottie that we weep: manipulated, betrayed, bought and sold: a 'retainer' for services rendered. Chenosky takes us painfully through Dottie's transitions.
ITSAZOO Productions is noted for its site-specific work and included in its vision is the presentation of theatre to a younger and more diverse audience. Raised on TV and film sex and violence, this younger audience might well find Killer Joe funnier than I did. It's undoubtedly an adventure: buying a beer and a hotdog outside the trailer, taking it inside and sitting within the "K Fried Chicken" spatter zone. They might find the hapless, hopeless scramblings of the Smith family amusing.
Warning: this is not for kids. Intermission is outside so dress for the weather. Simulated sex is so well simulated that I guarantee you will not look at a chicken drumstick the same way ever again.