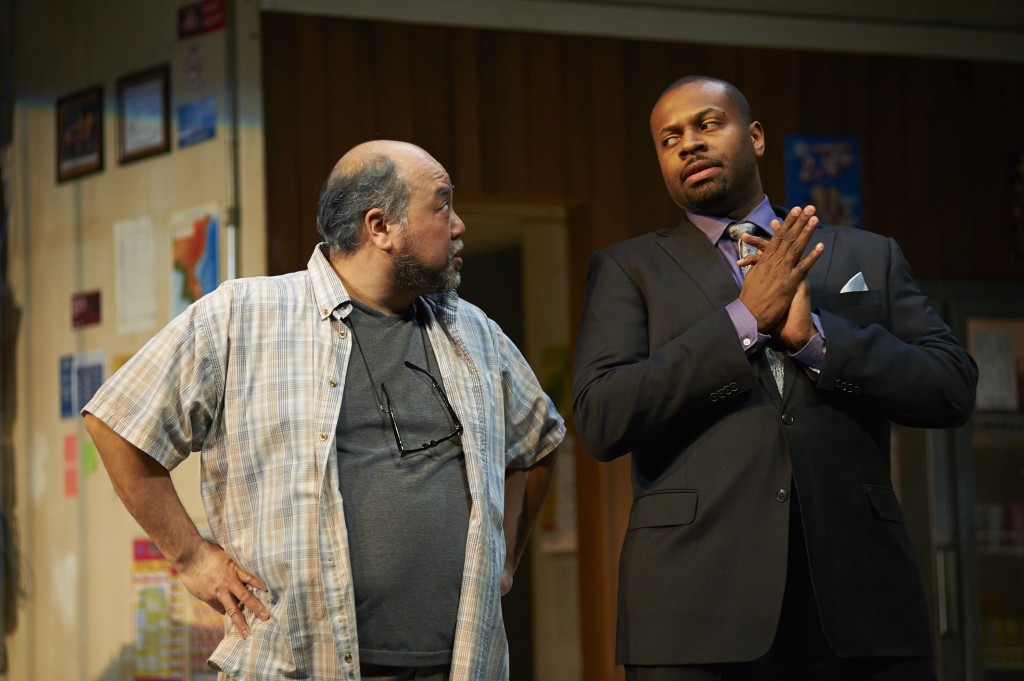 At the Arts Club Granville Island Stage until May 24
604-687-1644/artsclub.com
Posted May 11, 2014
From the Toronto reviews and the press releases, I expected Kim's Convenience to be light, funny and entertaining. It isn't. It's light, funny, entertaining AND a really well crafted script, a splendid production by Toronto's Soulpepper and a very engaging look at corner store culture as experienced by immigrants and their children. It's more than its billing: "A Corner Store Comedy".
While it was written by Toronto playwright Ins Choi, Kim's Convenience is a timely and thoroughly appropriate play for Greater Vancouver with its burgeoning immigrant population. Choi's own father, after a perilous walk from North Korea to South Korea and eventually to Canada, worked in his brother's convenience store by day and went to ESL classes by night. Choi knows first hand what he's writing about.
In Kim's Convenience, Appa ('father') was a teacher in Korea but after coming to Canada, he could not teach because, "My English is very not good". He eventually managed to buy a corner store where he and his wife Umma ('mother') work long hours with no benefits, no pension plan and no holidays. Their children Jung and Janet also worked in the store after school and on weekends; it takes the whole family to keep it going and to make ends meet.
But as with all families, there are tensions. Jung, at 16, had a fight with his father after accusing him of being "a horrible husband"; he left home, started using drugs and cut off all contact with the family except for the occasional visit with his heartsick mother. The family is now a trio: Appa, Umma and Janet.
The store, says Appa, "is my story"; he wants it to be his legacy. But Janet, at 30, is a photographer and unmarried; she does not want to take over the family store. Jung, who now has a Tibetan partner and an infant son, is estranged from his father. So what will become of Appa's "story"?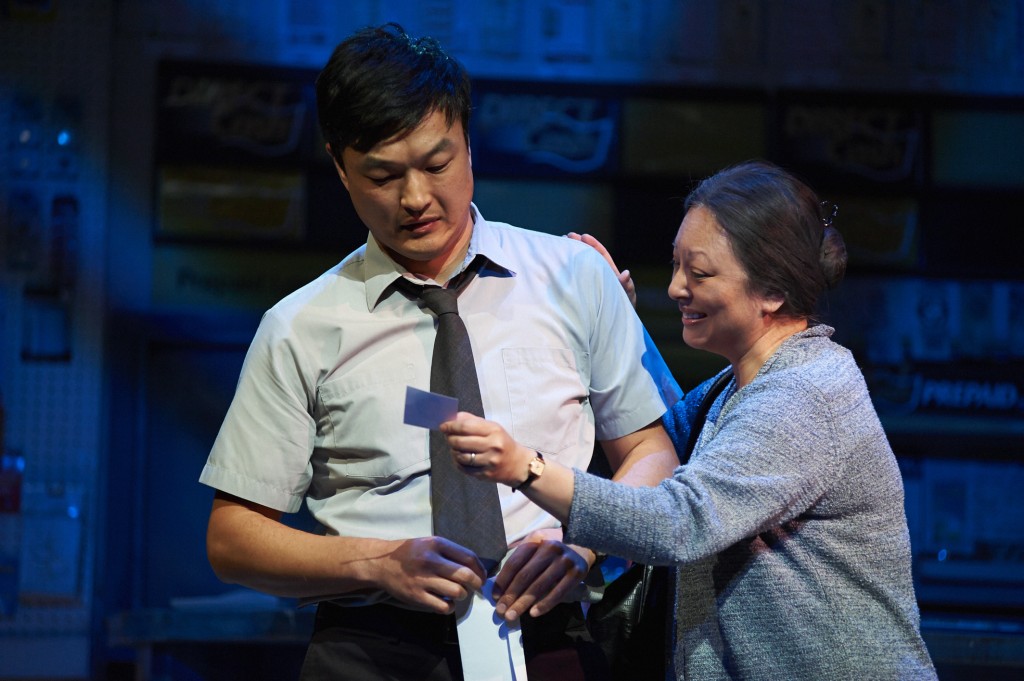 Paul Sun-Hyung Lee brings charm to grouchy, opinionated, bigoted Appa who, in constantly looking back to a 1904 attack by the Japanese on Korea, hates all things Japanese: Toyota, Honda, Mitsubishi, Panasonic, etcetera. What would be seen as racist is, in Appa, understandable, even comic.
As Umma, Jane Luk is quiet and passive while Chantelle Han's Janet is forthright, independent and headstrong.
The playwright appears as Jung in this production and it is in this character that Kim's Convenience goes deeper than "a corner store comedy" would imply. The resolution for Jung is both heartwarming and rather sad. The resolution for Appa is an eye-opener for all of us: his "story" is not the corner store, he discovers; his story is his family.
Andre Sills as Rich, Mr. Lee, Mike and Alex, completes this fine cast.
Ken MacKenzie's set – a replica corner store complete with aisles of junk food and canned goods – is appropriate to the play's realism. Directed by Weyni Mengesha, Kim's Convenience is eight-five minutes of charm, family drama and bitter sweetness. It's no surprise that it has done so well beginning with the 2011 Toronto Fringe Festival and is now touring the country. In the works is a TV comedy series.
Choi calls Kim's Convenience a love letter to his parents. Although the family in the play is Korean-Canadian, the hopes, fears, prejudices and longings of all parents are sensitively portrayed here. Our children, they say, are only loaned to us. After guiding them for so long, letting them go is the hard part. Appa struggles mightily and we are moved by his determination, perseverance, street smarts and, finally, by the love he has for his family.