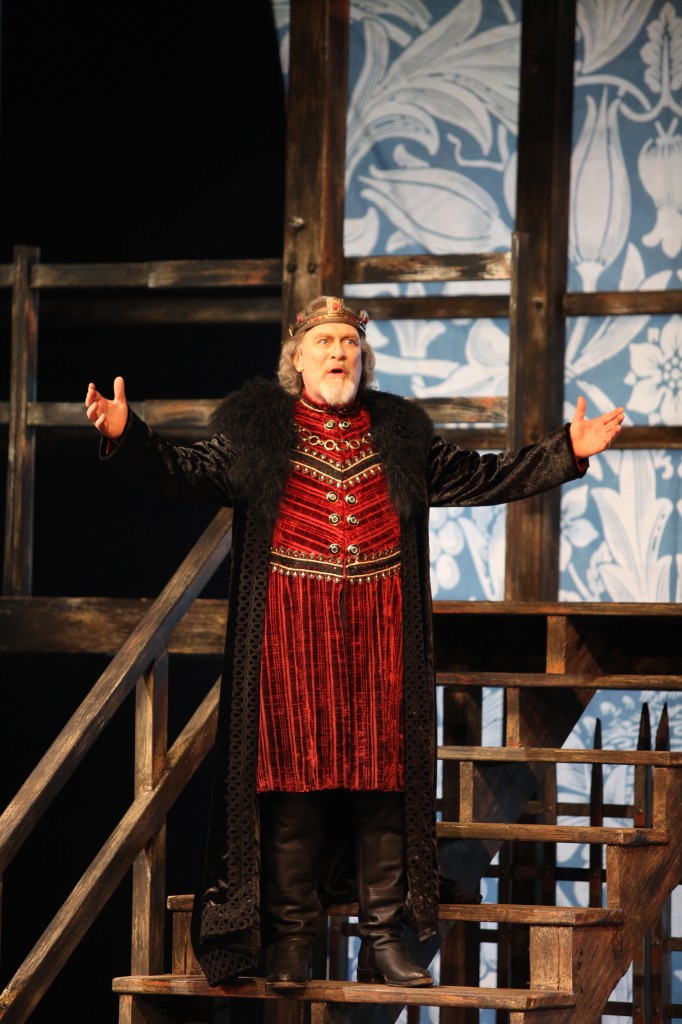 At Bard on the Beach until September 20, 2015
604-739-0559/bardonthebeach.org
Posted June 28, 2015 
King Lear is one of Shakespeare's biggest plays: big tragedy, big emotions and big weather. It begins with the old King (Benedict Campbell) magnanimously laying some property on his two daughters Regan (Jennifer Lines) and Goneril  (Colleen Wheeler) after they assure him that they love him in a very big way. Cordelia (Andrea Rankin), his youngest and most beloved by him, refuses to play the game and tells her father, who is getting on in years, that she loves him as a daughter should love her father. No more, no less. Lear is angered bigtime and banishes Cordelia sans dowry. The King of France (Craig Erickson) steps in and, dowry or no dowry, he loves Cordelia and whisks her off to France.
Mocked and rejected by Regan and Goneril (once they've got his lands), Lear goes mad with anger and grief. And he does this for the entire rest of the play. It's all just so big.
Directed by Theatre Calgary's artistic director Dennis Garnhum, Benedict Campbell (son of the late Douglas Campbell, a Canadian theatre icon) hits an emotional peak early and his performance goes up from there. His performance is very Shakespearean in a time-honored, traditional way: declamatory and bombastic with a lot of gesticulating – even foot stomping. He stops short of pulling his hair. Contemporary dramatic style, however, tends toward nuance and more subtlety.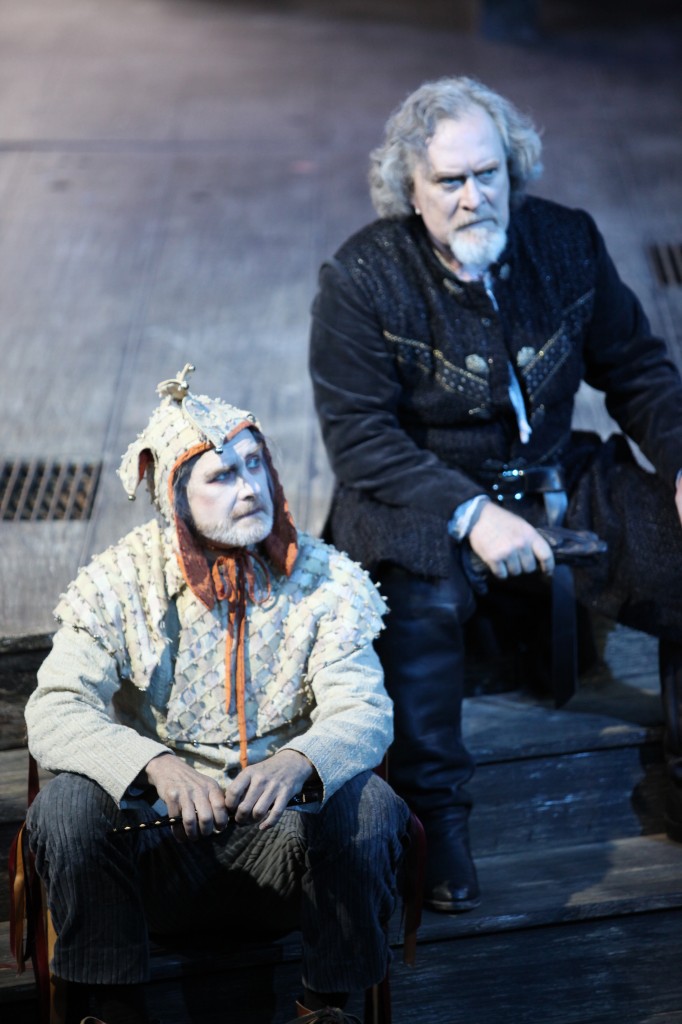 Take Scott Bellis, arguably giving the best performance on that stage. Bellis plays Lear's Fool dressed in a sort of chicken outfit complete with a coxcomb. But as with all the Fool's in Shakespeare this one is no fool and his affection for his doddering but ceaselessly ranting old king is profoundly affecting. He puts himself physically between Lear and any suggested threat; he chides him – but fondly and gently. And although Lear abuses him verbally and physically (throwing him repeatedly to the floor – poor Bellis), this Fool, we believe, would die for his monarch. Bellis, as always, brings complexity to this role in every gesture, every phrase, and every quip.
Runners up for stealing this show are John Murphy, as the Earl of Kent, and Nathan Schmidt, as the Earl of Gloucester's legitimate son Edgar. Murphy is equally strong in comic and dramatic roles; his Kent – both disguised as a Scot and undisguised – is a compassionate rendering of another loyal supporter banished by Lear for insubordination.
Schmidt, as Edgar, starts slowly but by the time Edgar pretends to be a dirty, half-naked madman (Poor Tom), his performance steps up. And finally, when Edgar reveals himself to his recently, viciously blinded father (David Marr), the moment surpasses the reconciliation between Lear and Cordelia.
Veteran Bard on the Beach performers Lines and Wheeler, dressed in sumptuous gowns by Deitra Kalyn, are a well-matched pair of nasties. Lines is slightly passively aggressive while Wheeler strides across the stage like a sergeant major.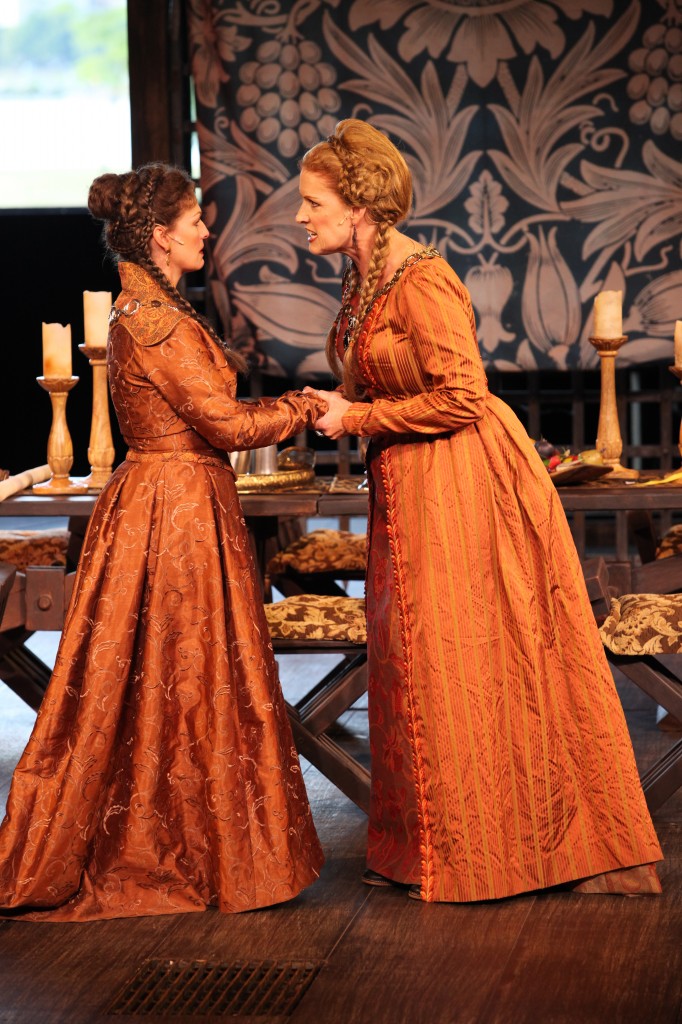 It's quite an amazing feat switching Pam Johnson's set nightly from the steampunk Comedy of Errors to the King of England's court. Almost all that's left is the framework.
A very fine King Lear was mounted some years ago at Studio 58, featuring Antony Holland who at the time was close to eighty.* The penny finally dropped for me: Lear is a doddering old fart who's losing his grip on reality. I did truly feel for Holland's Lear; he so movingly articulated that losing one's mind and authority are harsh realities.
Benedict Campbell's Lear, on the other hand, seems less world-weary, less existentially destroyed than energetically and petulantly furious – and finally rambling.
In a recent CBC radio interview, Campbell said he was attempting to get his father's performance of King Lear out of his head. But the elder Campbell was noted, too, for his big, larger-than-life performances and it would seem the apple has not fallen far from the tree.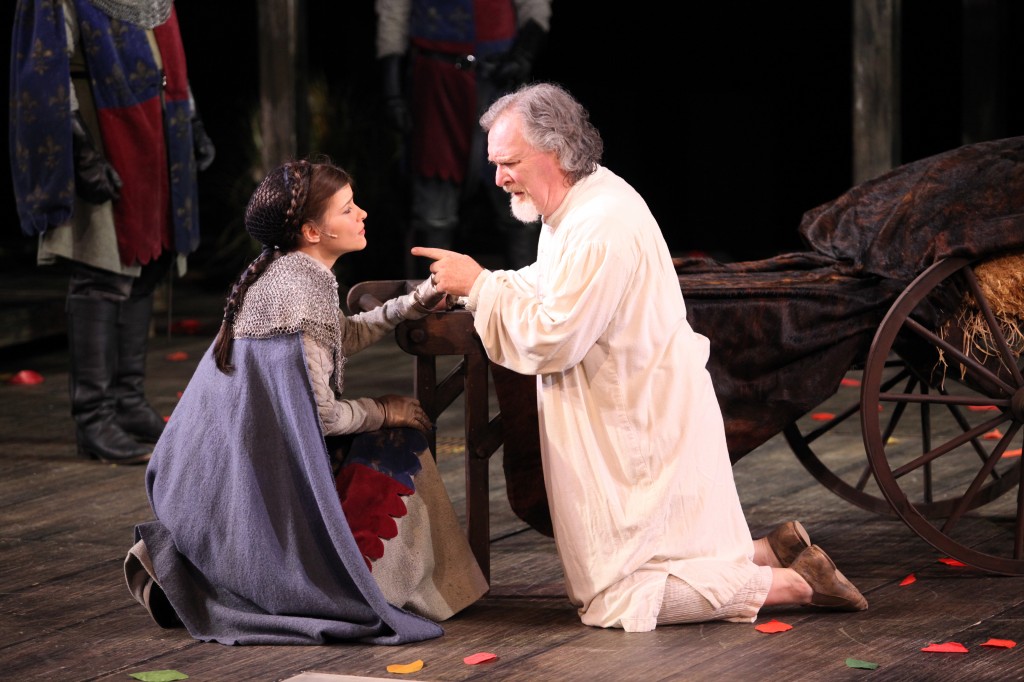 * Holland was actually eighty-two at the time. Thanks to Jane Heyman, who directed that production, for pointing out that Lear was also eighty-two in the play.  Unlike Lear, Holland – the founder of Studio 58 and its Artistic Director until 1985 – remains enthusiastically involved in life and theatre.