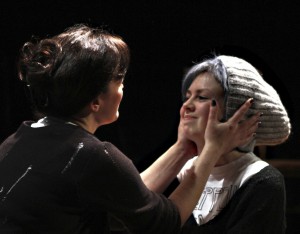 At Pacific Theatre until February 16
604-731-5518/pacifictheatre.org
Posted on February 4, 2013
Actor/playwright Lucia Frangione wrestles with the relationship between sexuality and spirituality in Leave of Absence – the same concern that was at the heart of her 2003 highly successful Espresso. In that play the main character, played by Frangione, fantasized a sexual relationship with Christ. A Catholic, the young woman not only wants to adore Jesus, she wants to sleep with him.
In Leave of Absence, Frangione plays Greta, the single mother of fifteen-year-old Blake (Karyn Guenther). Employed by the Church, she's in love with Father Ryan (Tom McBeath) as well as dating someone called Elliott – whom we don't see – and separated or divorced from Russian-born tough guy, Leap (Craig Erickson).
Martha (Marie Russell) is the principal of the school associated with Father Ryan's church and it's the school that fifteen-year-old Blake, bullied by classmates who mistakenly think she's a lesbian, attends.
Deeply submerged in Christian mysticism, Martha believes in God "as a loving mother figure" and sings a hymn with the repeated entreaty, "To come, to come, to come". Like clapping in church, we're not sure whether to laugh or not.
So there's heterosexuality, homosexuality, forbidden sex (with the priest), tempting sex (with the well-built, but thug-like ex) and reputedly not-very-sexy sex (with "dainty" – according to Leap – Elliott). There's lots of romantic opportunity for Greta who, as Dr. Ryan scolds, dresses provocatively: low-cut blouses revealing ample bosom and tight skirts.
Directed by Morris Ertman, the pairings don't all work in spite of good efforts. There are few emotional sparks and even fewer sexual sparks between McBeath's Father Ryan and Frangione's Greta. Greta is luscious, hot. The priest is repressed, uptight. And it's hard to imagine Greta ever being involved with Erickson's Leap; he's too brutal. And although it's possible to imagine Greta in a rough-sex relationship, Leap appears to have almost nothing going for him – except those steel-hard abs and his self-acclaimed performance in the sack.
It's a solid performance by Russell who sings well and manages the ups and downs of Martha's spiritual flakiness. "Sex is for breeding", she flings at Greta who fires back, "Sex is also for pleasure." Martha's all about sublimating sexuality in the service of God while Greta is desperately trying to merge her love of God and her sexuality.
Completely compelling is Guenther as the teenager. She's got sweetness as well as teenaged attitude. Even after Blake has been visited by the Holy Spirit – a female manifestation of God – she appears rooted in reality. Indeed, one of the most moving scenes involves Father Ryan and Blake: although a priest, Father Ryan has never seen or heard God. His disappointment with this truth is as immense as Blake's joy.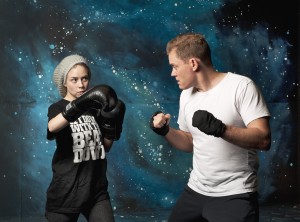 Non-Christians may have a hard time getting worked up about the interface between God and Eros. But the other story here and that one that compelled Frangione to write this play (according to her program notes) is an urgent, important one. Do we as parents and does the Church sufficiently protect our children or are we so caught up in our own lives and loves, do they, often tragically, slip through the cracks?
There's a lot happening in Leave of Absence. Too much. But it's peppered with Frangione's unique wit and humour. From the absolute silliness of Chickens (2004), the sexy musings about Marilyn Monroe and Mae West in MMM (also 2004) and the goofy irreverence of Cariboo Magi (2006), Frangione goes back to her troubled relationship with God. Once again she raises the question about Madonnas and whores: does it have to be either/or?