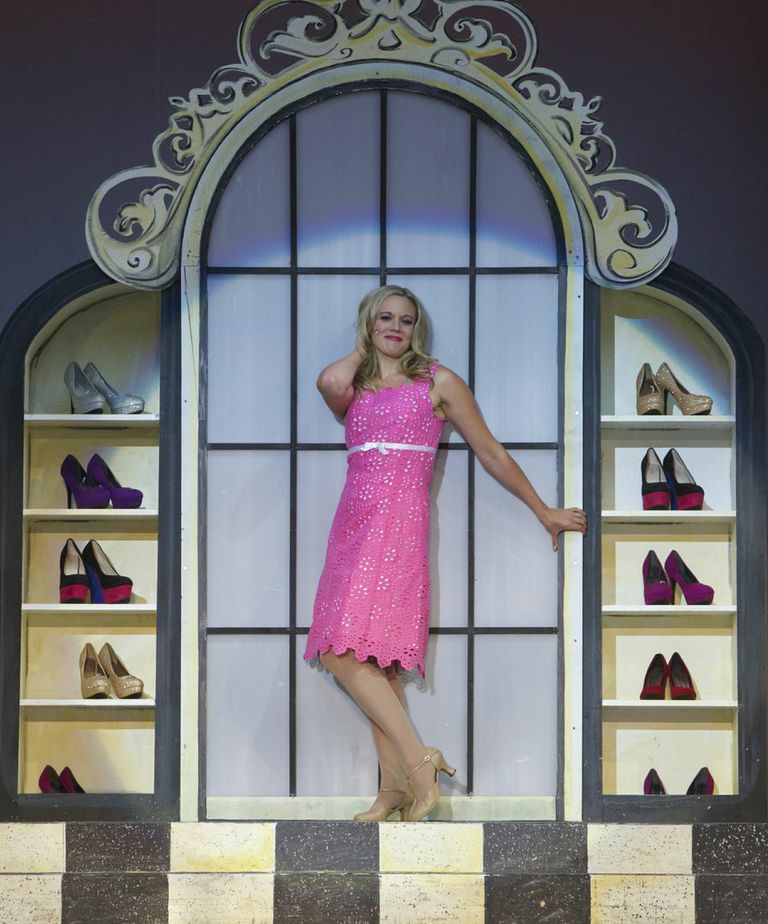 At Theatre Under the Stars until August 23
604-696-4295/www.tuts.ca
Posted July 24, 2014
Is it legal to be as multi-talented as Jocelyn Gauthier? She can sing, she can dance and she's got moves that keep you watching her every second. Try to tear your eyes off her: it's possible, but not for long. She's beautiful as pretty-in-pink Elle, the legally blonde of the title.
Elle is not only naturally blonde, she becomes 'legally' blonde when she goes off to Harvard Law School in pursuit of politically climbing boyfriend Warner (Peter Cumins) who has unexpectedly dumped her because she's not, in his words, "serious".
"Omigod You Guys" must be one of the funniest, catchiest opening numbers in the canon of romantic musicals. Anyone who's been around a bunch of teenaged girls will love it. Put a whole load of them, all in pink, on stage at the same time and what you have is a hoot in hot pink. And that's just the beginning of a tremendously entertaining show directed and choreographed by Valerie Easton.
There are a few cast changes since last year's hit, but Gauthier is every bit as good as Breanne Arrigo was last season. You might say Gauthier is one 'elle' of a performer.
And she's not alone. Cathy Wilmot is back as hairdresser Paulette who dreams of finding a man called Brendan and flying off to Ireland. Wilmot has a great big voice on her and a flair for comedy. Try wiping the grin off your face when Paulette finds out the hunky delivery guy's middle name is Brendan and everyone on stage breaks into a stirring, no-arms, Riverdance-ish number.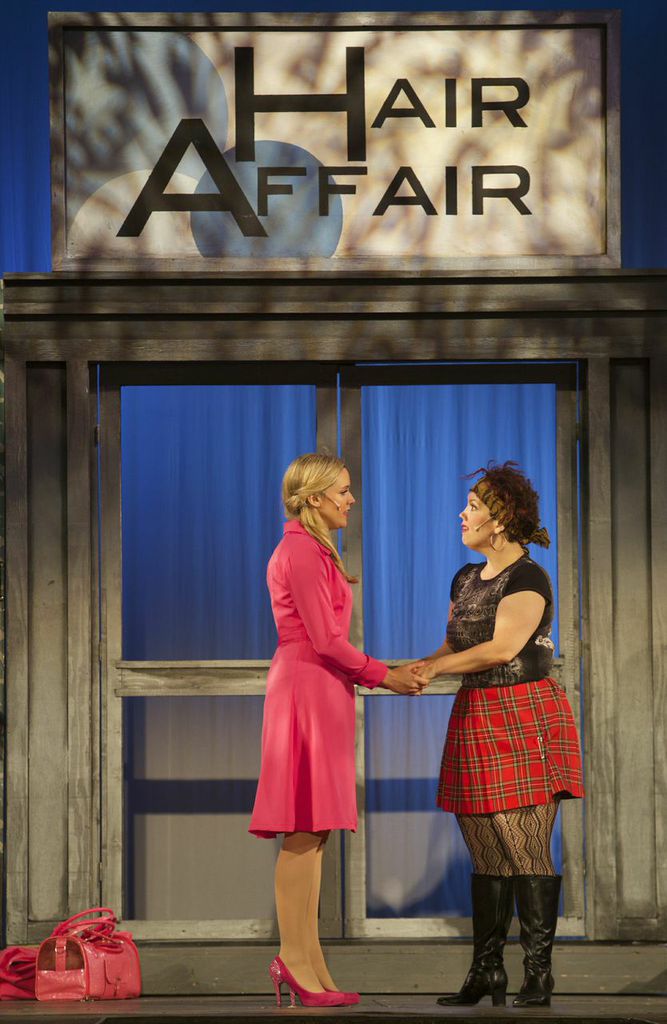 Scott Walters is also back as Emmett, the about-to-graduate law student who has worked his way through law school doing two or three jobs and studying; no partying for Emmett. Walters is a kind of easy-going, relaxed performer with a captivating grin. While Elle doesn't immediately see romantic potential in Emmett, we do. He's the kid next door who grows up and goes to law school.
Back again is Peter Cumins as Warner, the boyfriend who finds out – too late – that Elle can be serious and very smart as she proves in a courtroom showdown.
Warren Kimmel steps in this year as Callaghan, Elle's law professor. Kimmel, as everyone knows who's heard him in shows like Beauty and the Beast, Annie Get Your Gun or Don't Call Us, We'll Call You, has a great voice and looks so like Prime Minister Harper in this role, it's uncanny.
Legally Blonde is packed with memorable numbers like "What You Want", Elle's "personal essay" – a Harvard Law School entrance requirement which she kicks up to a whole new level. Another knock-the-wind-out-of-you number is "Whipped Into Shape" with a rope-skipping, singing and dancing ensemble led by Brittany Cairns. And you can't help but laugh at "There! Right There!" the hilariously politically incorrect tune that tries to sort out whether the witness on the stand is "gay or European": "Look at that tan, well-tended skin/Look at the killer shape he's in/Look at his slightly stubbly chin/Oh please he's gay/Totally gay!" sings Elle.
Easton's choreography is snappy and energetic; costumes by Chris Sinosich are a rose garden of pink; and musical direction by Kerry O'Donovan is hearty.
But of course Theatre Under the Stars is the whole package: Malkin Bowl in Stanley Park; popcorn; birds and squirrels; an orchestra in an orchestra pit; dozens of young, enthusiastic performers. It's about sitting under the stars with a car rug over your lap; about youngsters falling asleep in their daddies' arms; and walking back to the car through Stanley Park's giant cedars as you hum a show tune.
Running in rep are Shrek and Legally Blonde in TUTS 68th season. (The first show ever performed on the Malkin Bowl stage was 80 years ago.) A Vancouver institution, it remains one of the 'must-do' treats of the summer.