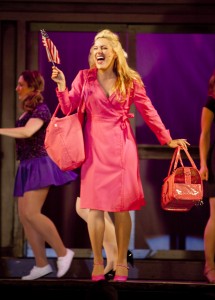 At Theatre Under the Stars until August 17
604-696-4295/tuts.ca/tickets
Posted July 27, 2013
"Omigod You Guys", this show is fun. That's the opening song in this hilarious hoot in hot pink directed and choreographed by Valerie Easton. Have these young performers got the moves? And does Easton put them through them? You bet! Just wait 'til you see "Bend and Snap" – a calculatedly flirty move designed to get a guy to notice what you've got – if you know what I mean.
Company coming from out of town? Take them to Legally Blonde. TUTS is all about the whole package: Stanley Park, the beautiful formal gardens in front of the Pavilion, the tall evergreens, the squirrels, the popcorn, the seagulls – and sometimes even an eagle soaring through which there was last night when I was there. Do you want to impress your guests from Jolly Olde who think, 'hem, 'hem, good theatre only happens on their side of the pond? Legally Blonde will convince them otherwise.
Before the curtain went up, I got talking to a woman from Yorkshire who, with her husband, is on a 3-week western Canada holiday – hiking in the Rockies, three days in our very own Jolly Olde – Victoria, a few days in Whistler, all the highlights. She had met someone on the street in Vancouver who told her to go to TUTS. Before the curtain went up I was a little worried. I mean, these are amateurs on stage, eh? Sometimes they're almost kids.
The curtain went up on "Omigod You Guys" and I stopped worrying. There may only be four professionals in the show but you'd have a hard time determining who they are. Once Breanne Arrigo, as Elle Wood (the naturally blonde, later the legally blonde) arrives on stage in pink, Elle's "signature colour", you can't take your eyes off her. If she had any more energy, she'd blow up like a big pink balloon and explode right there on stage. She's cute, she's curvy, she sings and dances and if you read her bio you'll discover she's also an advocate for children in need. With all that going for her, Arrigo is a shoo-in for Elle who at first seems silly and frivolous but turns out to be a warrior for the falsely accused.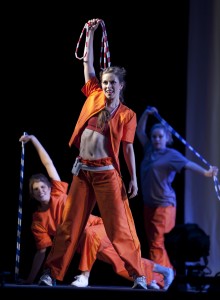 And then there's Katie Murphy who, as Brooke the fitness instructor, is also cute, curvy etcetera and does it all while skipping rope. "Whipped Into Shape" she sings and the ensemble falls into place, whirling skipping ropes like lassoes and singing: "Whip it! Whip it!" I had trouble catching my breath just watching them.
Cathy Wilmot isn't a card-carrying professional but she doesn't need a card to tell us she's a pro. She's got a big voice on her and a flair for comedy. She's Paulette, the hairdresser, with a yen for Enya and men from Ireland. And that, of course, gives director Easton an in to get everyone stepdancing à la Riverdance.
The love interest guys – Warner and Emmett – are excellently played/sung by Peter Cumins and Scott Walters.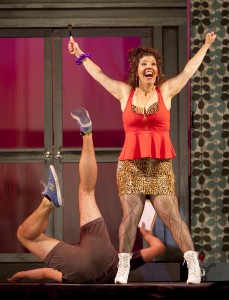 But it's a power-to-the-girls show and proud of it. Elle is a sorority gal who loves to party; what we don't know about her at first is that she's really smart. It takes getting into Harvard Law School – in pursuit of the man who dumped her – for her to discover that there's more to life than 'bend and snap' although sometimes it comes in handy in the courtroom.
Legally Blonde is more than a fluffy musical – although it is that, too; it's got a message for girls – and it's a good one: love is important but knowing who you are is more important. Forget yesterday's message: "Now that a man [has chosen] you/Your life begins today". Omigod, we actually used to buy into that nonsense. Elle gets past that, finds her way and find loves, too. OMG, how great is that?