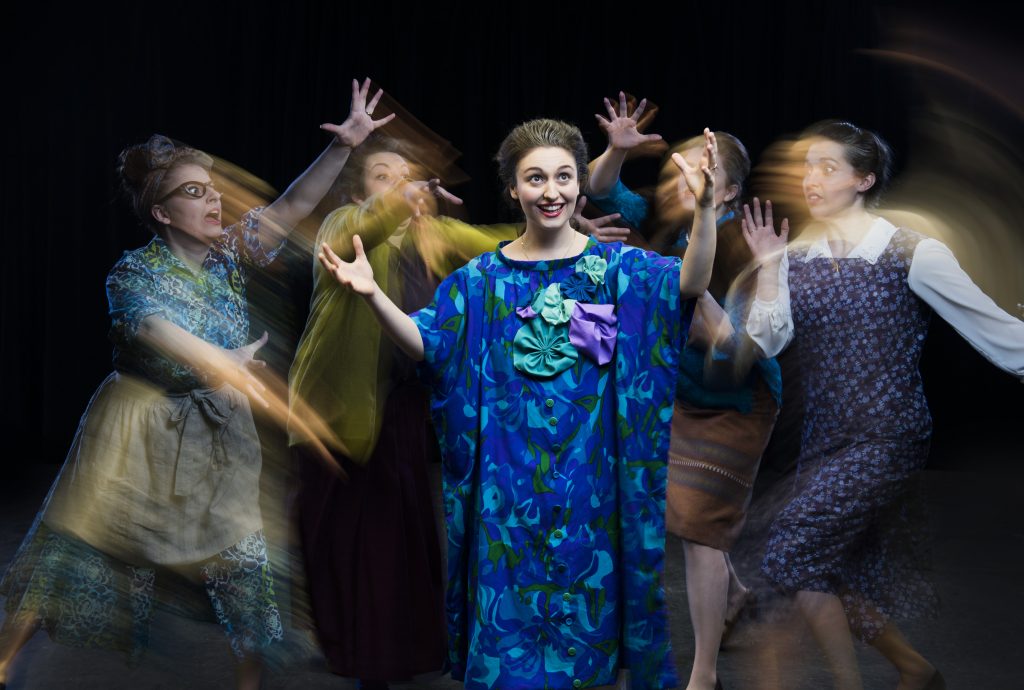 At Frederic Wood Theatre (UBC) until April 1, 2017
604-822-2678/theatrefilm.ubc.ca
Posted March 18, 2017
First the playwright writes the play and then the director creates the magic. MFA Candidate Diane Brown, Artistic Director, Ruby Slippers Theatre, lifts Michel Tremblay's groundbreaking script off the page and puts it raucously but lovingly on the Frederic Wood stage.
Given a cast of fifteen student actors portraying middle-aged working class Québecois women who argue, pray, bitch and get into physical fights, mounting Les Belles-Soeurs is a challenge but it's tailor-made for Brown who has made it Ruby Slippers' mandate to produce the contemporary Québecois canon in English. Over the past couple of decades Brown has directed some of the best shows Vancouver has seen including The Leisure Society, A Beautiful View, Trout Stanley, Down Dangerous Passes Road and Après Moi.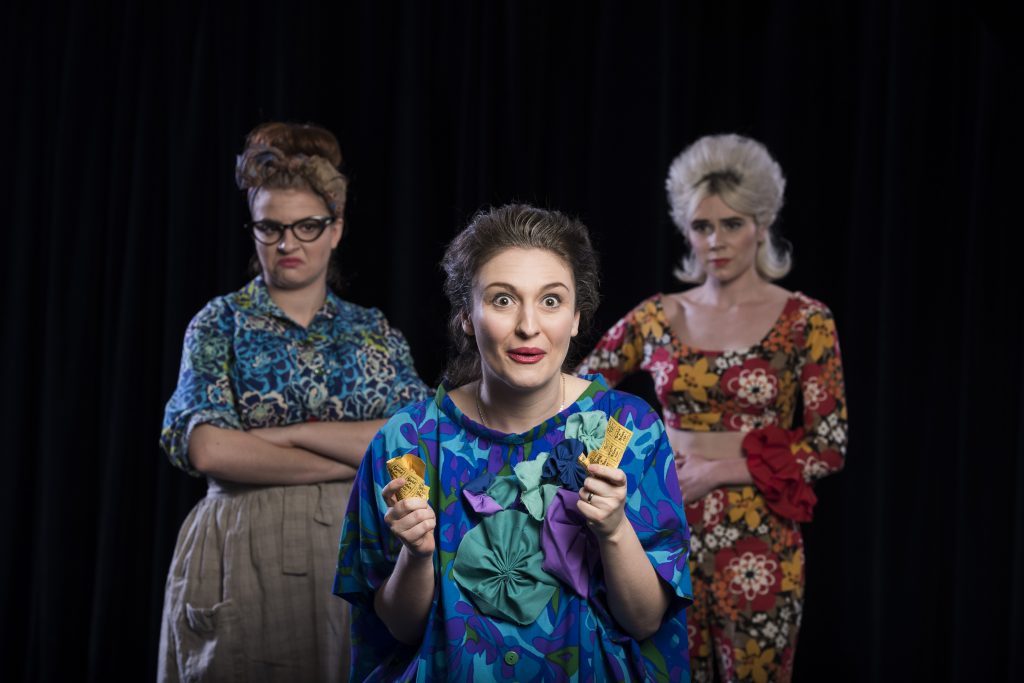 Tremblay wrote Les Belles-Soeurs in 1965 and it was first produced in 1968 at the Théâtre du Rideau Vert in French, directed by André Brassard. (Translated into English by John Van Burke and Bill Glassco, Les Belles-Soeurs opened in Toronto in 1973). It raised a storm of controversy first because the language (Joual or colloquial French Canadian) was considered vulgar and secondly because it portrayed working class women doing working class things that were not considered the proper subject for drama. The play had an explosive impact on Québecois culture and theatre.
I was initially worried that Les Belles-Soeurs would not be as 'belle' as it was back in the 60s nor as relevant. Would the situation – character Germaine Lauzon's lottery win of one million trading stamps for the purchase of household goods (like lampstand ashtrays and velvet paintings) then inviting her sisters, sisters-in-law and a bunch of other women over to her kitchen to paste them into booklets – strike any chords today? And what about the Québecois accent? Could the student actors master it sufficiently well?
Mercifully, Brown does not ask the actors to attempt the accent and whether working class women out here on the westcoast in the 60s collected trading stamps or not, doesn't matter at all. The characters' situations are clear: miserable in their marriages and endlessly borderline poor, they are locked into what they call, "This stupid rotten life. This stupid rotten life."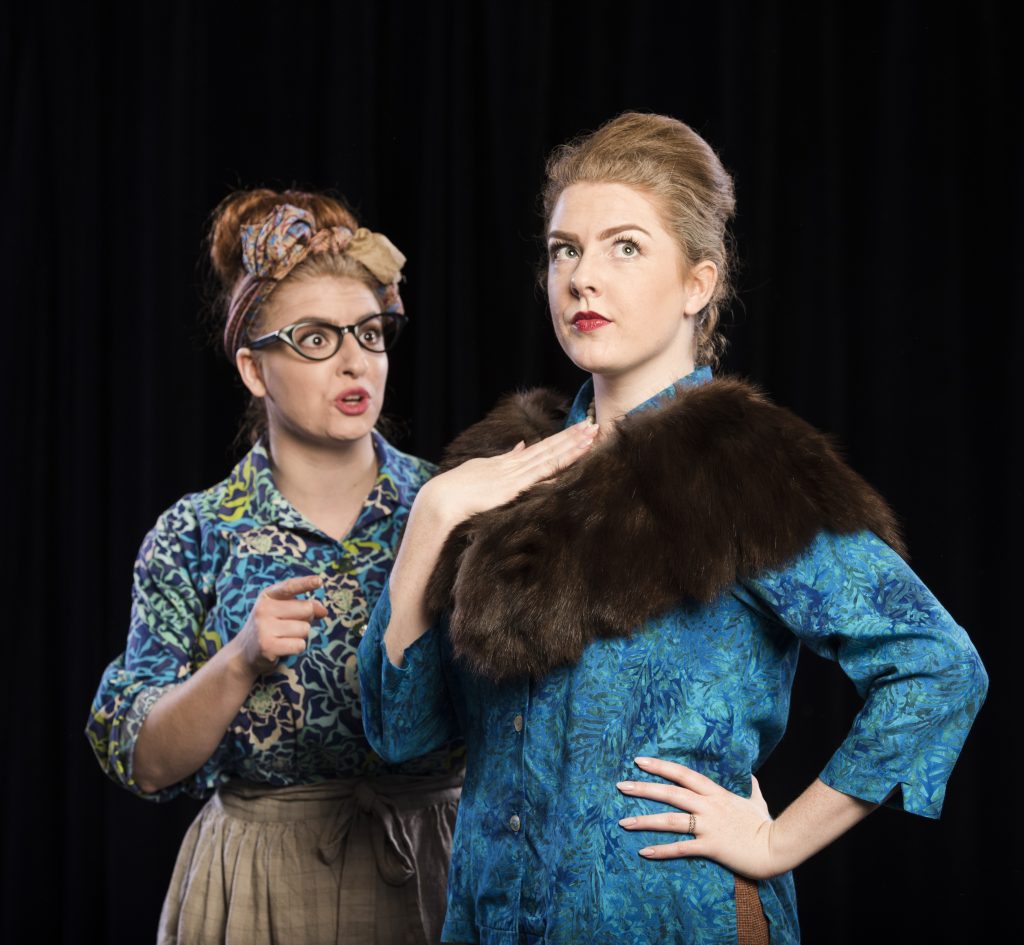 And here's where director Brown's vision comes in: on the page, Les Belles-Soeurs is quite dark and while a purist might balk at the levity, Brown makes the script alive, funny and poignant. Tremblay does not make fun of these characters nor does Brown. We laugh at them and with them but ultimately we have compassion for them.
At the centre of it all are Germaine (Bronwyn Henderson) and Rose (Sarah Jane). Too young by a few decades, Henderson and Jane nevertheless are convincing as forty-something sisters who can screech "Godammit" yet piously attend communion every Sunday.
Each of the characters gets a moment in the spotlight and it is during these monologues, Tremblay provides context that allows us to sympathize with them. Rough-around-the-edges Marie-Ange (Tai Amy Grauman) curses her miserable existence and envies Germaine's luck. Social climbing Lisette (Taylor Scott) feels as if she's in "a barnyard" with these women. Pierrette (Cassandra Phillips-Grande) blames all her bad luck on falling for club-owner Johnny. Thérèse (Sophia Alexandra) is burdened with her ancient, wheel chair confined mother-in-law. Unmarried Des-Neiges (Rowan Denis) has fallen in love with a travelling salesman; Angéline Sauvé (Sabrina Vellani), saddled with sourpuss Rhéauna (Olivia Lang), did not learn to laugh until she was fifty-five.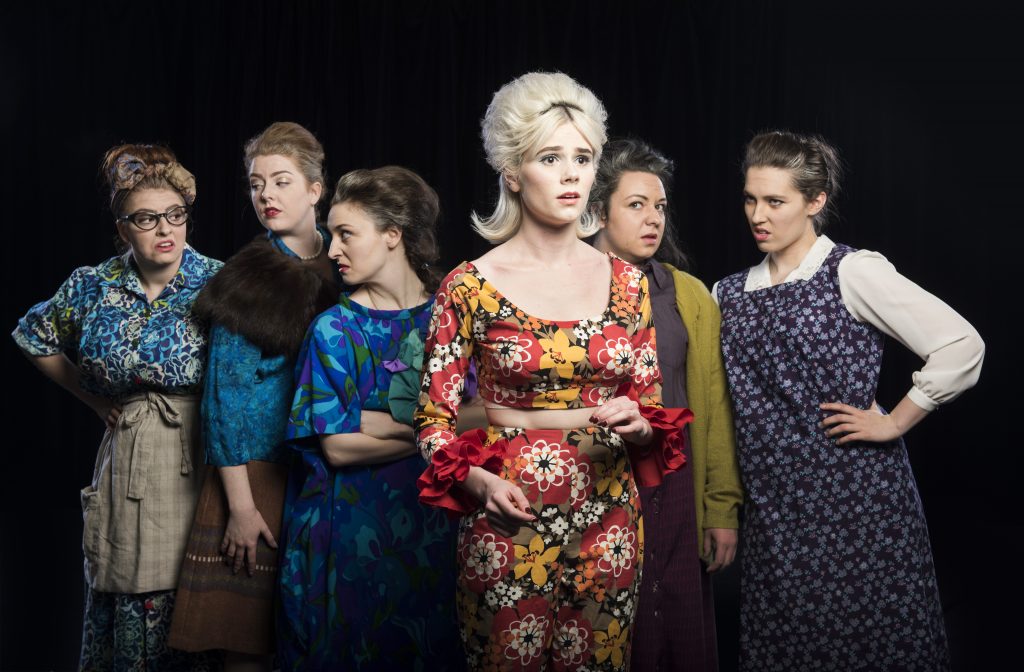 This is truly ensemble playing with everyone pulling together. Standout scenes are the choral sections with five or six characters speaking in unison. In the first of these, five characters perform a sort of angry, stomping dance with five wooden chairs as they list their interminable chores each day ending with, "But at night we watch T.V."
A unique set design by architecture graduate Nikolai Kuchin and architecture student Sarah Sako features a shabby, high-ceiling kitchen with fabric b/w 'windows' attached to a wall. Neither realistic nor totally symbolic it's a perfectly skewed parallel to Brown's take on the play: real but exaggerated.
And it's still relevant although the younger generation, represented by Germaine's daughter Linda (Heidi Elric) and her friends, may have more options in 21st century Québec than their mothers did.
Presented by UBC Theatre and Film, this is a hugely entertaining production – fresh, funny and thoughtful – that reminds us of Tremblay's tremendous contribution to Canadian drama and his continuing relevance.