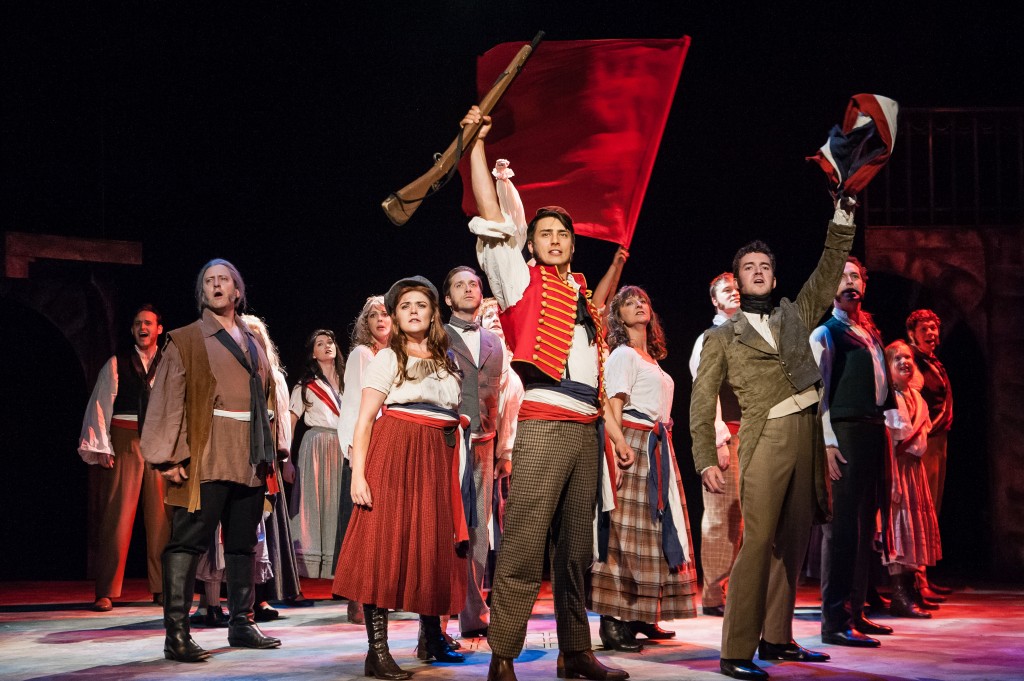 At The Stanley until August 16, 2015
604-687-1644/artsclub.com
Posted July 10, 2015
Epic, historically interesting – it's not the French Revolution but the fallout of that earlier, guillotine-ridden confrontation – and director Bill Millerd does novelist Victor Hugo and Alain Boublil, Claude-Michel Schönberg and Herbert Kretzmer, the creators of the musical Les Mis – proud. Production values are epic, too, with set designer Ted Roberts' faux stone arches dramatically lit by Marsha Sibthorpe. Spectacular on the shallow Stanley stage are the Act 2 battlements: bedsteads, wheels and assorted found objects form a huge pile from behind which the student revolutionaries fire their muskets amidst explosions of cannon fire. Costumes by Alison Green for this cast of two dozen range from shabby rags to satin finery but Green outdoes herself with the Act 2 costumes for Nicola Lipman and Andrew Wheeler, the conniving, bloodsucking M. and Mme. Thénardier: layers upon layers of absurd combinations of gaudy, tasteless glad rags.
Lipman and Wheeler are entertainingly welcome relief from all of Hugo's melodrama. Thénardier is the proprietor of a tavern and whilst pouring drinks he picks pockets while his nasty little wife waters down the drinks forcing the patrons to drink even more. In the rousing, rowdy "Master of the House" featuring Thénardier and the entire ensemble choreographed by Valerie Easton, Wheeler reminds us that as well as being a fine dramatic actor, he can also sing. As for Lipman, you can't take your eyes off her because she is so completely 'in the moment': every gesture, every word, and every line. Watch her watching Wheeler, for example. And that scratchy voice of hers is just so compelling. Between them, Wheeler and Lipman bring the house down.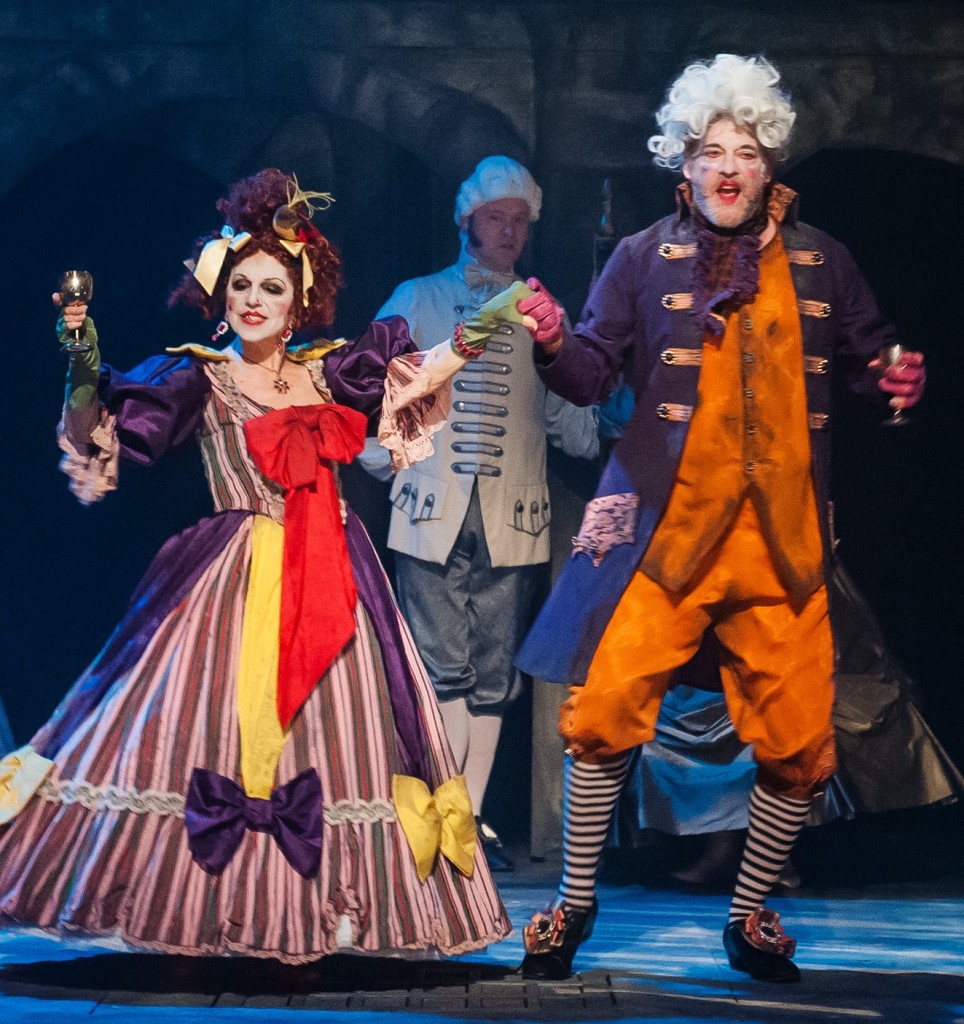 But of course the story is not about the Thénardiers it's about Jean Valjean (Kieran Martin Murphy), a giant of a man imprisoned for nineteen years for stealing a loaf of bread for his sister's child. Murphy is larger than life – with a voice to match – in the role. For all his impressive size and powerful stage presence he still delivers the hauntingly beautiful "Bring Him Home" and "Who Am I?" with gentle passion.
Matching him in terms of a large presence and solid, note-perfect voice is Warren Kimmel as Valjean's dogged pursuer, the archconservative Javert.
Although Cosette (Kaylee Harwood) is the main love interest and the plot point around which Les Mis turns, our hearts truly go out to Éponine (movingly portrayed by Jennie Neumann) who adores Marius (Sayer Roberts) who, in turn, loves Cosette. Rebecca Talbot is a winsome Fantine who gets killed off in Act 1. Young Cosette is played by Lindberg Academy student Jaime Olivia MacLean, a tiny, sweet-voiced youngster who appears to be about six but is, in fact, a few years older. Making his Arts Club debut as Gavroche, the street-smart boy who sees, hears and tells everything, is Cameron Andres.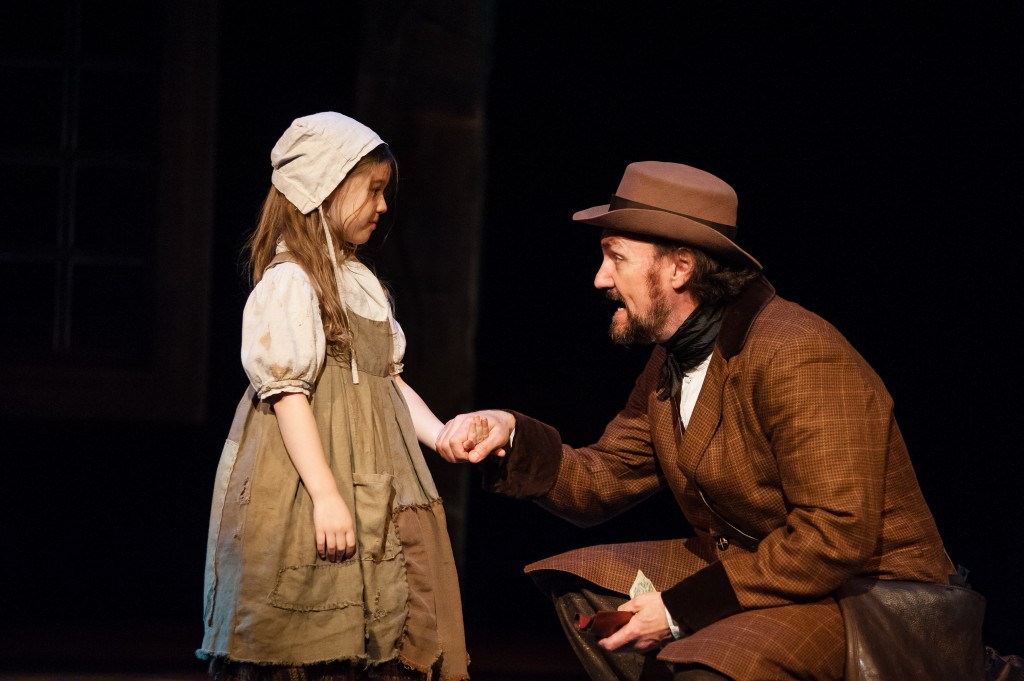 With a six-piece orchestra under the direction of Bruce Kellett and a company of twenty-four, this is a blockbuster of a show and a remount of the hugely successful 2009 production. It's a big heart-wrenching novel made accessible – but not frivolous – with the addition of song. It's melodrama at its most forgivable. Opening night audience loved it and, in addition to taking your visitors to Bard on the Beach, taking them to Les Mis will impress them. Even better, it's not from New York although it looks and sounds like it. Hundred mile theatre – maybe even less; it's homegrown.