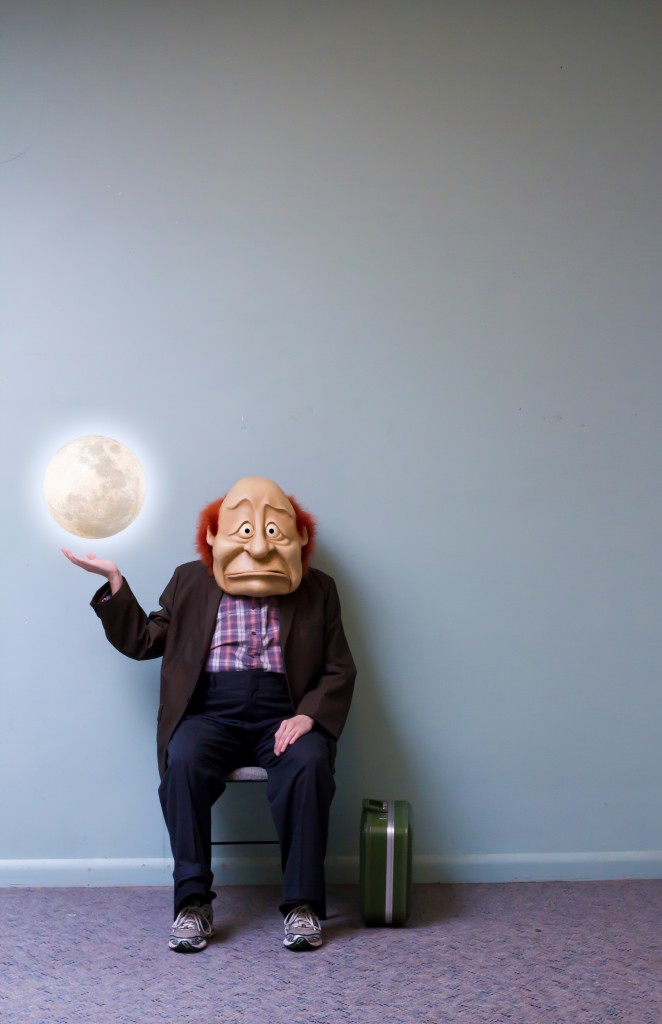 At The Cultch until November 23, 2014
604-251-1363/thecultch.com
Posted November 19, 2014
I'm afraid my inner child has run away from home – or maybe I never had one – because Loon simply didn't charm me the way Grim and Fischer, Wonderheads Theatre's 2012 show, did. When Mother Nature was handing out the gene for appreciating fantasy, I was probably off finding something to eat or taking a pee; Wind In the Willows bored me to tears and I never did get through Alice in Wonderland or Lord of The Rings.
This character flaw doesn't prevent me from admiring the work, however, of Kate Braidwood, performer, mask maker, storyteller and co-founder (with Andrew Phoenix) of Wonderheads Theatre out of Portland, Oregon.
It's truly amazing how, sans words, and wearing an exaggerated, cartoonish mask, performer Braidwood can take the single character in Loon – lonely janitor Francis – from being grumpy, sad, expectant, angry, swaggering, lovesick, giddy, lonely and resigned through just about any other human emotion human beings experience. Physical theatre at its most refined, it's entirely dependent upon body language because the facial expression is, obviously, fixed and made of papier mâché or foam. When Braidwood swaggers, Francis looks ridiculous attempting to look cool. When she slumps, he looks despondent. It is truly amazing how much information is given this way.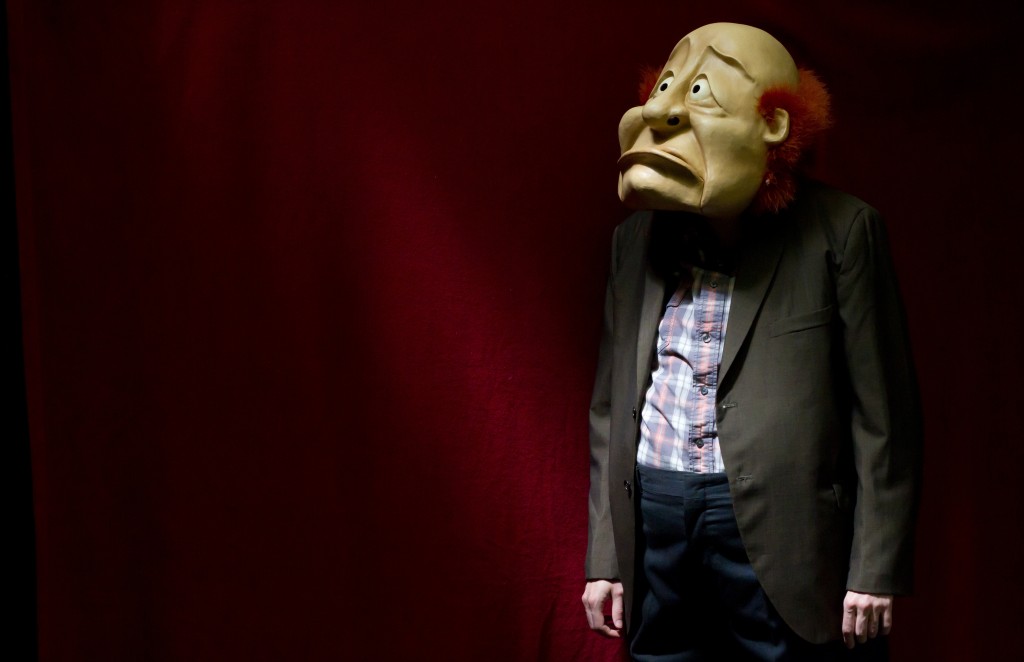 Wonderheads is inspired by 'larval masks' that, in turn, grew out of carnival masks from Basel, Switzerland. Google offered this definition of larval masks: "large, simple, geometric in shape, they amplify the actor's gesture and movement forcing the performer to make clear, efficient physical choices. Like their namesake "larvae", these are the foundation of beings, but are not fully formed." Wonderheads takes larval masks, generally unpainted and unadorned, and embellishes them. Francis, for example, has a painted face and a froth of fuzzy red hair. The mask is larger than life making the performer's body appear shrunken, foreshortened. Check this out: http://www.theater-masks.com/larval-masks. And while you're at it, check out the Loon promo video: http://www.wonderheads.com/loon/
Perhaps because the concept – a man falling in love with the moon, taking it from the sky and then returning it – is pretty 'out there', I didn't always follow what was going on. But judging from audience laughter, most were happy and able to follow along with Francis's search for love. Had I read the program notes beforehand, I might have enjoyed the show more.
An ingenious prop is a suitcase which, when opened reveals a telephone, an alarm clock, Francis's mother's ashes and a small radio: in short, this is Francis's life-in-a-box. Bachelor #378 in some kind of telephone dating scheme, Francis checks the phone expectantly but always gets the same recorded message, "No new messages" until one day he hears, "You have a date". After being stood up, Francis despairs but, amazingly, then falls in love with the moon. That's when Loon lost me.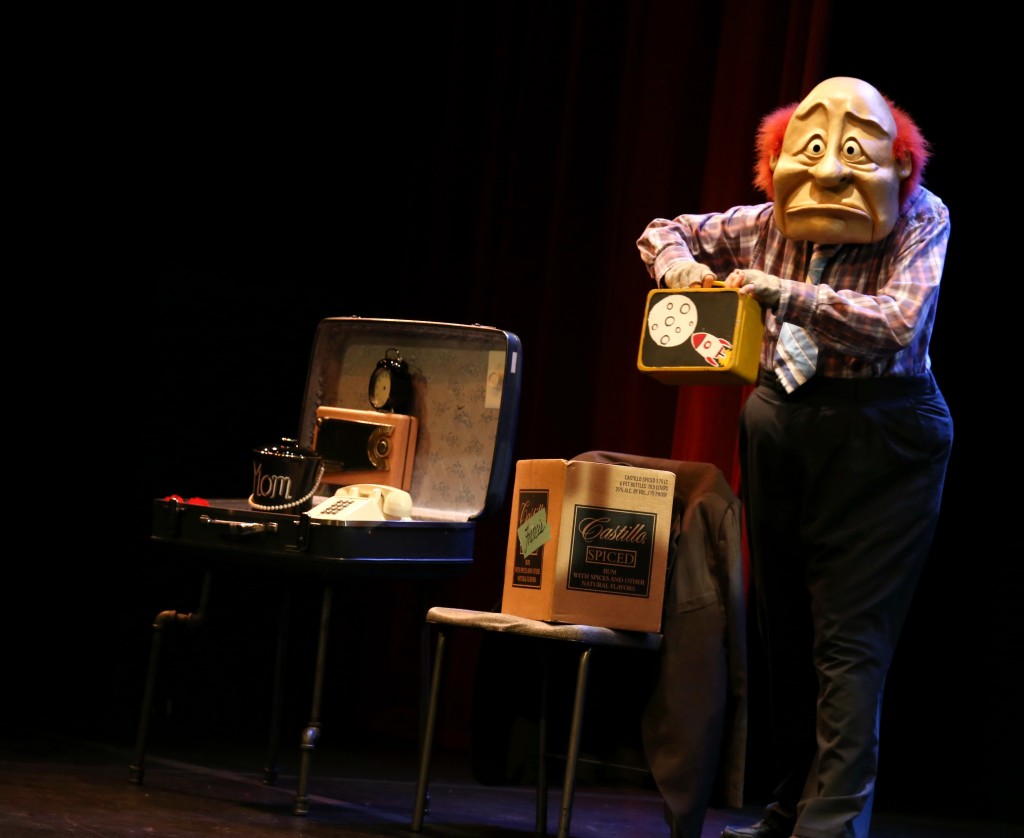 Why Loon? Is Francis loony? Or maybe lune-y? Or one loonie short of buying a better haircut and pants that fit? Or is he just a sad old guy who falls in love and has a hard time letting it go when it doesn't work out?
Loon's many awards include Critics Choice Award, Patron's Pick, Best Original Work, Best Female Performance – all in Orlando – and a load of other awards in both Vancouver and Edmonton.
Long on charm, long on skill and technique, Loon will charm all children and some adults. It just didn't send me over the moon.