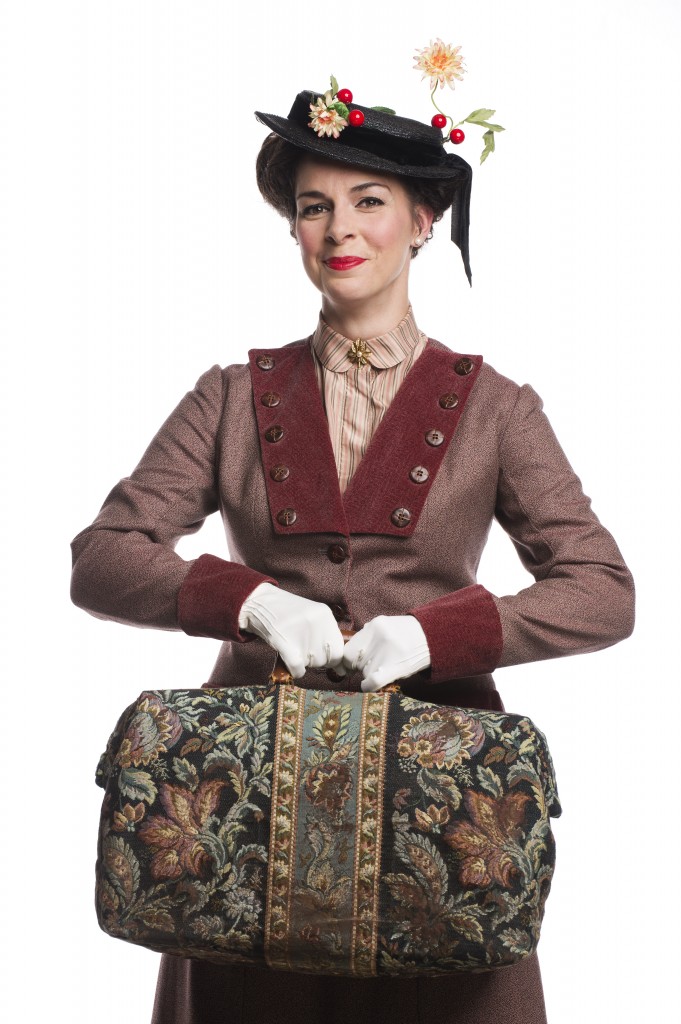 At The Stanley until January 5, 2014
604-687-1644/artsclub.com
Posted November 14, 2013
If this Arts Club production of Mary Poppins: The Broadway Musical, directed by Bill Millerd, doesn't awaken your inner child, chances are you lost yours somewhere along the way.
The show didn't take me back to my own childhood because P.L. Travers and her Mary Poppins series of books, beginning in 1933 and continuing one each decade until 1988,weren't read in our household. But it did take me back to 1964 and the Disney film – starring Julie Andrews and Dick Van Dyke – to which I took my four-year-old daughter. We sang  "Supercalifragilisticexpialidocious" all the way home on the bus.
Travers made her fortune on the film but was, apparently, in tears – and not in a good way – at the premiere to which, the program notes tell us, she was not invited.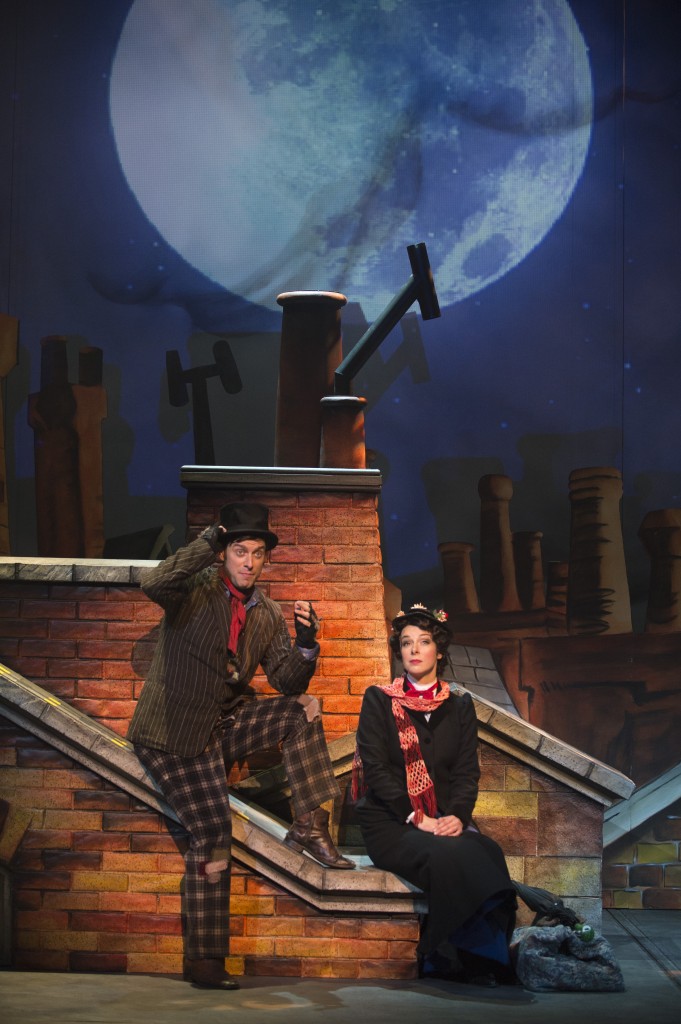 In 1993, producer Cameron Macintosh approached Travers, then age ninety-four, and acquired the rights to develop a stage musical based on her books and on the film. Mary Poppins: The Broadway Musical subsequently premiered on Broadway in 2004 with music by Robert and Richard Sherman, lyrics and additional music by George Stiles and Anthony Drewe, and book by Julian Fellowes. Travers died in 1996 but the musical is somewhat altered in ways that she may have appreciated: character development is a little deeper and while it's still sweet, it's not smarmy.
Technically, this production goes far beyond anything the Arts Club has attempted before. There is a multitude of precisely timed cues for all of the magic that Mary does: pots falling off the wall; shelves collapsing; a table broken in two then, presto! whole again. And then there's Mary's amazing valise out of which she pulls a hat stand, a lamp, a potted plant, a mirror and a cup of tea. And flying – all that flying. To borrow a phrase from Mary, everything has to be "spit spot" to make all the effects work. You simply can't have Mary flying in and suddenly falling onto the stage, now can you?
Sara-Jeanne Hosie isn't a "Practically Perfect" Mary Poppins; she's a perfect Mary Poppins. What is that look that Mary has? Confident bordering on smug, prim but playful and just a little bit otherworldly. And she takes no nonsense. Hosie, wearing the trademark long coat, cheery scarf, perky hat, and pointy little boots, perfectly fits the role. When Mary hoists her Edwardian-period skirt and starts tap-dancing, Hosie makes the moment pure delight. And I'm guessing Hosie hasn't done this much flying before – well, not outside an airplane, anyway.
Hosie is supported by a splendid cast. Scott Walters is uncannily like Dick Van Dyke: leggy and goofy. Like Mary, he's not quite real and functions as a narrator/philosopher in his more serious moments. Caitriona Murphy, gorgeously outfitted by costume designer Sheila White, is gracious, graceful and altogether lovely as Mrs. Banks while Warren Kimmel is uptight Mr. Banks (but with a fabulous singing voice.) A line that drew laughter on opening night – and there were plenty – was after Mr. Banks says to his son Michael, "I'm not without a sense of humour", the little lad innocently asks, "Are you not, father?"
There are two children in the cast: thirteen-year-old Kassia Danielle Malmquist as Jane and Grade Six student Graham Verchere as Michael. Both of the young actors are real troopers and I've been told they not only came to rehearsal knowing their own lines, they knew everyone else's, too. Verchere already has lots of experience in voice, commercials and TV. He's a sprightly lad with a lot of sparkle.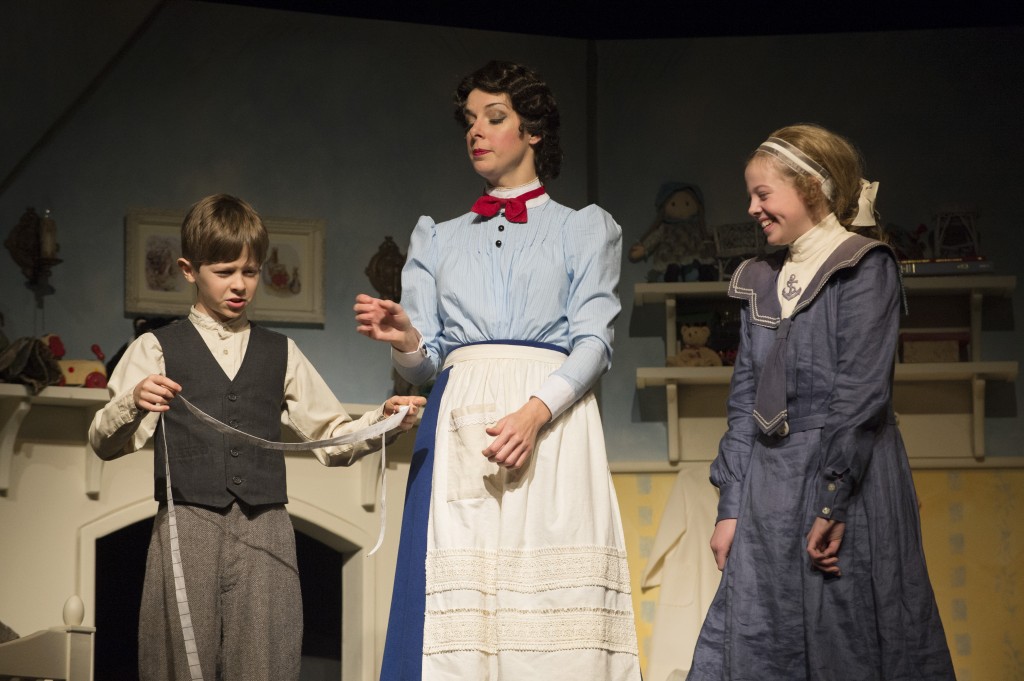 Shane Snow makes an entertainingly awkward, hapless Robertson Ay with some spectacular pratfalls. Susan Anderson, fondly remembered as Mrs. Potts from Beauty and the Beast, is a busy, cluck-clucking cook and, later, as the Bird Lady. Katey Wright plays ferocious Mr. Banks' old nanny Miss Andrew a.k.a The Holy Terror who, in contrast to Mary Poppins' "spoonful of sugar" forces "brimstone and treacle" on naughty Jane and Michael.
Set design on the shallow Stanley stage is always a challenge but Alison Green outdoes herself with various painted scrims and a cutaway house that glides forward and also rotates to reveal the kitchen. Marsha Sibthorpe paints it all with light.
Valerie Easton's choreography – especially with the full ensemble (almost twenty) – is lively and inventive. "Step In Time" is outstanding.
Bruce Kellett leads a six-piece orchestra with his customary gusto. The songs are familiar beginning with " Chim Chim Cher-ee", "A Spoonful of Sugar" and "Feed The Birds" amongst the best remembered.
And yes, we all sang "Supercalifragilisticexpialidocious" at the end. I'm betting some are still whistling it today.
If you fear you have lost your inner child, borrow someone else's youngster, see the show and rediscover the kid buried deep inside yourself. Mary Poppins makes "A Jolly Holiday" out of everything.