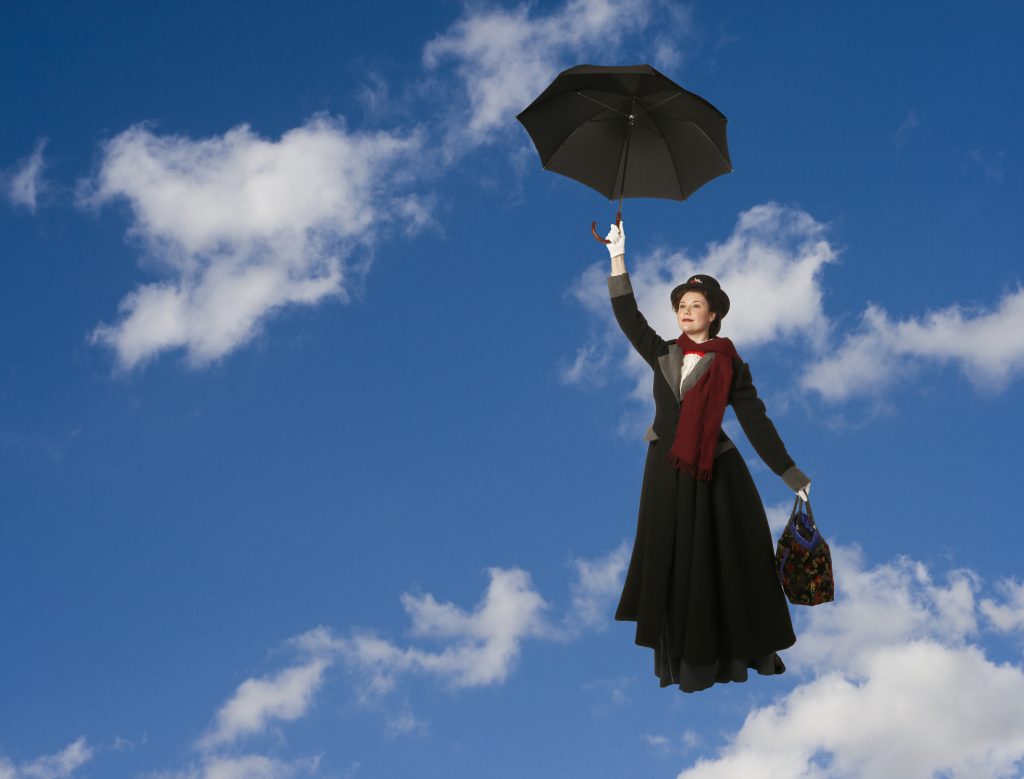 At Theatre Under the Stars (TUTS) held over until August 26, 2017
Tickets from $30 at 1-877-840-0457/ticketstonight.ticketforce.com
Posted August 11, 2017
Like Mary Poppins herself, this TUTS production directed by Shel Piercy is "Practi-cally Per-fect/In ev-ery way."
Having seen and reviewed Mary Poppins half a dozen times, I almost took a pass on this one. How many times can one get excited over a magical nanny, umbrella in one hand and carpetbag in the other, flying down on the East Wind from the sky to Seventeen Cherry Tree Lane, London? But when a fellow critic suggested, at the end of his review, that we "hunker down in our little plastic chair, weep a little and thank God you're alive", I just had to check it out. And I confess, I did come close to weeping – with laughter – as the curtain fell and Willoughby (Carmeli's Olivia), a handbag sized terrier, looked out at us and gave us such a suspicious look it was hiarious. Mary Poppins, who understands and speaks 'dog', would have a heyday translating that look. Maybe, "So, just how many Milk Bones do I get for doing this gig every other night until the end of August?"
Mary Poppins first appeared in 1934 in what became a series of eight children's books written over a period of fifty-four years by P.L. Travers. After Travers' initial refusal, Walt Disney went on to adapt the stories for the 1964 musical film starring Julie Andrews as Mary Poppins and Dick Van Dyke as Bert. In 2004 the film was adapted for the London stage, subsequently moving to Broadway in 2006 where it ran for seven years and garnered many awards.
What is its continuing appeal? While it's titled Mary Poppins, it's arguably about George Banks (Russell Roberts) who – like Ebenezer Scrooge – has a change of heart. Raised by a nasty nanny, Miss Andrew aka The Holy Terror, George shut down emotionally. Now an adult employed as a loans officer in a bank, he's all about "Precision and Order" with no time for his wife Winifred (Lalainia Lindbjerg-Strelau) or his children Jane (Lola Marshall) and Michael (Nolen Dubuc). As George, Roberts is uptight and cranky early on so that his eventual transformation is joyful and childlike.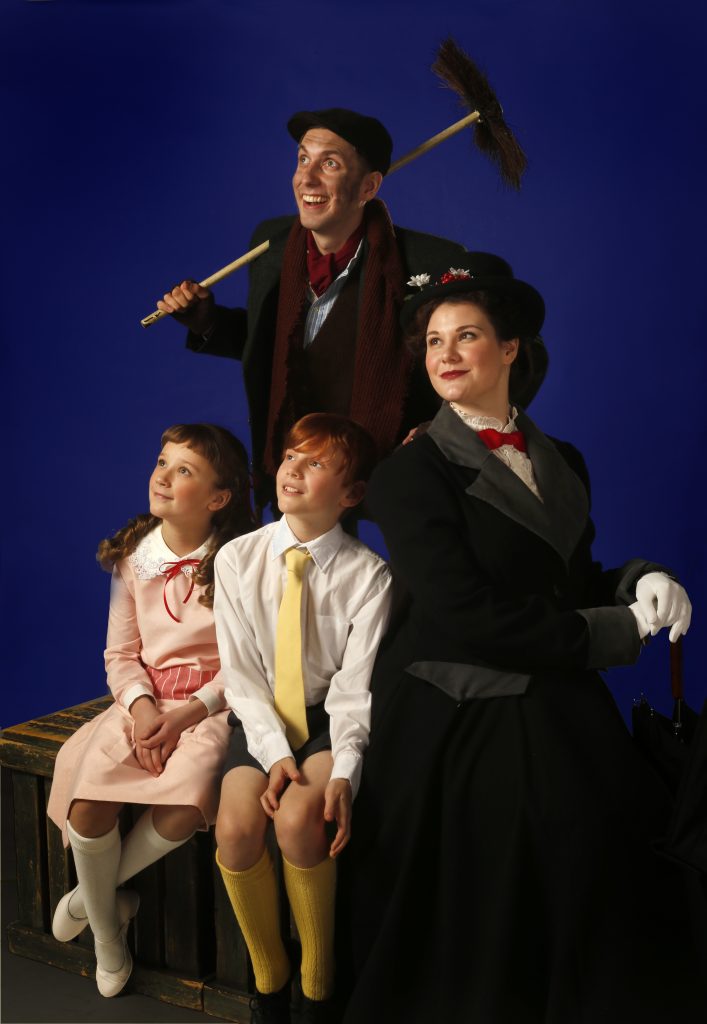 The catalyst for change is Mary Poppins (Ranae Miller) who magically appears when the Banks family has lost yet another nanny. In the children's books, Mary is stern, vain and usually cross but, over time and across genres, Mary has mellowed. She still expects things to be done quickly – "spit spot" – and perhaps she's a little vain but she's never grumpy. Miller is bright and chirpy "in a most delightful way" and her beautiful soprano voice is put to good use.
I always wonder about the relationship between Mary and Bert (Victor Hunter who is highly animated and very 'Dick-Van-Dyke'). There's definitely something going on but Mary is 'otherworldly' and he's human. That never stopped the Greeks but Travers draws the line at mortal/immortal romance. But still, there's that spark.
As Jane and Michael Banks, Marshall and Dubuc, respectively, are outstanding. Marshall, at eleven years old, has the confidence of a seasoned professional performer; Dubuc makes his musical theatre debut in this show although he has been singing and dancing since the age of four. One of the great pleasures of TUTS is seeing the youngsters and imagining what an impact the experience of being on the Malkin Bowl stage has on their lives.
Costumes by Chris Sinosich are a carnival of colour and texture – almost cartoon-like in their extravagance. Notable are Mary in a frothy white, red-trimmed gown and Bert in red and white stripes in the Mrs. Corry's Talking Shop scene. That entire scene – culminating in singing, dancing (with choreography by Nicol Spinola) and signing of "Supercalifragilisticexpialidocious" – is a Technicolour whirlwind.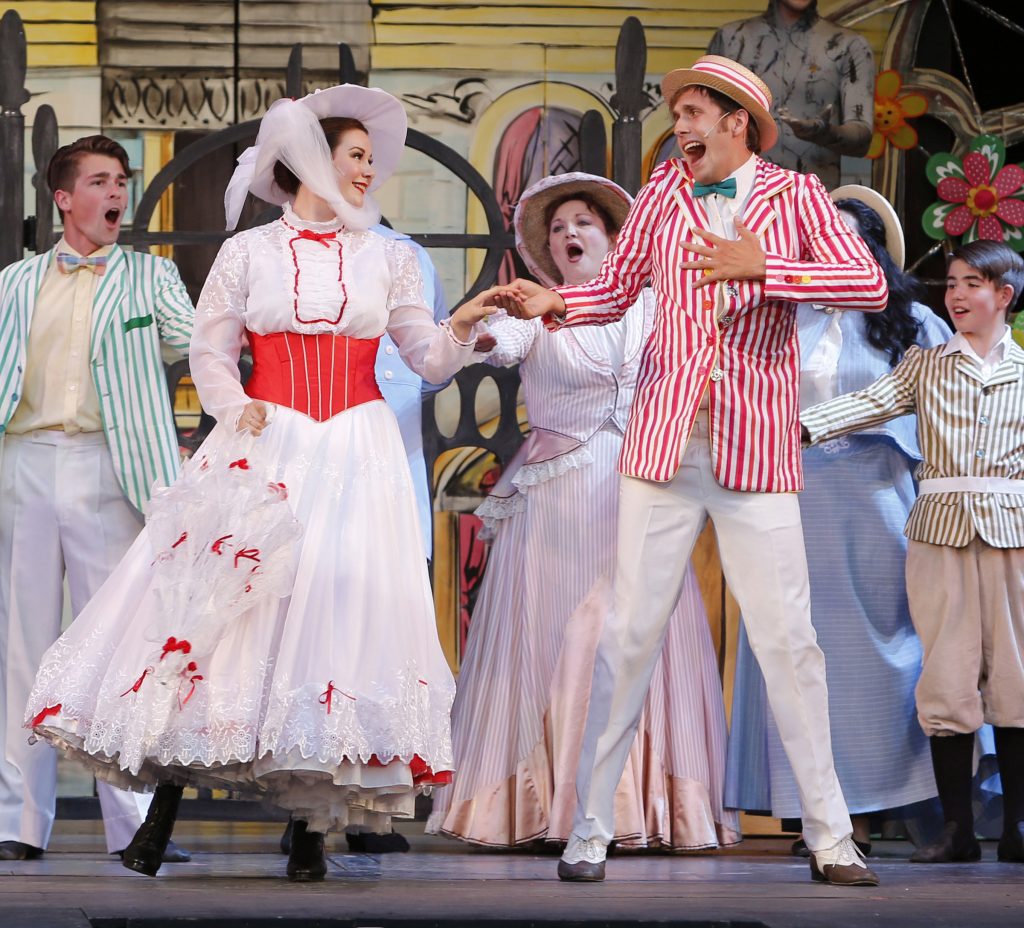 Set designer Brian Ball creates a storybook Number Seventeen Cherry Tree Lane and environs with fairytale panels that open like a pop-up book to reveal the house and bank interior, the street and park complete with statues that, like everything Mary Poppins touches, come alive.
Don't forget to watch musical director/conductor Wendy Bross Stuart now and again. You'll discover she's singing all the words while keeping the twelve-piece orchestra delivering lively music. At the interval Stuart shared a piece of TUTS history with me: Cecilia Smith, now in her eighties and playing The Bird Woman ("Feed the birds/Tuppence a bag"), appeared as Eliza Doolittle in the TUTS production of My Fair Lady back in 1971. That's the TUTS legacy right there.
Starry nights, hot chocolate, kids tucked up in blankets – all caught up in the magic that is Theatre Under the Stars. Mary Poppins runs alternate evenings with The Drowsy Chaperone. It all comes to an end on August 26. Take your kids, grandkids, guests and your own inner child. You "Never need a reason/Never need a rhyme" to sit under the stars and let yourself be charmed.