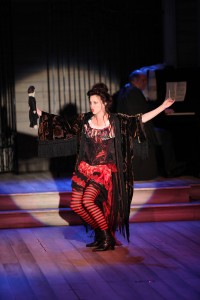 At Bard on the Beach until September 13
604-739-0559/bardonthebeach.org
Posted on July 13, 2013
Here's a tale of two actors. Lois Anderson, a graduate of the UBC Theatre Department, is a veteran performer who has done everything from Leaky Heaven Circus to Mother Courage, from Cirque Poule to Streetcar Named Desire. She's been around the theatre block. But you've never seen her like this. Anderson is Mistress Overdone, a bawd in a New Orleans brothel in this John Murphy-directed Measure for Measure. Costume designer Mara Gottler floozies Anderson up in black and red striped stockings, ankle-high leather boots, a black corset and flounces of black and red lace, ribbons and 'stuff' pouffing off her derriere. And does she waggle it.  She sings like Tom Waits and shakes her booty like – well, oh never mind. Overdone as Mistress Overdone? Absolutely. But what fun, what a performance.
And then there's Anton Lipovetsky, a fairly recent Studio 58 grad, twenty-three or four and in his second year at Bard. Remember that name because this young man is at least a quadruple threat: he's a composer, a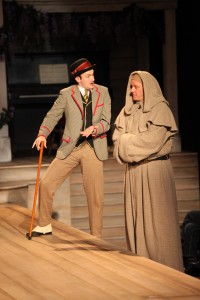 musician, an actor and a writer. His one-man show, FLOP! prompted me to write, "Lipovetsky is the kind of kid you want to take home and feed milk and cookies. Heart on his sleeve and completely vulnerable, he articulates what all theatregoers instinctively understand: when the curtain goes up, it's a moment of "infinite possibility". As the toadying braggart Lucio in Measure for Measure Lipovetsky mines every possibility for comedy with hilarious body language – including a perfectly timed fainting spell. His face is a book you can read. Dressed nattily in a lightweight suit, spats and a dapper fedora, Lipovetsky is a scene-stealer.
Between them, veteran Anderson and relative newcomer Lipovetsky make this show – a peculiar blend of a comedy and a morality play – immeasurably entertaining.
But Measure for Measure isn't really about Lucio and Mistress Overdone and there's no shortage of exciting performances by the rest of the cast either. Andrew Wheeler is a grave and sober Duke Vincentio who, no surprise, falls for soon-to-be-a-nun Isabella (Sereana Malani). Malani is a serene and centred actor and she brings tremendous weight and decency to her character. David Mackay is Angelo, chosen by the Duke to clean up the godless town; Mackay is better known for his comedic roles but he's solid as the hypocritical Angelo who demands that, in return for pardoning Isabella's brother Claudio (Luc Roderique) she "give up the treasures of her body to him." Fie, fie.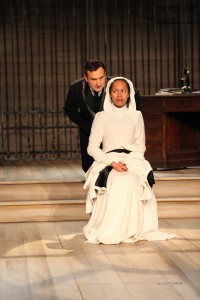 Director Murphy, in setting the play in the early 1900s in New Orleans, fills the production with music that, with a couple of exceptions, he composed with Anthony Pavlic. So it's hot and jazzy – and once, evangelical and full of hallelujahs – with Benjamin Elliott doubling in several roles plus playing piano and accordion, Chris Cochrane (as Elbow and on clarinet), Dustin Freeland (as Provost and tuba), Anton Lipovetsky (Lucio and banjo), Luc Roderique (Claudio and drums) and Bonnie Northgraves blowing one hot, sweet trumpet.
Completing the cast and also appearing in Elizabeth Rex are Colleen Wheeler, Bernard Cuffling, Haig Sutherland, David Marr and Susinn McFarlen.
If you have a teenager in your life that has never been to Bard on the Beach, this is a great show – unless you think the raunchy stuff is inappropriate. Frankly, it's nothing they haven't already seen elsewhere. It's funny, the music is terrific, Anderson and Lipovetsky will blow them away and the plot is completely accessible. I think as a result of this Measure for Measure my young guest just got hooked on Shakespeare.
It's steamy, it's funny and it's John Murphy's directorial debut at Bard. The curtain falls on "When the Saints Go Marching In" and you will hear it being whistled and sung as everyone files out of the Studio Stage tent. You'll want to be in that number.