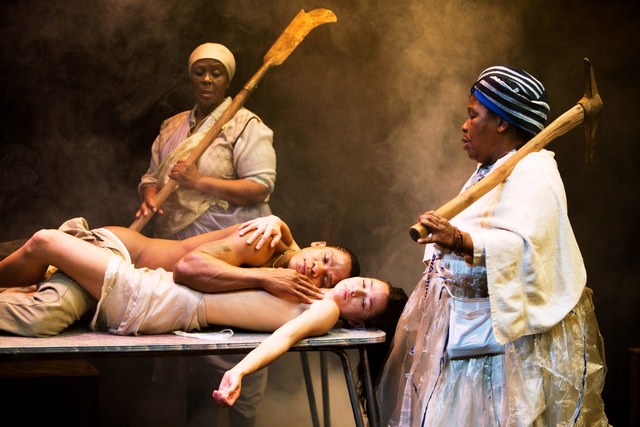 At The Cultch until April 19
604-251-1363/thecultch.com
Posted March 29, 2014

When Mies Julie (Hilda Cronje) enters the room, barefoot and bare leggèd, slick with sweat and wearing a flimsy skirt slit to the waist, you know she's looking for action. Privileged daughter of the Boer landowner of a Karoo, South Africa farm, she has been drinking and dancing with the black farmhands out back. Disheveled, she enters the kitchen of her father's house and circles like a bitch in heat her father's black servant – handsome, virile John (Bongile Mantsai) – as he polishes his master's boots. The scene is so sexually charged the air feels hot and thick in The Cultch.
This production by the Baxter Theatre Centre, University of Cape Town (in association with the South African State Theatre) is a superbly polished, powerful adaptation by Yaël Farber of Miss Julie written by the late-19th century Swedish playwright August Strindberg. While Strindberg's basic story is there, Farber transports it into present-day South Africa, layering it with racial and land ownership tension – conflicts that remain unresolved despite the end of apartheid. Not only is Mies Julie consorting with a servant, the servant is black; and the land that her father owns was land taken from John's family who had lived on it for generations. The bones of John's great grandmother (Tandiwe Nofirst Lungisa) are buried under the kitchen floor and, honoring her ancestors, John's mother Christine (Zoleka Helesi), also a servant in the house, cannot leave. It's Freedom Day but no one is free in Mies Julie.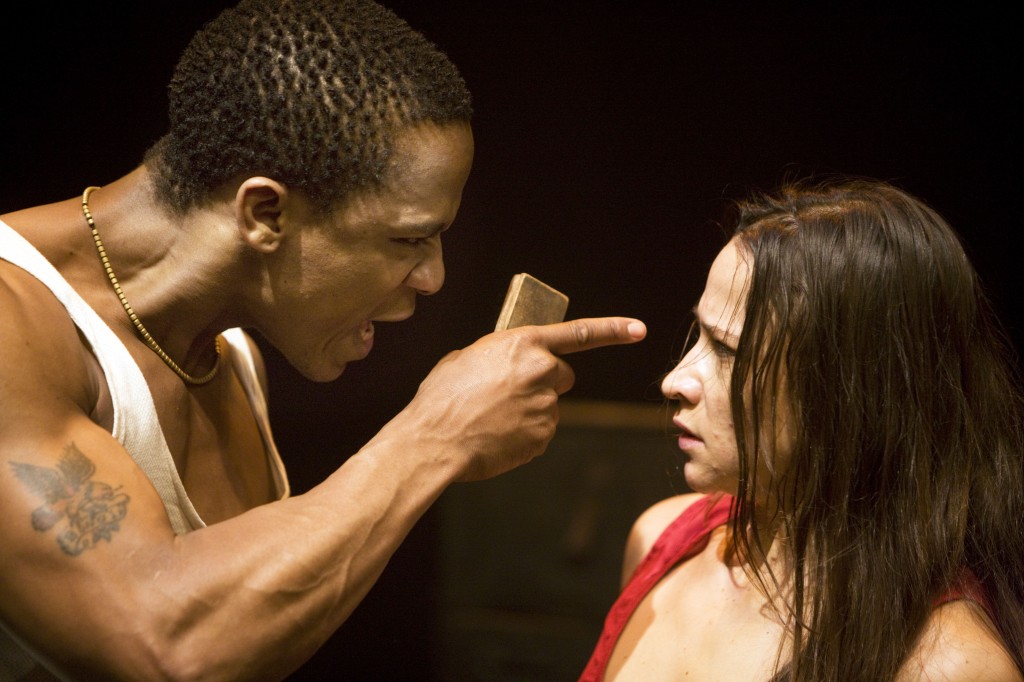 Directed as well as written by Farber, production values are fantastic, beginning with Lungisa circling the stage. Barefoot, she's dressed in a raggedy white skirt layered with ripped clear plastic; her black face is daubed with ashes. Carrying a bowlike, single-stringed instrument, she sings a mournful song. Lungisa, a master musician trained in traditional Xhosa music, is a ghostly presence throughout. Other musicians (Matthew and Daniel Pencer) are in shadow stage left.
But it's the performances of Cronje and Mantsai that set this production ablaze. Mantsai's work as a dancer is obvious. He's explosive on stage; his intensity is scorching. And when John finally explodes, Mantsai makes it volcanic, terrifying, riveting.
As Mies Julie, Cronje is all contradiction: defiant, predatory, submissive, unhappy and unloved. "Kiss my foot", Julie demands haughtily. But later, she's begging John, on her knees, to love her. She clings to him, wraps herself around his body but then spits in his face. Cronje makes this all make sense in the overheated context of Strindberg and post-apartheid South Africa.
As with the Strindberg original, there's a lot of back and forthing: love me, hate me, stay with me, go away. But the furious performances of Cronje and Mantsai keep the fire between John and Julie fanned. When the seduction finally happens as we all know it will, it's graphic, brutal and inevitable.
Mies Julie is a love story; it's Romeo and Juliet not merely from two feuding families but from two different races. It's a love story that can't happen or, at least, not yet. It's a tragic story of an unloved child and a young man free but not really free.
Graphic and bloody, it's a shocker that ends on a note of exhilaration and fury fuelled by years of colonialism. Full of blood and sweat, love and hate, this Mies Julie is not for the faint of heart; for those strong enough to take the heat, it's not to be missed.