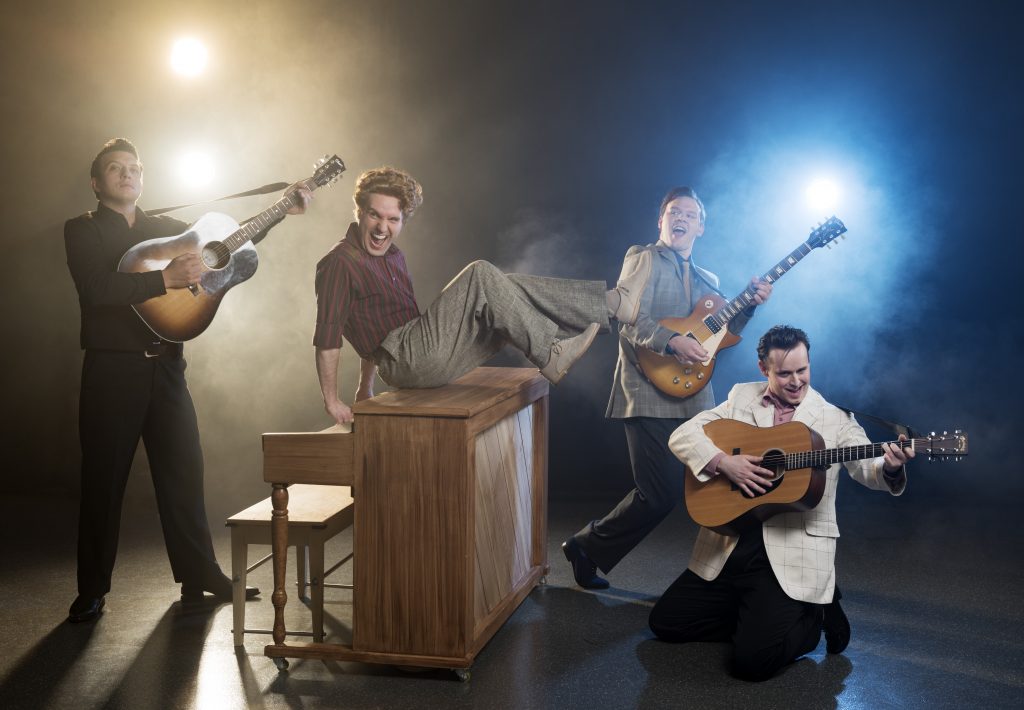 At The Stanley until July 9, 2017
604-687-1644/artsclub.com
Posted May 18, 2017
It will be a miracle if the piano – stressed to look like a bit of an old timer – makes it through the run of Million Dollar Quartet. Musician/performer Steven Greenfield, as Jerry Lee Lewis, does everything but play it with his belly button: forwards, backwards, seated, standing, on top and backwards, with his hands, with his feet. He romances that upright like a lover with a new gal; caresses it like a guy with a serious case of the blues; thrashes it like a prizefighter with a grudge. It's a wonder both Greenfield and the piano don't self-destruct in "great balls of fire."
Directed by Bill Millerd, Million Dollar Quartet is a Boomer-pleasing musical revue centred around Sam Phillips (Graham Coffeng), a DJ and music producer from Alabama who nurtured Johnny Cash, Carl Perkins, Elvis Presley and Jerry Lee Lewis amongst other rock and roll and rockabilly legends.
Hopefuls regularly turned up at Phillips' Sun Studios where Phillips worked his genius on them, encouraging them to blow the music world wide open with an outrageous new sound: rock and roll. White musicians, apparently, had been hanging out in clubs where "negroes" had been playing but when it came to recording, it was back to the same old, same old sound. Until Phillips got a hold of them. Then all hell broke loose. Lewis said rock and roll was about, "temptation, fornication and damnation, in that order." It was music that rocked the world.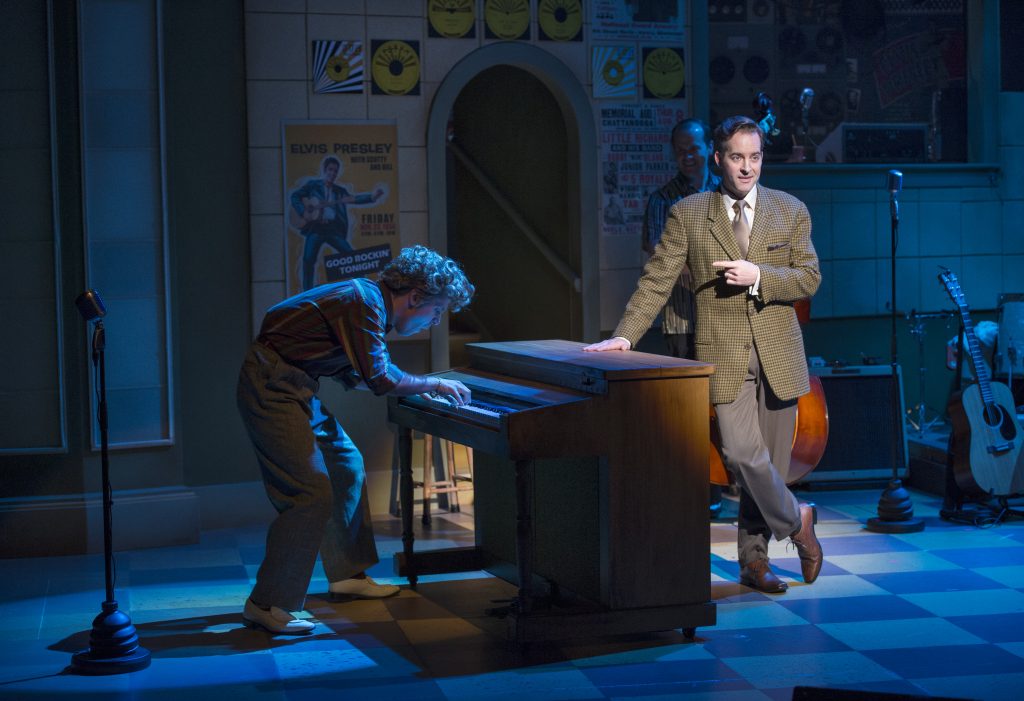 Millerd assembles a fabulous cast for this jukebox musical (written by Floyd Mutrux and Colin Escott) that premiered in 2006 in Florida before moving on to Broadway in 2010. It's historical fact that, just by chance, Phillips' "million dollar quartet" – Lewis, Presley (Erik Fraser Gow), Perkins (Kale Penny) and Cash (Jonas Shandel) – all turned up at the Sun Record Studios on December 4, 1956 in Memphis, Tennessee. A jam session ensued and was recorded by Phillips – a seminal recording in rock and roll history. There were tensions: Perkins, whose popularity was fading, was intimidated by the outrageous, enormously talented Lewis. But what soon becomes evident in the show is that the famous foursome is coming apart, lured away by RCA and Columbia Records.
Under the musical direction of Zachary Stevenson, the musicians (Greenfield on piano; Gow, Penny and Shandel on guitar; Mathew J. Baker on bass; and Todd Biffard on drums) are set up on Ted Roberts' recreated recording studio plastered with gold records earned by Phillips' "boys", as he calls them. Roberts' set and Gerald King's lighting give a mellow 50s feel while waist-high trousers on the guys put the story back in time.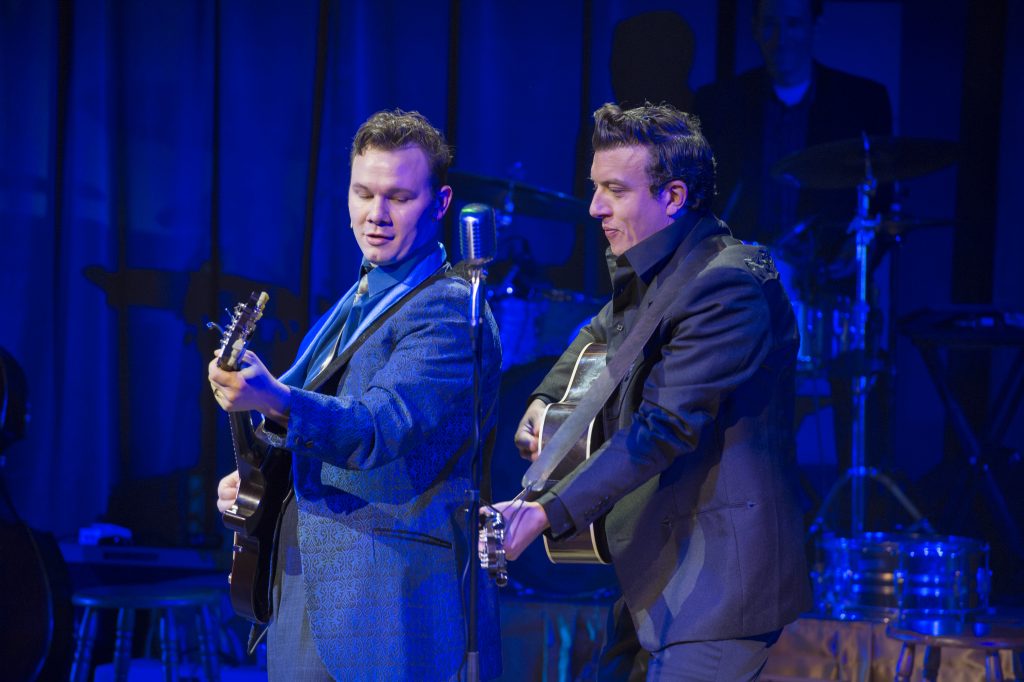 Coffeng, as Phillips, tells the story through direct address to the audience as well as interaction with the characters. Parenthetically, Coffeng has much the same body language as director Millerd who, we read in the program notes, played drums in the opening act when the Beatles played Empire Stadium. Who knew?
While not interactive, Million Dollar Quartet feels inclusive; after all, many in the opening night audience were there back in the 50s and 60s. Heads were bobbing, feet were tapping.
The show is full of stars in their own right. Shandel, looking a lot like Cash, has that same deep, deep voice and he massages the heck out of songs like "Fulsome Prison Blues", "Ghost Riders" and "Sixteen Tons".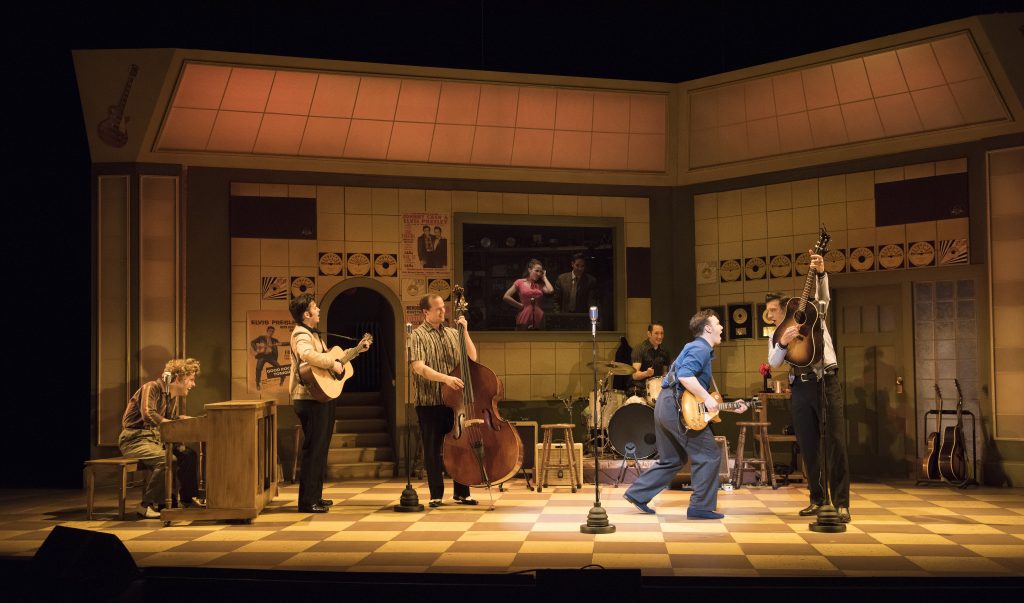 Penny, who plays the uptight Perkins (referring to Lewis as "a two-bit piano player" and "Liberace"), sings a dynamite rendition of "Matchbox" and "My Babe". And Gow, looking like a cleaned-up, sober and drug-free Presley, sings – of course – "Hound Dog", amongst others. Two dozen songs in all.
Added bonus is Lauren Jackson as Dyanne, Presley's girlfriend at the time. Jackson sings Fever as if she really had one: sexy, sultry and breathy, punctuated by the explosive "Fever!" Showing startling versatility she also sings "I Hear You Knockin'" and "See You Later Alligator". Costume designer Barbara Clayden puts Jackson in a pink, full skirted, crinolined dress and pumps.
Million Dollar Quartet is really an excuse to pull together a couple of dozen 50s and 60s hits but it offers an interesting glimpse into a period in popular music history about which little is known. As Phillips – the so-called "Father of Rock and Roll" – said, "Rock and Roll ain't a fad; it's a revolution". A packed houseful of 'revolutionaries' were on their feet and there was a whole lot of shakin' and movin' goin' on as the curtain fell.