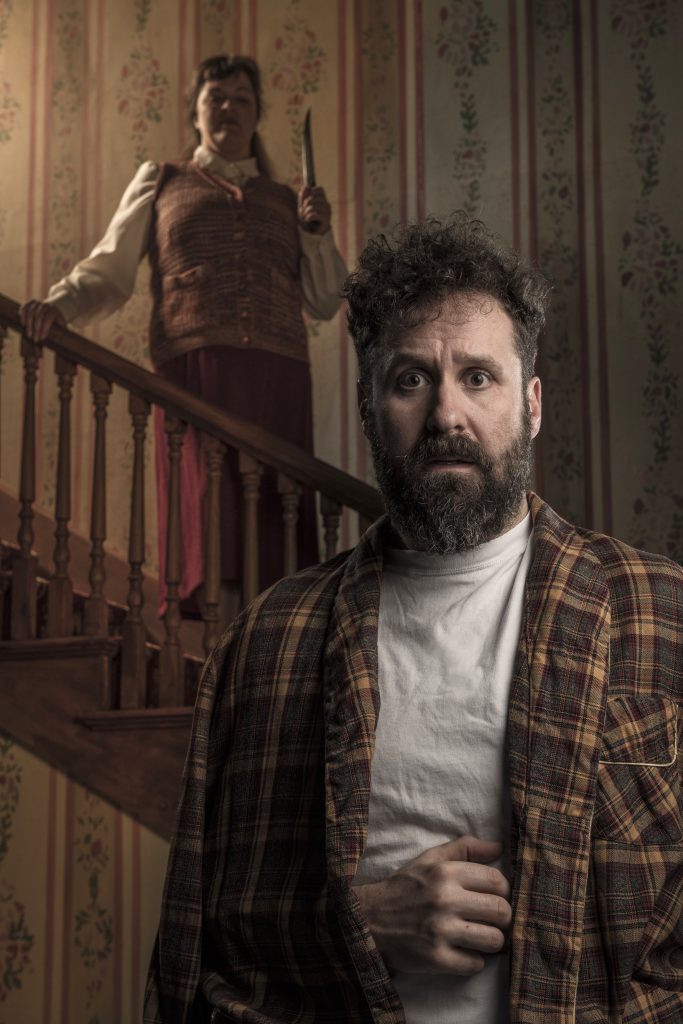 Arts Club Granville Island Stage until May 5, 2018
Tickets from $29 at artsclub.com/604-687-1644
Posted April 12, 2018
I have never read a Stephen King novel and I probably never will. Horror is just not my thing.
But hair-raising horror, adapted for stage by William Goldman from Stephen King's novel Misery, is another thing: creepy and hilarious in equal quantities make this Arts Club production a super-entertaining evening. There's almost a 'splatter zone' so prepare yourself for blood on the flower-sprigged wallpaper in nurse Annie Wilkes' isolated Silver Creek, Colorado home. And, yes, you will probably laugh as it drips down the bedroom wall where Annie's 'guest' is held prisoner.
When you're not "on the edge of your seat" as the press release warns, you might be falling out of your seat laughing – well, maybe not that funny but definitely a hoot.
Director Rachel Ditor, who admits in her program notes to going through a phase of reading and loving horror stories in her teens, gets it right. Really, really right, from casting funnyman extraordinaire Andrew McNee as romance novelist Paul Sheldon to surprisingly funny Lucia Frangione as nurse Annie, Sheldon's "Number one fan". Surprisingly because actor/playwright Frangione isn't best known as a comedian. There are times when she seems to be channeling Nicola Cavendish with her perfect double-takes, excited girlishness, hand-flying and arm-waving gesticulations and the on-a-dime switches from Miss Nicey-nice to Miss Nasty. Wearing big glasses, a plain-jane tunic and sensible shoes, Frangione is barely recognizable as the sexy Frangione of past roles. If you remember her 2003 play Espresso in which I described her as "Lush, luscious and lovely", you'll see what I mean.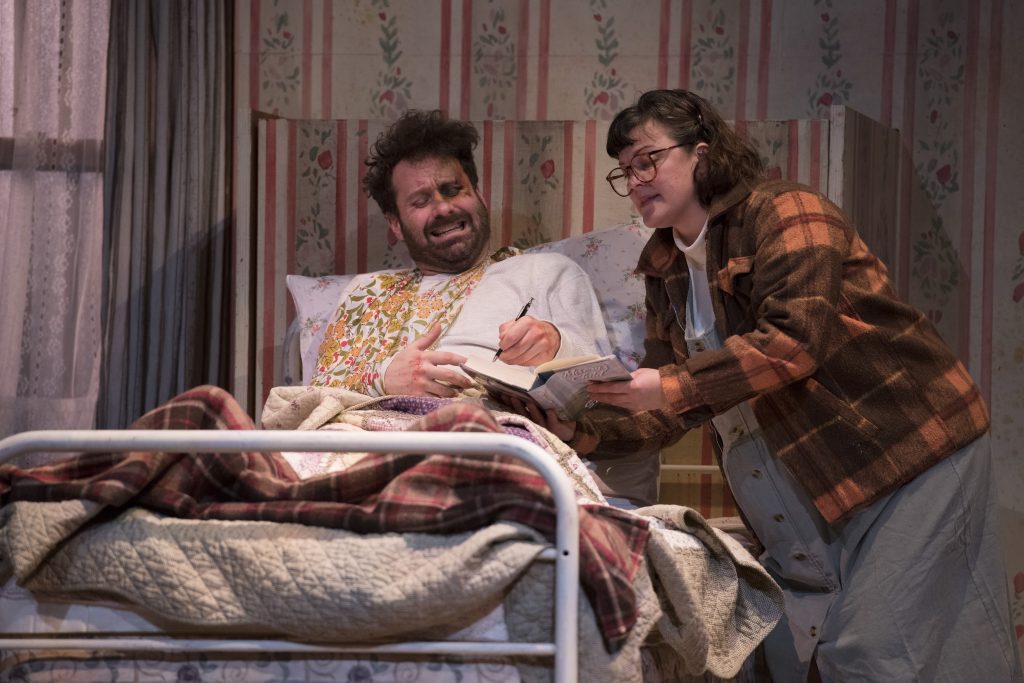 Andrew McNee is, as always, sensational: bulgy-eyed, wild-haired and fidgety he spends most of his time in bed in Misery (and in misery). Badly injured in a car accident – two broken legs and a dislocated shoulder – novelist Sheldon has been rescued by Annie, an over-the-moon fan and stalker of the novelist. When McNee manages to get out of bed with his character's broken legs crudely splinted by Annie, you can just feel the agony of his progress across the floor to the door and freedom. And, as in all good thrillers, you share his terror as the headlights of Annie's returning car fill the room and he frantically struggles to drag himself back into bed. You can feel the urgency surging through the audience. Hurry! Hurry! For god's sake, hurry!
Munish Sharma completes the cast in a relatively small role as Buster, the Sheriff who turns up on Annie's doorstep several times after Sheldon is reported missing by his agent.
Director Ditor makes another inspired decision in taking on set designer Lauchlin Johnston. It's a kooky, highly imaginative set that right away removes the story from a straight-up thriller to something off-beat: one wall-papered wall out of which emerge, as needed, tiny other rooms of Annie's house. They come through the wall, do their job, and disappear back into the wall. It's slightly cartoony and it sets the story on a level beyond realistic. Realism is for film: creativity and innovation are for stage. Ditor makes the set a fourth character in the play and uses Johnston's talent to excellent purpose. Titanic at Theatre under the Stars and The Whipping Man at Pacific Theatre were both his designs, both terrific. Murray Price's sound design, ranging from Moonlight Sonata to "As Long As You Care For Me" adds to the general off-kilter quality of Ditor's vision.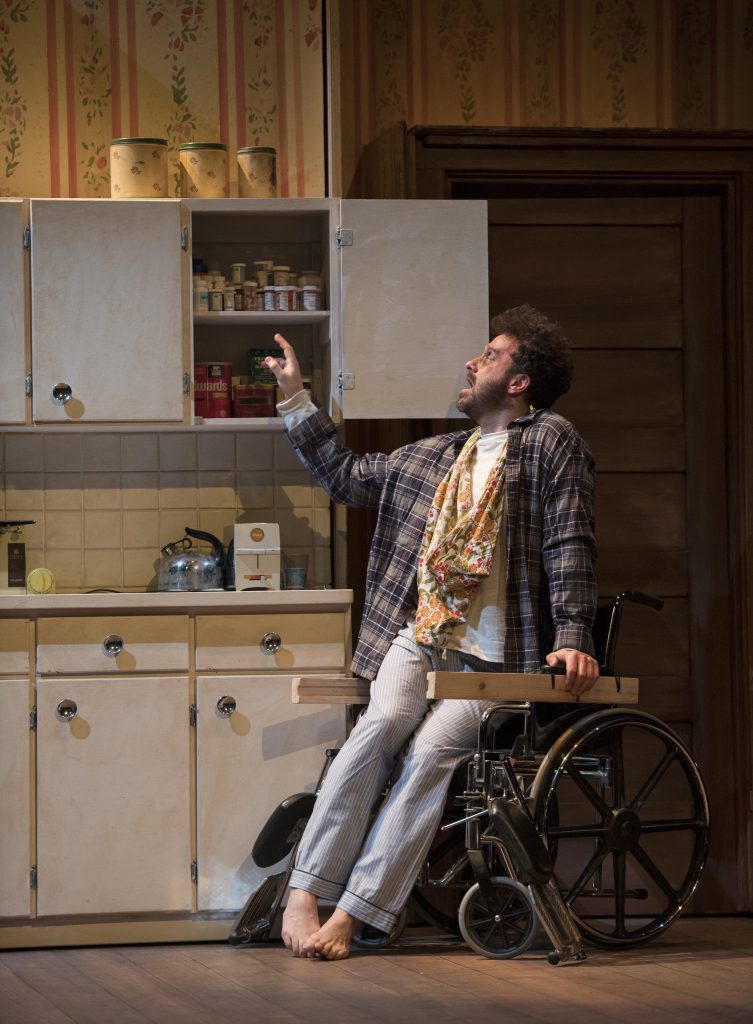 Misery is not profound nor is it socially, politically or in any other way relevant. It's simultaneously spine-chilling and rib-tickling.
Misery loves compa y and this Arts Club compa y loves Misery. If you're wondering where the 'n's in the last sentence have gone, you have to see this show to get the answer. It's all part of the cleverness of this script.