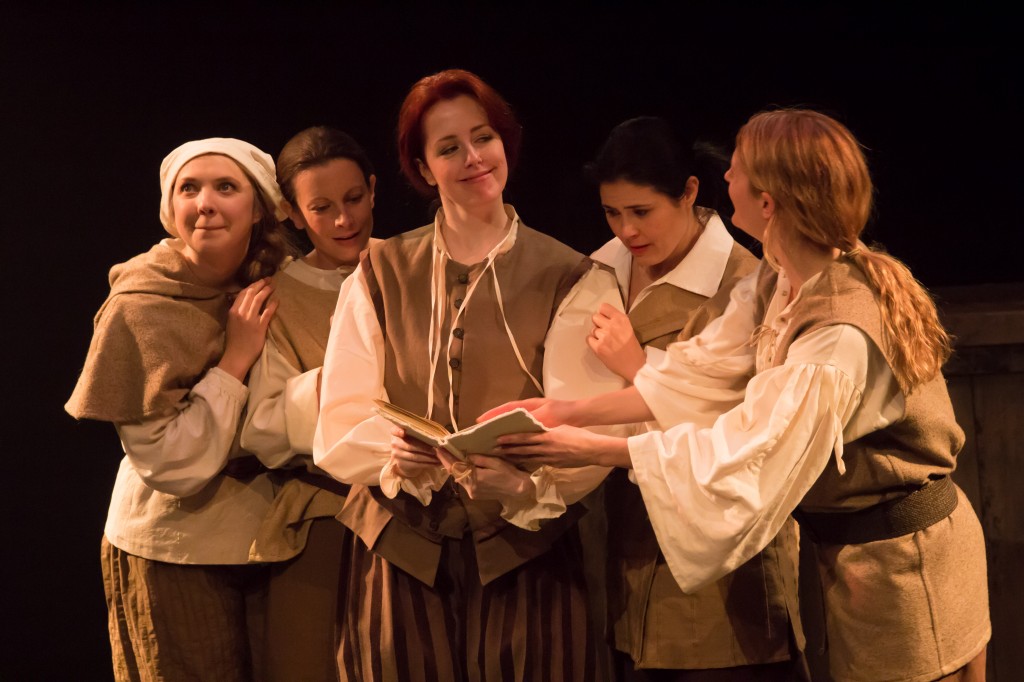 At Performance Works May 5-17 (in repertory with J. Caesar) and May 21-29 at the Kay Meek Centre 
604-684-2787/ticketstonight.ca
Posted May 9, 2015
Don't you always wonder, when you're watching a Shakespeare play in which there are young women who dress like men in order to go adventuring, just what Elizabethan audiences must have thought? Because society and the Church forbade women from being on stage, these young female characters were played by young men: young male actors dressed up like women who dressed up like men. How convoluted is that? Women in the audience, assuming their fathers or husbands thought it alright for them to go to the theatre, must have had a very good laugh. Or been very puzzled. Or angry.
And who might have been more frustrated than Judith, Shakespeare's youngest daughter?
Judith is seriously rankled in Tracey Power's Miss Shakespeare, a new Canadian musical premiering now at Performance Works. Judith wants some of the action. So she gathers up some women friends and, after closing time in the basement of The Cage – Tom Quiney's tavern (created with a ceiling of half-rafters and lit by Cory Sincennes) – they begin by reading, then acting, plays. "Women don't act," warns Judith's older sister Susanna (Caroline Cave) sternly, "it's against the law." Replies Judith (Amanda Lisman), "There won't be an audience." Ah. Not yet, there won't be. But once into it, can they resist? And can they pull it off?
With book and lyrics written by Power, music co-written by Steve Charles and directed by James MacDonald, this is smart, funny stuff. The clandestine actors, in addition to Judith and Susanna, are Katherine (Medina Hahn), Hannah (Pippa Mackie), Margaret (Erin Moon) and Isabel (Tracey Power). Power creates the punchy choreography, too. Completing the cast, as Quiney, is Susinn McFarlen who also plays Judith's father, William. McFarlen is a sort of all-purpose character and except when she holds a half-mask that looks like the Bard himself, it's not always clear who she is – especially since the other actors take turns being Thomas Quiney. All is revealed, however, at the end. (History tells us that Judith married Thomas, by all accounts the town Don Juan which accounts for William Shakespeare writing him completely out of his will.)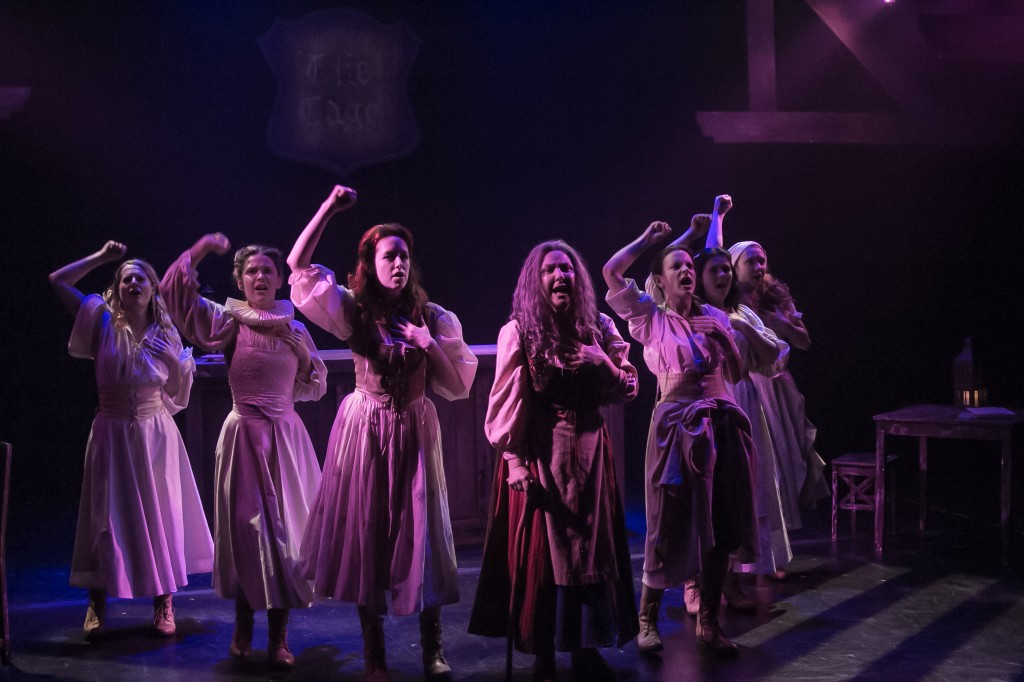 Power creates seven lusty women and in one of the early songs, Judith confesses to falling for the "broad shouldered" guy with "a pizzle" who's playing Lady Macbeth in one of her father's productions. "I fell in love with his ass", she giggles and they all join in with much butt wagging while singing, "It's the Ass". Bonnie Northgraves (pianist) and musical director/co-composer/bassist Steve Charles provide upbeat accompaniment.
Power neatly differentiates each character and six of the seven actors, all in different, antique-white garb (by Barbara Clayden) – pinafores, petticoats and bloomers – take those qualities and run with them. Cave's Susanna is cautious, upright; Katherine (Hahn) is full of longing for a child; Mackie's Hannah – a bastard whose child has been taken from her – is ballsy and defiant; Moon's Margaret is hungry for love; and Isabel is eager for life, love, adventure – she wants it all.
Hahn might bring tears to your eyes as her character mourns the loss of fourteen infants and imagines them all grown up – a soldier, a midwife, a bachelor, a drunkard – before "The Truth Comes Tumbling Down" and she sees tombstones in their place.
Power mixes it up musically from the boisterous "Keep Your Pickle in Yer Pants" to McFarlen's heartfelt reprise of "Passion": "If it's passion you seek/Don't piss it away."
Power, who also wrote the big hit Chelsea Hotel, is dynamite on and, obviously, off stage when she's writing and composing. She's certainly one young woman who's definitely following her passion and not pissing it all away.