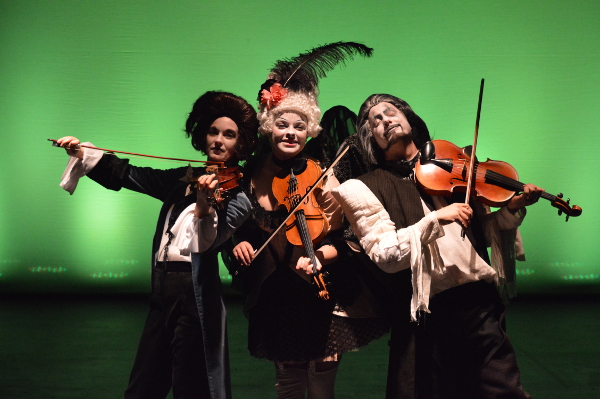 At Jericho Arts Centre. Must close Saturday, March 14, 2015
www.ticketstonight.ca. Twenty-five rush seats made available at the door.
Posted March 14, 2015
This is one that almost got away and I'm so sorry I didn't get to it sooner. Daniel Deorksen and David Newham, co-artistic producers (Seven Tyrants Theatre Society) base this intimate little chamber piece on Alexander Pushkin's classic 1830 play, Mozart and Salieri, about the oft-rumoured but never proven poisoning of Wolfgang Amadeus Mozart by Antonio Salieri.
Salieri, having sacrificed his life to music and to God, could be forgiven for wanting to murder the prodigiously talented young upstart: Salieri's talent, while appreciable, was limited while Mozart's seemed boundless.
There are obvious plot parallels to Peter Shaffer's Amadeus (1979), also inspired by Pushkin, but the treatment by creators Deorksen and Newham ends there. Mozart & Salieri is quirky, intimate and an excellent example of the rare merging of celebration and spoof.
Musical director Deorksen selects music from both Mozart and Salieri, sometimes just excerpts or with the addition of witty, contemporary words.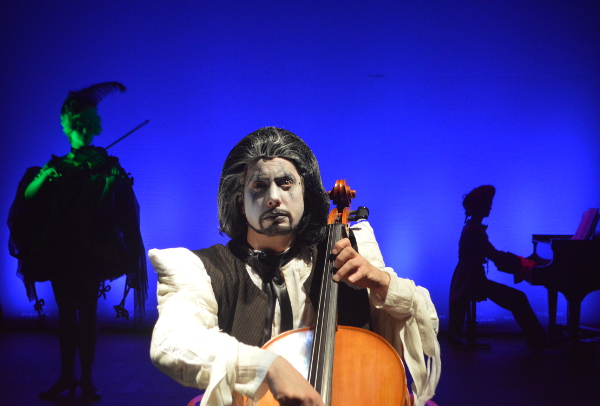 But here's the thing: the music is all performed live by a cast of three: Cate Richardson (as The Player), Masae Day (Mozart) and David Whiteley (Salieri). Between them they play violin, cello, piano, accordion, French horn. And they sing – soprano Richardson, divinely.
Seven Tyrants (www.seventyrants.com) is creating an interesting, theatrical niche for itself beginning with its excellent Beggar's Opera. Combining various musical genres – classical and contemporary, opera and musical hall – Newham and Deorksen wrap it all up in an absurdist package: outrageous make-up, lighting and costumes. Costumer Ines Ortner, for example, dresses The Player in a very short white and black lace, bosom-revealing dress, white garters and white stockings, a huge, blond beehive wig and a froth of large black lace wings. Mozart, in a lovely blue velvet coat, has one pant leg down, one tucked into a white stocking. All the players are in exaggerated whiteface.
Newham's lighting on the backdrop is vibrant and constantly changing: red, blue, yellow, green. Mozart silhouetted against a red background while Salieri rants, for example, is perfect.
None of this is new. But when it's well done, as it is here, and it doesn't take itself too seriously, it's a welcome antidote to kitchen sink realism and musical comedy. Best of all: the audience feels included in the joke and complicit.
What makes Mozart & Salieri work, however, is young Cate Richardson. In whiteface, with a little rosebud mouth and thin, arching eyebrows, she seems perpetually on the verge of bursting out laughing. Or sharing a secret like, "Isn't this completely silly and fun?"  She's sassy, saucy and cheeky. She takes the mickey out of Mozart but plays his music and sings it like an angel while looking little like an escapee from the Folies Bergère.
Mozart & Salieri gets you coming and going. Have you ever heard the Overture to The Marriage of Figaro punctuated with a rousing "Hey!" And yet, despite everything, Mozart's Requiem in D Minor will get you where you ache. Seven Tyrants Theatre is on to something.