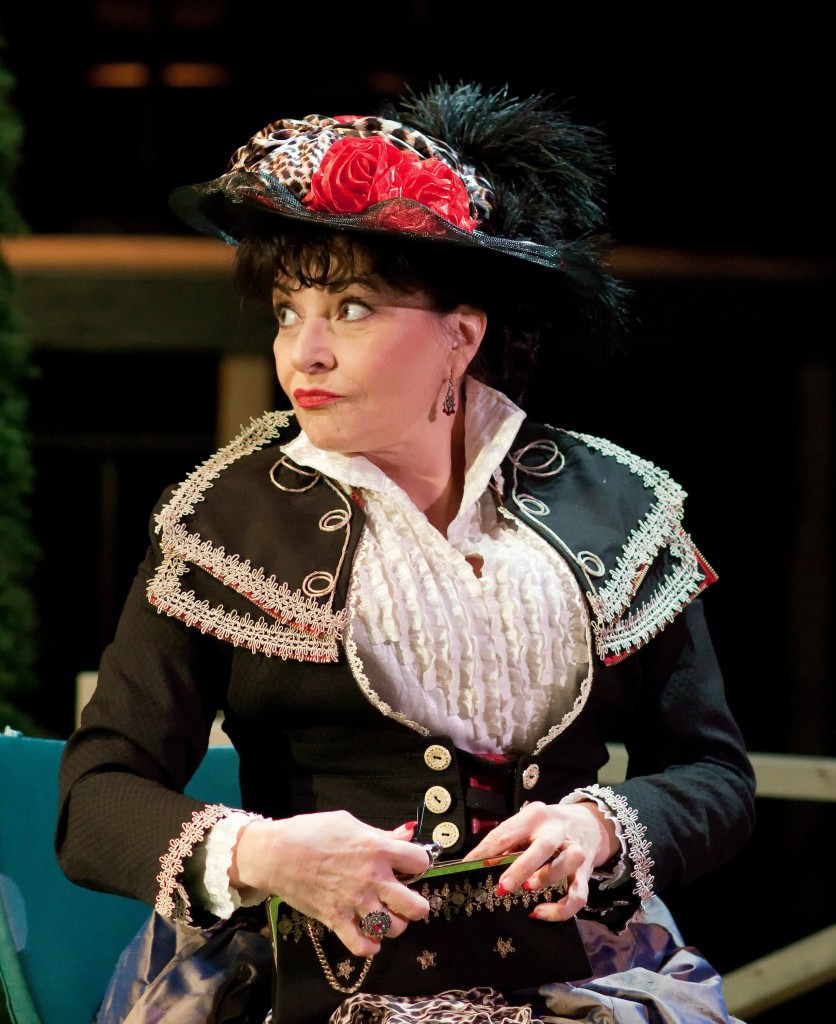 At Rickshaw Theatre. No more performances.
Posted April 28, 2014
Oh, George Bernard Shaw always does it to me: makes me think.
What are we supposed to make of Mrs. Warren? As a kind of Mother Courage who will do anything – anything – to protect and nurture her child? Or is she a common bawdyhouse madam, living off unfortunate women who, through poverty and lack of opportunity, turn to prostitution? Or "a genial and fairly presentable old blackguard of a woman", as Shaw describes her in the list of characters?
And what about her daughter Vivie? Is she a Modern Woman, striking out bravely to make her own living using her Cambridge degree in mathematics? Or is she an ungrateful young twentysomething too proud to accept the money earned to educate her, to keep her in good clothes and put a decent roof over her head continues to come from a network of whorehouses from Berlin to Vienna?
Maybe Mrs. Warren provides a safe haven in her 'hotels' for sex trade workers who are otherwise at high risk on dangerous big city streets. I really don't know.
But I do think it's true that – with some exceptions, apparently – "It's not work that any woman would do for pleasure", as Mrs. Warren says.
We probably have more sympathy for prostitutes than we do for madams and pimps. And you can bet your last tuppence that Mrs. W wasn't picking johns up from the street when she first got into the sex trade. Her clientele was decidedly upper crust before she became 'management'.
Taking it to the downtown eastside Rickshaw Theatre was an inspired idea by Marisa Smith, directing for Alley Theatre (in association with Neworld Theatre and Renegade Arts Company). For there they are: women of all ages stumbling along Hastings while more privileged women are going to the theatre. Our noses were well and truly rubbed in our good fortune.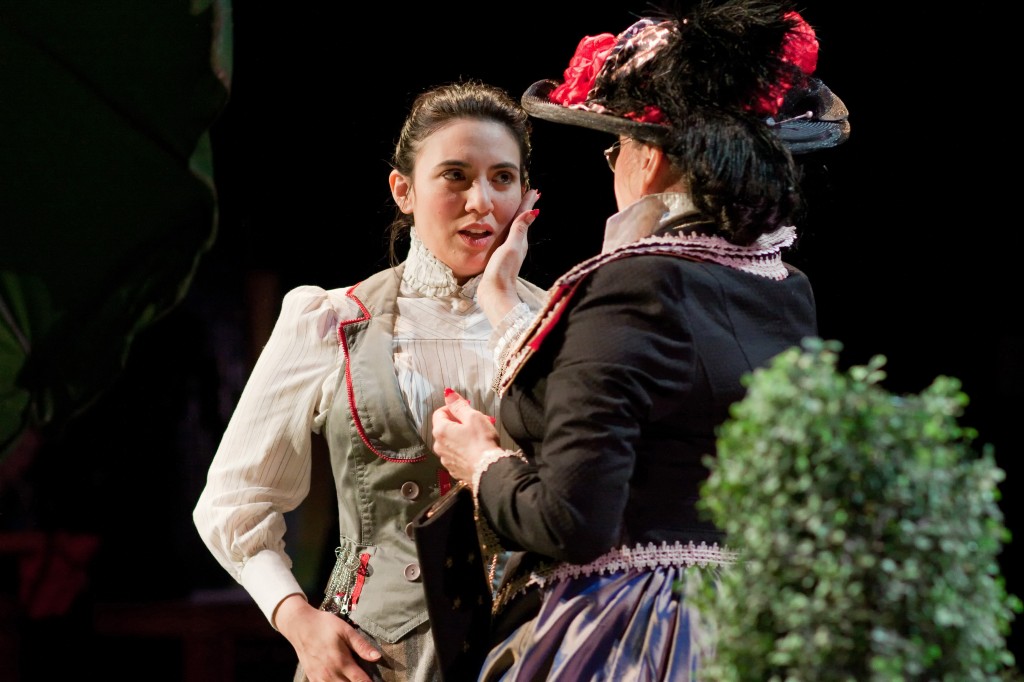 A big scrim concealed the set when we entered the theatre and on it were posted questions like, "What was your first job?" and "Have you ever lied about your job"; we were invited to text our answers that were immediately posted. Babysitting, waitressing, delivering newspapers: innocent jobs that don't warrant shame.
Shaw's script was delivered almost word for word but the presentation was so creative and finally, so intimate. The audience was first seated in regular theatre seats; the rake was only barely sufficient to see the action that took place on the floor in front of the first row of seats. But then we were moved down into that space (with pillows and chairs) for the more intimate 'reveal' scene between Mrs. Warren (Linda Quibell) and her daughter Vivie (Studio 58 grad Melissa Oei); another move took some of the audience onto the stage; and finally we climbed several flights of stairs into the small balcony.
Smith chose some slightly awkward colour-blind casting: Frank Gardiner (Daniel Arnold) was the fair-skinned, blonde-haired son of Reverend Gardiner (Tom Pickett who is not white but does a decent job of the man-of-God with a randy past.
Quibell, decked out in a glorious Victorian-era gown and short, bosom-clinging jacket by Nita Bowerman, is, as always, remarkable: disarming, sexy and witty ("Oh, it's only good manners to feel ashamed", says Mrs. Warren). Quibell wears the high, shiny, red boots featured in the show's poster as if she's an advertisement for 'a good time'.
Oei takes the new, independent, educated woman idea and runs with it. She speaks and moves in a very forthright, no-nonsense way. Of course, one of the problems of the play is that not for a moment do we really believe Vivie could have any romantic interest in goofy, fortune-seeking Frank. Daniel Arnold didn't make it any more credible; he was such a will-o'-the-wisp in this show, you couldn't nail him down. Silly, fey yet nasty, he was more court jester than a man paying court. Smarty-pants Vivie sees right through him.
The real villain of the piece is Sir George Crofts (Eric Keenleyside) who makes no bones about the fortune he and his business partner Mrs. Warren are making. Rick Tae made a sprightly Mr. Praed although I've never understood Praed's role in the play.
Although I still don't know where I stand on the Mrs. W/Vivie spectrum, this production was always interesting, fast moving, thought provoking and extremely creative in its presentation. The Rickshaw Theatre was well and truly used.
I wonder what GBS would have thought had he parked his car off Hastings on Gore Avenue, as I did, and walked to the Rickshaw Theatre. That prostitution is the oldest profession and not at any risk of folding its tents and going away? Or horrified that we have still not solved the problem of women who for one reason or another, find themselves selling their bodies to strangers?