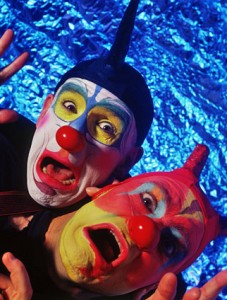 At The Cultch until June 2
604-251-1363/www.tickets.thecultch.com
Posted on May 23, 2013
Been there. Done that. Got the t-shirt. No, really. I do have the Mump & Smoot t-shirt. And I wear it proudly.
Mump & Smoot are back in Vancouver after almost twenty years with their revival of Something, the show that started best friends Michael Kennard (Mump) and John Turner (Smoot) on a blood-spattered road to fame twenty-five years ago. Dubbed The Clowns of Horror, they are a Canadian treasure and not to be missed.
Clowns have always mined our anxieties for funny stuff: slipping on a banana, ripping the seat out of our pants, discovering our zipper undone. But Kennard and Turner take us deep down into the places that scare the heck out of us, like a mad scientist/doctor with a very sharp knife coming at us.
Directed by Karen Hines (of Pochsy's Lips fame), Something begins gently enough with Mump and Smoot clambering down from the balcony in the dark, stumbling their way through the rows of theatre-goers, shining bright flashlights around and eventually taking front row seats – after ejecting a couple already in them. Mump and Smoot have come to the theatre to see a show but when nothing happens Smoot jokingly moves into the set: a fancy restaurant table set with cloth napkins and wine glasses. Mump eventually joins him and, as usual, tries to curb Smoot's natural silliness. You can only imagine what happens when a snooty waiter (poker-faced Candace Berlinguette) arrives with a big bottle of wine and two very, very large plates of spaghetti.
The Café moves to The Wake and on to The Doctor – each introduced by a sign in red, blood-dripping letters displayed by Berlinguette.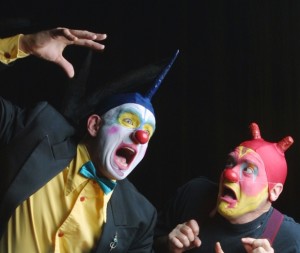 Mump, the supercilious, nattily but ridiculously dressed one, wears turquoise satin trousers, a bright yellow shirt, turquoise bowtie and high-top runners. Smoot, the object of Mump's disdain, wears a tattered t-shirt, bright red short pants with suspenders and little red booties. Smoot wears a red rubber cap with two stumpy horns while Mump's cap is blue and sports one unicorn-like spike. They both wear red clown noses and their makeup is outlandish.
This madcap duo worship Ummo and speak Ummonian but you don't have to. Embedded in their gibberish are recognizable words like "tragedy" and "Tsawwassen" as well as approximations of English like "no toucha da". Really, you won't miss a word.
And you certainly won't miss understanding, "I can't live without you." At the core of all the condescending putdowns by Mump and the hurt feelings of Smoot – the constant object of Mump's mockery, Mump and Smoot are, like Kennard and Turner, best friends. Joined at the hip they blunder through life but when push comes to shove, they're there for each other. Mump would die for Smoot – if he doesn't kill him first.
Mump and Smoot are the Itchy and Scratchy of Canadian theatre. And like the creators of The Simpsons, Kennard and Turner are very, very smart. Something is clowning for a thoughtful and discerning theatre audience but it's also just bloody good fun: limbs and heads come off, blood splashes the stage. It's not for kids.
But it is for everyone else. Mump and Smoot are legendary and, like "cheese" and "wine" and "scotch" (as they said in a recent interview), they're still getting better.
Watch the video clip here: https://www.youtube.com/watch?v=xteKfLyk8Mw and then buy a ticket to see the whole show.
They really are Something.