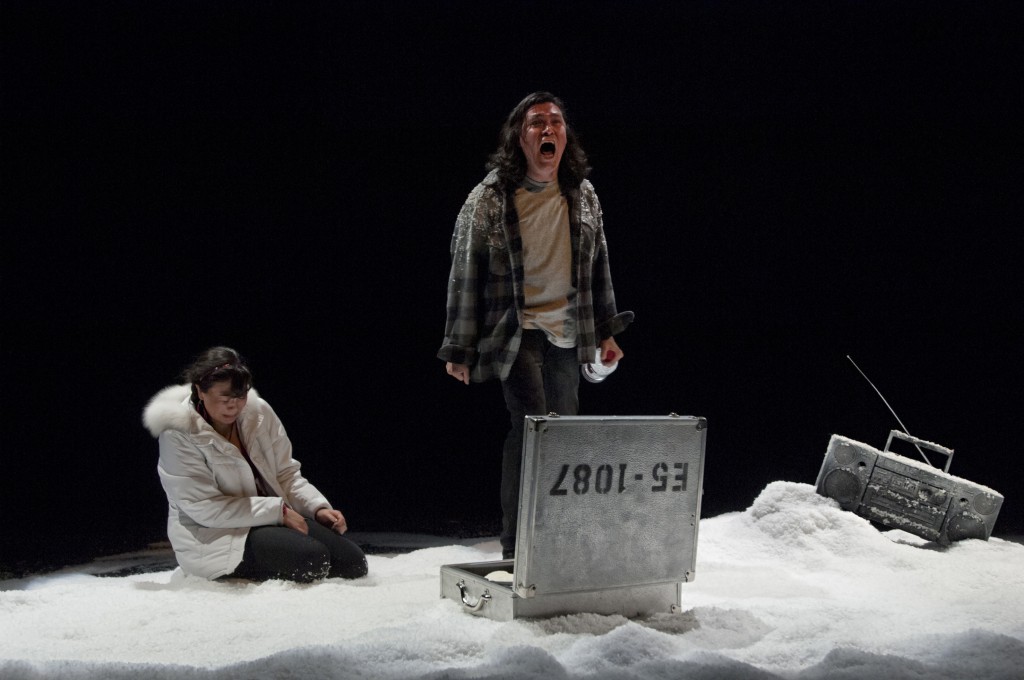 At The Roundhouse. No more performances
Posted January 27, 2014
What we usually hear about Pond Inlet, Nunavut, is bad news: poverty, shamefully inadequate health care and housing, substance abuse and suicide. What we heard in Night (five PuSh Festival performances only) was a story told in the Inuktitut language: soft and lyrical, full of 'u's, 'q's, 't's and 'l's. It was more like music than speech, more poetry than prose, and totally mesmerizing. Surtitles in English, told the story of teenaged Inuk girl Lamech Piuyuq Auqsaq (Tiffany Ayalik), her friend Gloria (Reneltta Arluk) and their fathers (both played by Jonathan Fisher).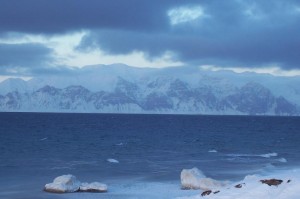 It's the dead of winter with twenty-four hours of darkness and it's Piuyuq's 16th birthday on the day anthropologist Daniella (Linnea Swan) flies into Pond Inlet from Ottawa with a metal case labelled E5-1087, containing the bones of Piuyuq's grandfather. Years ago, he had fallen ill, been flown out to a hospital where he died; instead of his body being returned for proper burial, his bones ended up in storage in a museum. Daniella, carrying a huge load of 'white man's guilt' has stolen the case and is determined to return the bones to the family. While she expects gratitude for the repatriation, returning the case tears open old family wounds including the death of Piuyuq's mother.
It was a snowy set in The Roundhouse with one frosty power pole and line disappearing into the dark, as if into the vastness of the frozen North. Although the theatre was warm it felt cold with all that snow, parkas and snowboots on stage.
Amidst all that beauty, however, were harsh realities: incest, child abuse, alcoholism, suicide and a pervading sense of hopelessness. In spite of Daniella's well intentioned but bumbling act, the return of old Lamech's bones does eventually inspire Piuyuq to "stand up" and "be strong". In the face of overwhelming odds, Piuyuq might just make it. (During the talkback session, we were told the average age in Pond Inlet is a startling twenty-five. Teenage suicide is a tragically common occurrence.)
Writer/director Christopher Morris of Human Cargo, a Toronto-based theatre company, spent time in Pond Inlet and speaks of the openness, kindness and generosity of the Pond Inlet people who welcomed him into their homes. Night captures not only the sense of the frozen Arctic but also the spiritual nature of the Inuk living, as they do, in an unforgiving land where a miscalculation – a marauding polar bear or missed landmark – is a matter of life and death. It's also a land where, thanks to the dislocation – physical and spiritual – that came with European settlement, despair is a relentless predator.