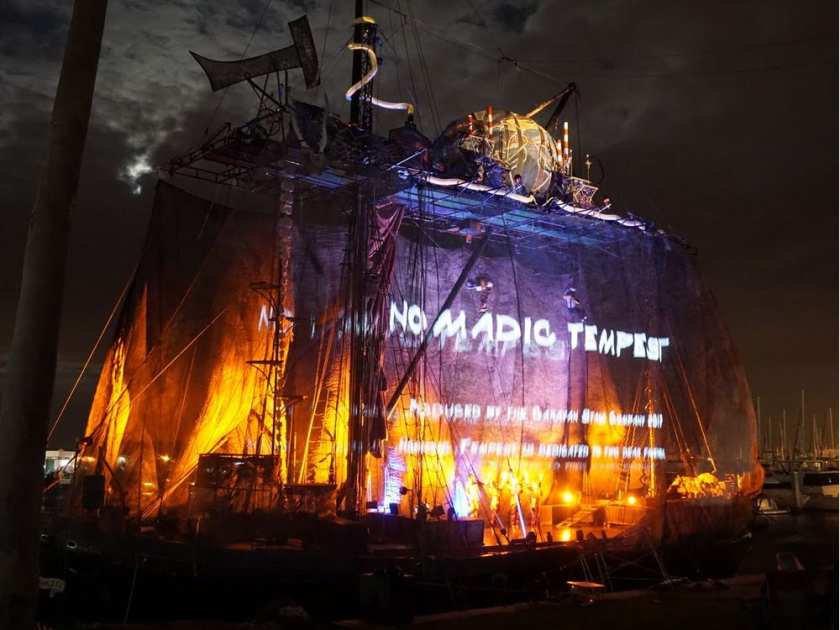 South shore of False Creek, just east of the Cambie Bridge, at 9:45 p.m., Tuesday-Sunday until September 3, 2017
Free. Tickets for all performances have been assigned but a limited number of seats are available at the door. Arrive 30 minutes prior to performance. Bleacher seating or bring a chair or blanket. Not recommended for children 10 and under
Posted August 21, 2017
Paul Kirby and Nans Kelder have been taking theatre to the people since 1970 when they toured their one-wagon, horse-drawn puppet show around Vancouver Island. That humble beginning grew to six wagons pulled by teams of Clydesdales until Kirby and Kelder bought a farm outside Armstrong, B.C. and briefly settled down. That was the genesis of the famous communal-living theatre company, now known as Caravan Farm Theatre.
In the mid-80s, the couple split from the farm/theatre community and formed Caravan Stage Company, a horse-and-wagon theatre troupe and set off to tour the US.
But even that wasn't nomadic enough. In 1993 they built the Amara Zee, a thirty-meter Tall Ship, a replica of a Thames River Sailing Barge. Aboard this floating stage, they have now entertained thousands across Europe and the US.
The show has been variously described as Cirque du Soleil-on-a-barge, an experimental opera and a multi-media spectacle. Colourful images are projected onto a large scrim that hangs from the rigging; the costumes are lavish; lighting effects are extravagant.
The year is 2040 and 'The Drowning Wave' – a result of global warming – has forced four Monarch butterflies to flee their home. But two evil SwallowWarts (representing the oil industry) are refusing them sanctuary: "Out, out damned refugees."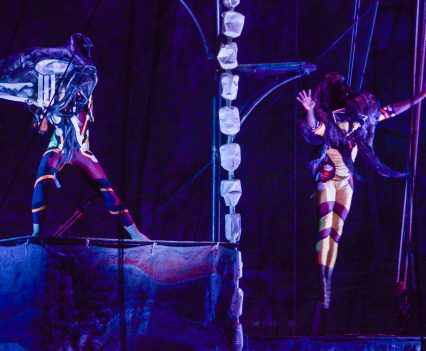 The story is told by Kananda, a 'Prophet of Exile' to five 'Young Ones' who are curious about how the apocalypse happened.
The songs are sung in five languages (English, Spanish, Arabic, Mandarin and Halkomelem – one of the Coast Salish languages) with translations projected on a scrim.
Nomadic Tempest is magical but the music is definitely in the operatic mode. It's an unusual choice and for those who don't appreciate opera, the style of music doesn't complement the show – in spite of the virtuosity of the singers. And while the show is not heavy-handed, the message – "The planet is looking for your heart" – resonates most with those already opposed to the Kinder Morgan expansion, fracking and the oil industry.
A troubling irony remains: at the end of the show, many of us get back into our gas-fuelled car and drive home feeling guilty the whole way. What to do? What to do?
For more info: caravanstage.org