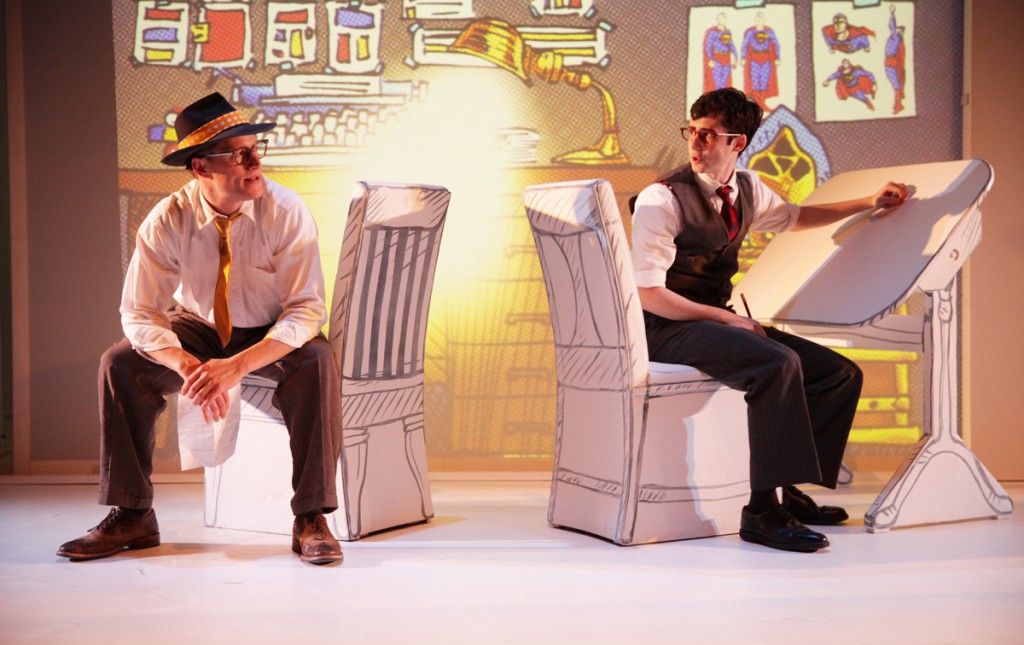 At Scotiabank Dance Centre, 677 Davie Street, until March 2
eventbrite.ca

Posted February 26, 2014
Creator/director Kendra Fanconi tells us in her director's notes, "Nothing But Sky is based on a true story. That is, the life story of Joe Shuster, the artist, Jerry Siegel, the writer, and Joanne Kovacs, the original model for Lois Lane, and their creation: Superman." And who knew it was a nerdish, Jewish, bespectacled Canadian who first drew Superman?
It's an interesting story: Jerry Siegel (Robert Salvador) meets Joe Shuster (Amitai Marmorstein) with an idea that, initially, goes nowhere but once things really start to click, it becomes the most popular superhero comic book of all time. Jerry and Joe both, however, fall for Joanne (Dawn Petten) and things – Pow! Bam! – start to unravel.
Fanconi, as the artistic director of The Only Animal, has up to now been known for site-specific work: The One That Got Away (in the Jewish Community Centre pool), Other Freds (in, on, around and on both sides of False Creek) and NiX (in a snow cave in Whistler). Nothing But Sky moves the company indoors but this show is about as far from traditional proscenium theatre as you can imagine. Think comic book. Think about stepping inside a comic book with its creators and their characters. Animation co-exists with actors. Chairs look like drawings of chairs. Sketched comic book characters talk. An oversized cardboard pen signs on the dotted line. There's no end to the creativity in Nothing But Sky; the sky's the limit.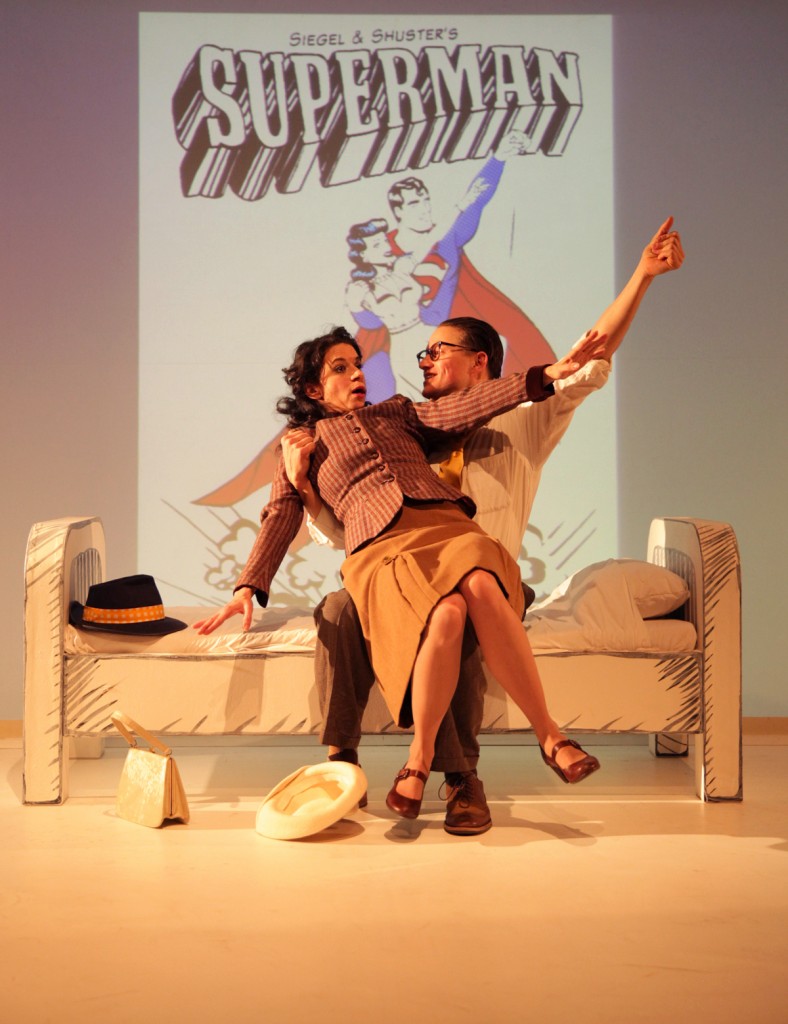 But. It's so much fun to look at and to marvel at, that the characters – Joe, Jerry and Joanne – are eclipsed by all the theatre technology. Jerry marries Joanne, Joe starts drawing pornography and goes blind. This is the story we want to understand. Like the characters they create, Joe, Jerry and Joanne don't feel real and it all begins to feel like a metaphor for something else. Like an existential cry, perhaps, "Is there anybody coming to rescue you?" "Will no one save me?" Or an encouragement to begin and then follow your dream: "Start with a dot which becomes a line, a curve, a shape, a form", Joe tells Jerry. And what we see is Joe starting with a dot and ending up with, ta-da, Superman. And it's also about the cost of not living courageously. As Joanne tells Joe as a kiss-off, "You're good, Joe, but you're not strong." That is, he is the loser he has always feared he is.
But all this, presented in a highly inventive cartoon aesthetic, makes it hard to hang in there for Jo, Jerry and Joanne. Maybe the format inherently distances us.
The list of credits says it all: illustrator, video designer, animator and videographer, foley, art direction are added to the list of usual suspects: set, costume, sound and light designers. There's no doubt Nothing But Sky is ambitious (two hundred cues for the stage manager) and, like reading the comics, fun. And the performances are great: Marmorstein makes a nervous, self-critical, lovelorn Joe; Salvador is pushy, confident and crass as Jerry; Petten – as always – lights the place up as Joanne.
But there's no Velcro here: very little sticks. Images will linger: Petten in a cutout cardboard taxi; clouds rushing up through a cartoon-bright blue sky;  Joe running, running, pursued by Jerry.
Nothing But Sky is the most visually interesting show we've 'seen' this season but I'd like to have 'experienced' more.