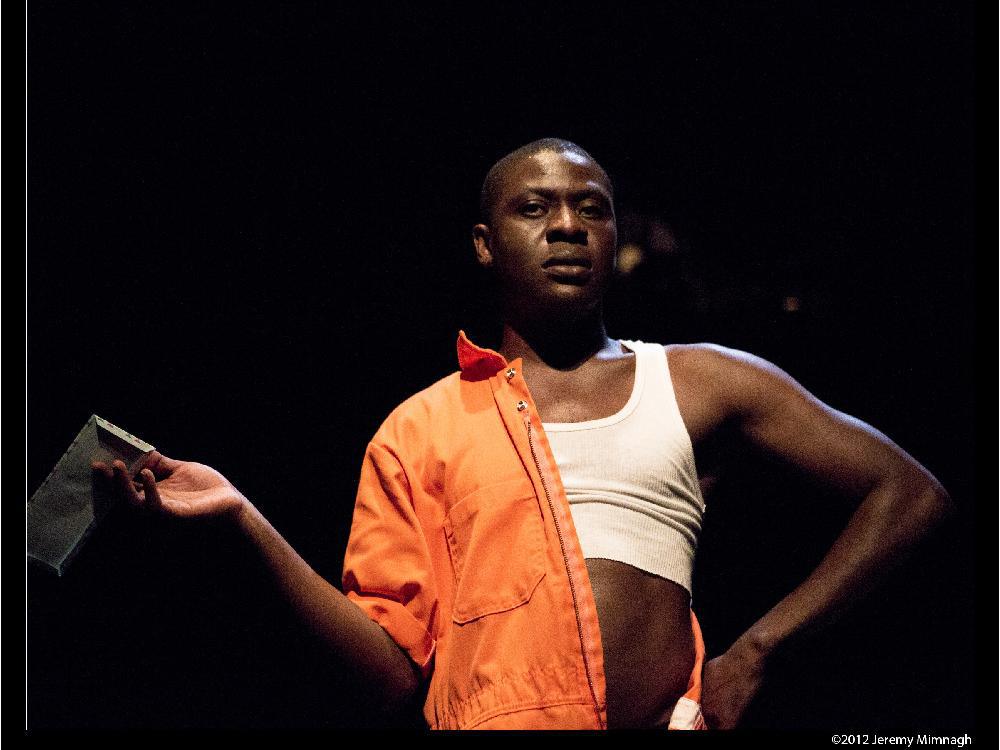 At The Cultch. March 24-28, 31, April 1-4 at 8pm. March 28, 29, April 4 at 2pm.
604-251-1363/thecultch.com
Posted March 28, 2015
Put a master storyteller on stage. Add dramatic lighting and a percussive soundscape. And let the magic begin. That's what's happening on the Historic Stage at The Cultch every night (plus several matinees) until April 4. It's a rapturous theatrical experience in the company of Tawiah Ben M'carthy, the Ghanaian-born, Toronto-based solo creator/performer under the direction of Evalyn Parry.
A derogatory term, obaaberima is derived from the Ghanaian words for woman and man – hence a 'girly' or 'effeminate' male. While M'carthy says Obaaberima is not his story, he has drawn on his own experience in the creation of the character, Agyeman.
As a child in Ghana, the boy loved to dress up in his mother's clothes and his behaviour soon earned taunts of "obaaberima" from schoolyard bullies. Alienated from his peers, he turned to Opayin, an old homosexual tailor who introduced him to gay sex. Opayin will only have sex with Agyeman when Agyeman is dressed like a woman. But a boy with whom Agyeman also has a relationship will only have sex with him when he's dressed as a boy. Confusion added to confusion.
These childhood scenes are well done but brief, giving us Agyeman's backstory before moving quickly on.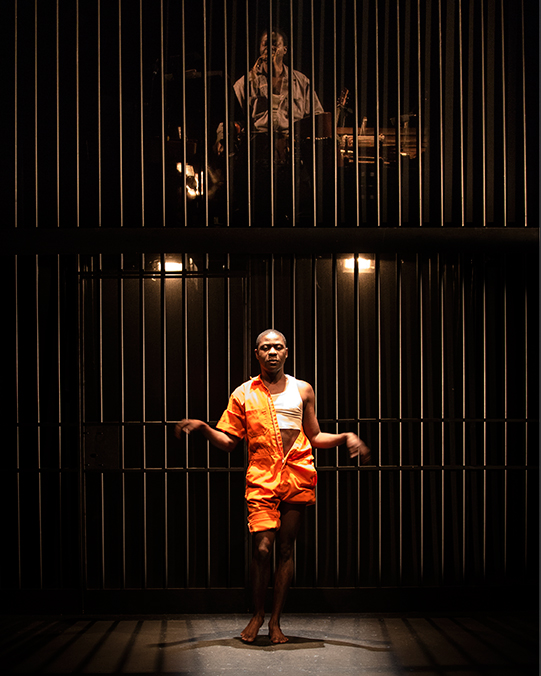 Eventually emigrating to Canada to study law to please his father, Agyeman meets Phillipa, a fellow-Ghanaian, whom he promises to marry. A devout Christian, however, she won't have sex with him before marriage whereupon Agyeman begins a period of frenzied, insatiable homosexual activity ending up with Elijah, a gay dude who can't dance and who calls Agyeman, "Mr. Africa".
M'carthy plays all the roles from coy but flirtatious Phillipa to Opayin and Elijah. He's absolutely mesmerizing from the moment we first see him like some huge, vast-winged bird trapped in a cage. Live percussion, like a heart beat – "pa-pum, pa-pum" – is performed by Kobena Aquaa-Harrison from an elevated, scrimmed area. From the outset we see Agyeman's gender schism: his bright orange prison jumpsuit has one pant leg rolled down, one shoulder covered, and the other pant leg rolled up, the jumpsuit provocatively off-the-shoulder.
Agyeman can be coy and teasing but also angry and violent – which is what lands him in jail where we meet him on the eve of his release.
It's a dazzling performance that earned M'carthy three Dora Mavor Moore awards after opening Toronto's Buddies in Bad Times Theatre's 2012/2013 season.
M'carthy not only explores the straight/gay divide, but also the black/white, Ghanaian/Canadian, closetted/out states of being and he does it with humour, open heartedness, generosity and intelligence.
It's an enthralling evening of theatre: simple, powerful, riveting and deeply affecting. Gay or straight, don't miss Obaaberima because in the final analysis, it's about discovering who you are and finding the courage to be that person, to present that person to the world.
No bells, no whistles, just a gripping story told by a performer who, in addition to being beautiful and to moving with the exquisite grace of a dancer, is a master storyteller.