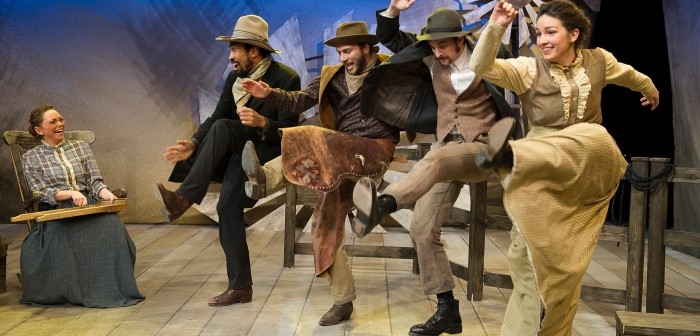 Posted February 11, 2015
If anyone can breathe life into Oklahoma! it's Studio 58. But these young theatre students don't just breathe life into it, they give it a facelift, knee and hip replacements and a spanking new heart.
Oklahoma! was the first collaboration between Richard Rodgers and Oscar Hammerstein – a legendary partnership that went on to earn the duo a first-class place in the annals of musical theatre history.
David Hudgins directs this production that threatens to burst the seams of the Studio 58 theatre with almost twenty hootin' and hollerin' performers plus a five-piece band under the musical direction of Christopher King. Choreographer Shelley Stewart Hunt takes the dancing big and sassy when the entire ensemble gets going on that small stage with skirts and Stetsons flying. Kudos to Marina Szijarto for all those cottony costumes. Set designer Drew Facey keeps the space as open as possible while still suggesting Aunt Eller's front yard, the hall where the Box Social happens and Jud's tiny smokehouse. Forget the rain outside; lighting designer Darren Boquist makes it all warm and sunny inside.
The musical, which premiered in 1943, is set in 1906. Oklahoma was booming; thousands came to farm the fertile land while others came to raise cattle. Land use often put these pioneers at odds but the mood was ebullient and the sky was the limit.
And, of course, there was romance.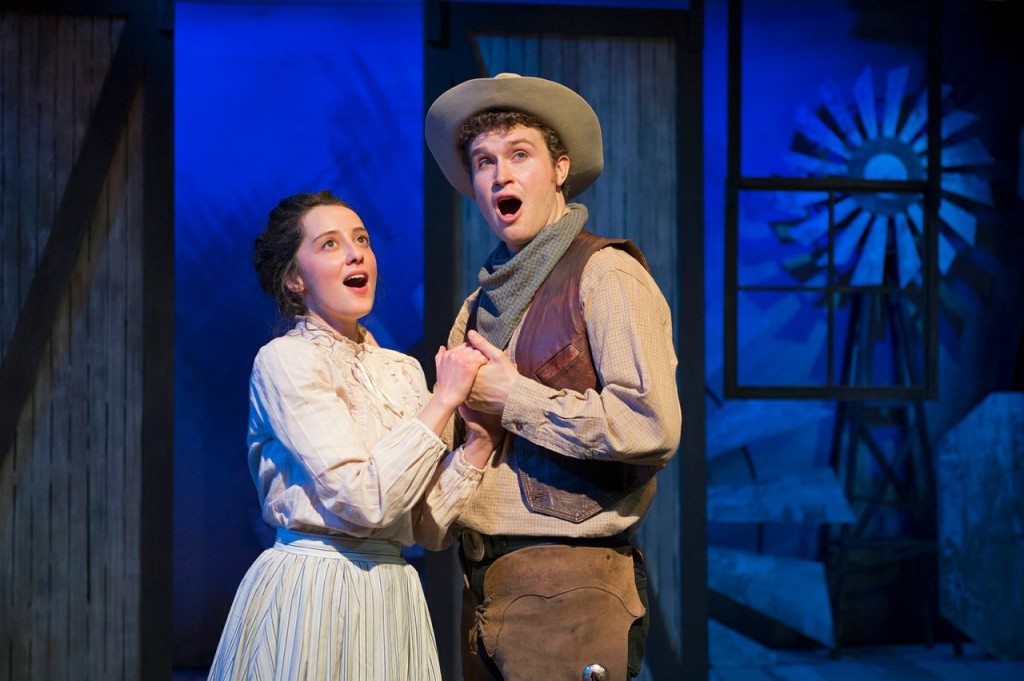 Oklahoma! is Laurey and Curly's story and, in its way, a Capulet and Montague tale. Laurey's family are farmers and Curly is a cowboy. That's less of an impediment than Laurey playing hard-to-get. And they're both pig-headed and stubborn as mules. But from Curly's opening song, "Oh, What a Beautiful Mornin'", you know everything is going to be alright despite Jud Fry, sick in the head and determined to possess Laurey.
The Studio 58 students' enthusiasm, energy and bushy-tailed attitude make it all work. Soprano Alexandra Wever is a delightful Laurey: pretty and shy yet flirty with sideways looks to drive a cowboy to moonshine. Owen Bishop's Curly is decent in an "aw, shucks" way. Together, they make a pair that has us rooting for them from the start.
In hilarious juxtaposition are Ado Annie (Adelleh Furseth) and her beau Will Parker (Sean Sonier), neither of whom has a shy bone in their body. Furseth has a natural instinct for comedy and sings the memorable "I Cain't Say No" with wide-eyed enthusiasm. Her Annie simply vibrates. Sonier shows tremendous flair and, to boot, is a darned fine hoofer.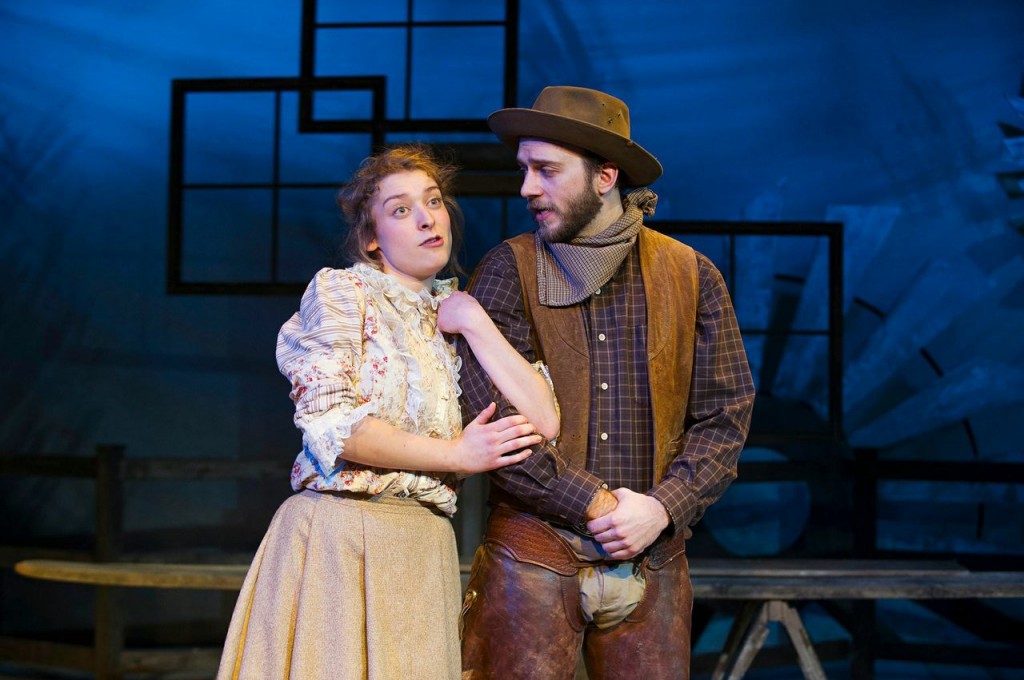 Kamyar Pazandeh is broody and menacing as Jud, a thankless, villainous role that takes this young, powerfully built actor into some very dark places. Arash Ghorbani is appropriately ridiculous as the peddler Ali Hakim.
But the linchpin in Oklahoma! is Aunt Eller and Olivia Hutt is at the heart of this production. Hutt exudes warmth and confidence on stage; her Aunt Eller beams and the sun seems to come out in Claremore, Oklahoma. But it's Aunt Eller's down-to-earth, no-nonsense wisdom that Hutt makes apparent. With star quality written all over her, Hutt comes by her talent naturally – which is not to say she's not a hard-worker; she's the grandniece of the late great Canadian actor William Hutt.
Two and a half hours long, Oklahoma! includes old favourites like "The  Surrey with the Fringe on Top", "People Will Say We're in Love" and, of course, "Oklahoma!" If you have a hat, you'll be tempted to throw it in the air and join the ensemble in hollering "Yeeow!" as the curtain comes down.