At The Stanley until February 22, 2015
604-687-1644/artsclub.com
Posted January 29, 2015
Warning: do not attempt to produce One Man, Two Guvnors unless you have someone as prodigiously talented as Andrew McNee in the role of the titular One Man. You need someone who can do a double take, a triple take, multiple somersaults, survive many kicks to the crotch, blows to the solar plexus and pratfalls aplenty. And that's not all. In the role of Francis, McNee has to eat his face off, vomit, fart and, on opening night, be able to pick up the pace after someone in the audience offered him a half-eaten sandwich. McNee lost it to the absolute delight of everyone: one of those glorious moments when the fourth wall really, really comes down.
So, you get it. This is farce and a contemporary British dishing up by Richard Bean of Carlo Goldoni's 1743 Italian farce, A Servant of Two Masters. Bean sets it in Brighton, 1963.
But One Man, Two Guvnors is a strange hybrid of commedia dell'arte and music hall entertainment (with an onstage four-piece band playing music composed by Grant Olding under the musical direction of Anton Lipovetsky.) Each member of the band (Lipovetsky, Scott Perrie, Spencer Schoening and Mathew J. Baker) also plays multiple roles in the play. And, in a turnabout, most of the actors take a solo turn on an instrument – including a xylophone-like instrument and a contraption of bicycle horns. Andrew Cownden blows a mean harmonica – although it's so good, it could be faked (but isn't).
In short, One Man, Two Guvnors is a show that will delight many and frustrate others to distraction. Mark me down as frustrated. Under David Mackay's direction, it's really hard to get into, in the first place. Who are these people and where are they? If it's a living room, it's weird: two sofas, a fireplace, over which hangs a huge portrait of Queen Elizabeth II. The British accents make it difficult to understand what's going on and, like Goldoni's original, the plot is crazy: Rachel (Celine Stubel) is dressed as a guy in order to find out who murdered her twin brother Rosco. Rosco was engaged to marry Pauline so when Rachel, pretending to be Rosco's identical twin brother, turns up, Pauline finds herself engaged to be married to Rachel/Rosco's twin brother. Or something like that. Much is made of just what, exactly, is an identical twin – a concept about which everyone, with the exception of Rachel – seems to be foggy. Allan (Ryan Beil), a would-be actor, and Pauline are in love but being kept apart by Pauline's father (Gerry Mackay). Good grief, do we really need this?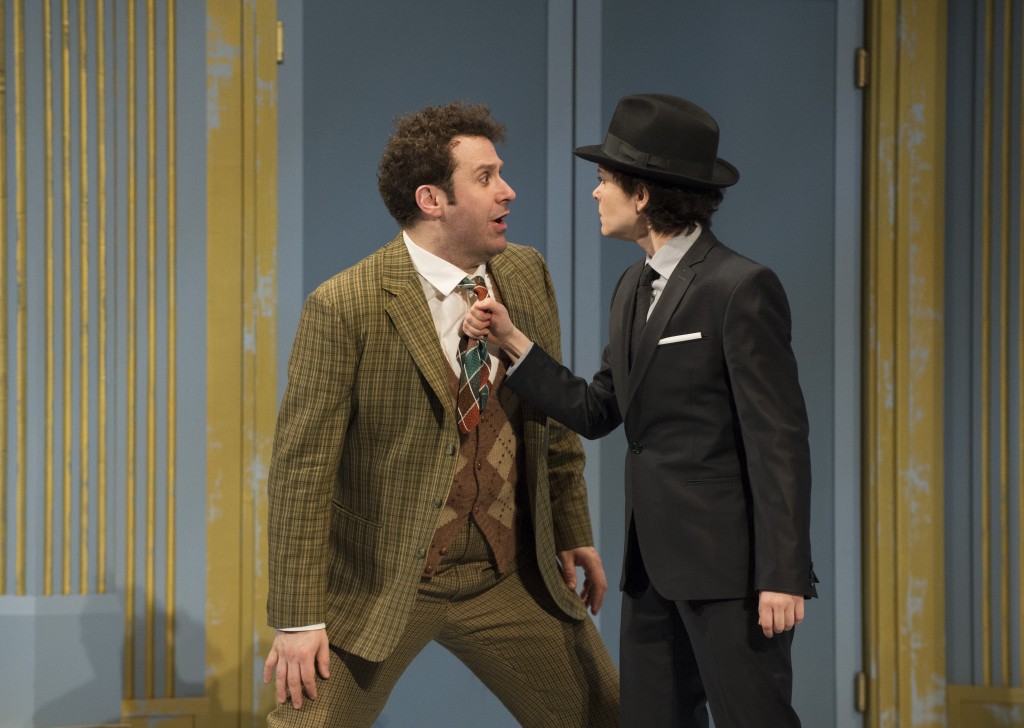 If the plot is stupid – and it is – what's to keep you from leaving at intermission? McNee, totally off his leash, will – in spite of all the food he has to eat in the very drawn out hotel dining room scene – lose weight with all his fantastically energetic shenanigans. Beil is always worth watching and here he's an anguished, woe-is-me sort of character who, with deadpan delivery, delivers some of the play's funniest lines. The women's roles, with the exception of Rachel/Rosco's twin, aren't really big but are excellently played by Lauren Bowler (as dumb blonde Pauline) and Cailin Stadnyk (as well-endowed, sexy Dolly). Stubel, as Rachel, is terrific in a kind of cock-of-the-walk sort of way, but the role is nuts.
The surprise of the evening is Cownden who is absolutely terrific as Alfie, a white, wispy-haired old timer, who takes a lot of punishment including a cricket bat to the head.
But altogether, One Man, Two Guvnors is a dog's breakfast that nevertheless got a standing 'O' on opening night. With the loonie seemingly in free fall, audiences must be hungry for something to laugh at.