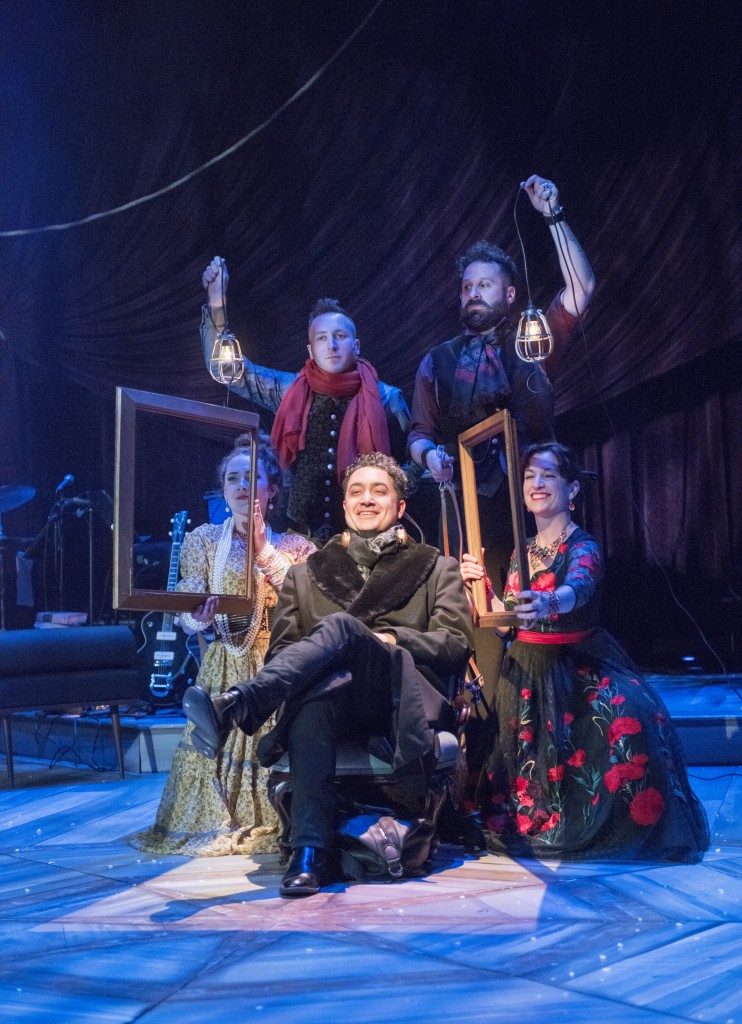 At the Arts Club Granville Island Stage until December 31, 2017
Tickets from $29 at artsclub.com or 604-687-1644
Posted December 1, 2017
If Onegin doesn't tug at your heartstrings, chances are you don't have a heart.
It's 1819. It's St. Petersburg. Late summer. Evgeni Onegin (Alessandro Juliani) arrives in the country to take up residency in his late rich uncle's estate. When he drops into the neighbouring estate with his poet friend Vladimir Lensky (Josh Epstein), he meets the countrified Larin family there: Madame Larin (Caitriona Murphy) and her husband (Andrew Wheeler), and their two daughters Olga (Lauren Jackson) and Tatyana (Meg Roe).
Shy, bookish Tatyana is immediately smitten by devilishly sophisticated, outrageously charismatic Onegin; here is a romantic figure straight out of the novels she reads. Onegin is tantalized, amused by Tatyana. Hardened somehow against love, his refrain for years has been, "I don't care, I don't care, I don't care."
Hearts are broken. There's a duel at dawn. Blood is spilled. It's as romantic as only a 19th century Russian love story can be.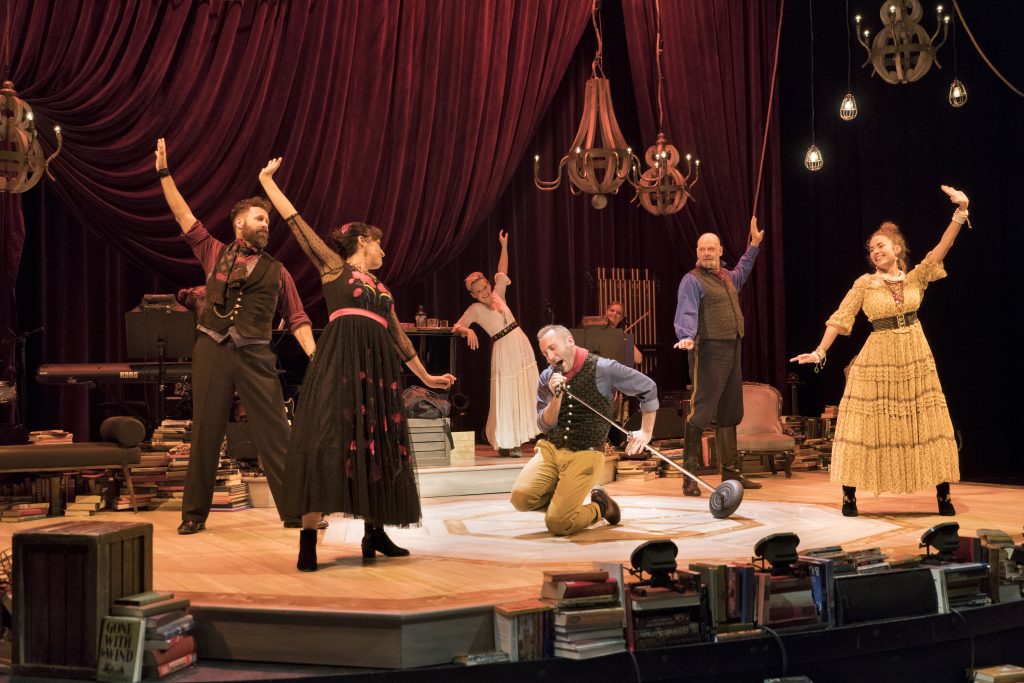 The genesis of this fabulous show, first mounted by the Arts Club in 2016, is an interesting story, too: in 2008 writer/director Amiel Gladstone was the assistant director of the Vancouver Opera Association's Eugene Onegin, based on the verse novel by Alexander Pushkin with music by Tchaikovsky. Believing that the story could reach a different, perhaps wider audience, Gladstone brought initially reluctant musician/composer Veda Hille (a self-proclaimed non-romantic, self-described "hard ass") on board. The first production, on the BMO Goldcorp stage, wowed everyone and won all but one Jessie award in the large theatre category.
Now it's back with the original cast – including show-stopping Andrew McNee as the fey French entertainer at Tatyana's name day party. In the program, McNee is credited with playing "Many Others", and in every role he's so playful, so full of mischief, that you just find yourself grinning in the dark.
Drew Facey's set, hung with rustic iron chandeliers, has been reconfigured for the Arts Club stage and while those of us who saw the show on the Goldcorp Stage feared that the intimacy would be lost, director Gladstone finds that connectedness in other ways – most notably by having the actors circulate through the aisles, engaging the audience with samples of vodka.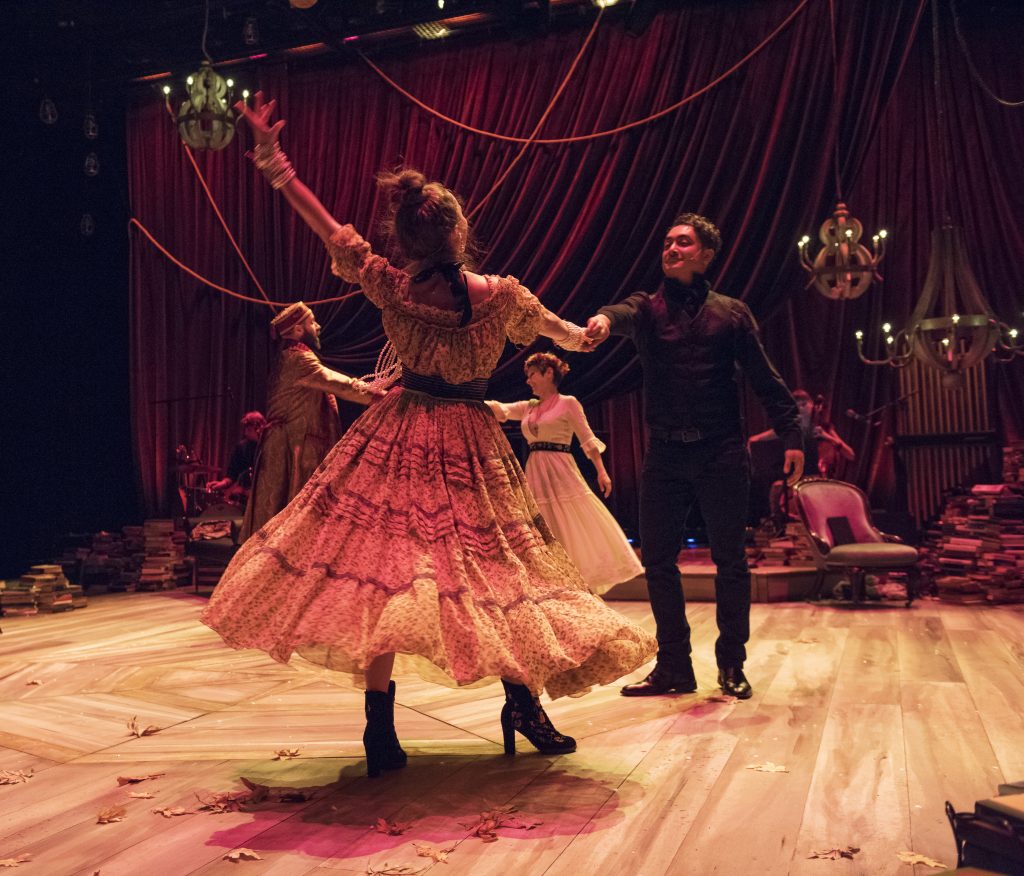 Tracey Power choreographs a rousing, foot-stomping dance for Jackson (as Olga) and Juliani (Onegin); it's romantic and exciting and more than a little erotic. Olga shakes her shoulders and swishes her long skirts while dashing, badboy Onegin closes in for the embrace. The dance, watched by everyone at the Larin's soiree, arouses jealousy in Onegin's friend Lensky, Olga's betrothed. Thus the tragedy is set in motion.
Book, music and lyrics are by both Gladstone and Hille – who says that their working relationship is amazingly collaborative: working in the same room, tossing ideas back and forth. Gladstone might suggest several lines, Hille grabs one and runs with it and the music happens. The lyrics, jointly penned, are offbeat and decidedly existential: "Oh, Dear Father/Up in Heaven/Release us all from boredom".  So Russian, so Hille, so Gladstone.
Everyone in this show is a star, starting with the band – Marguerite Wivoet, Barry Mirochnick, and Jennifer Moersch, lighting designer John Webber, costume designer Jacqueline Firkins and every one of the performers.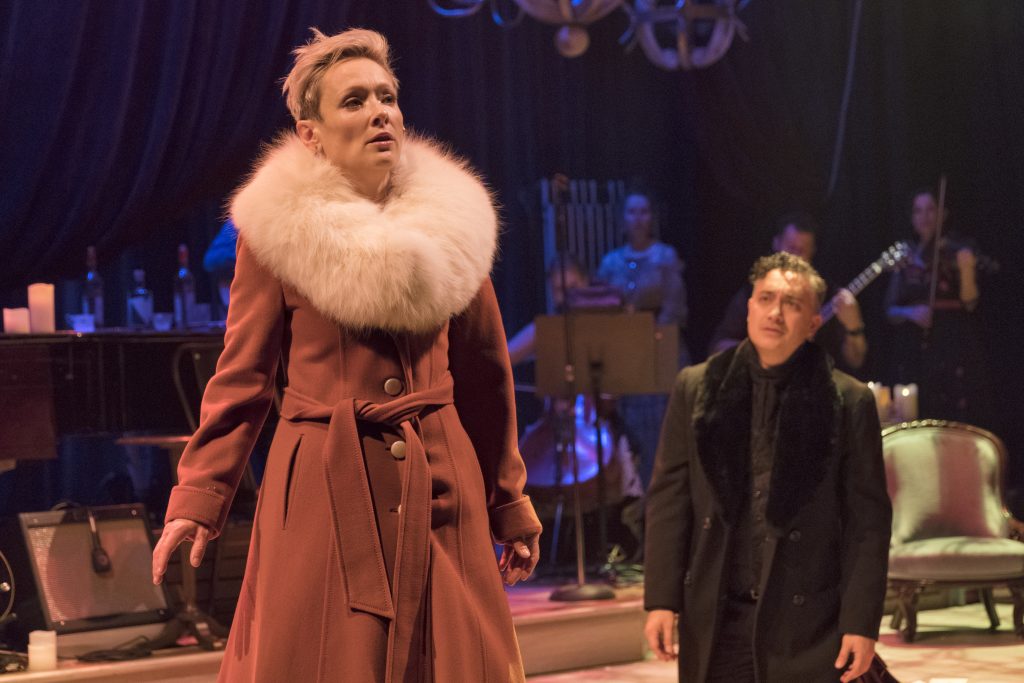 But the beating heart of Onegin is the real-life couple Meg Roe and Alessandro Juliani, as the could-have-been, should-have-been lovers. As young Tatyana, Roe is so fresh, so unsophisticated, and so full of longing for a life more exciting and more romantic than the one she's now living. What do you do for excitement, Onegin asks her. "Read", Tatyana replies. Juliani's Onegin is suave and cool, attractively melancholy and tantalizingly wicked. "I'm fucking gorgeous", Onegin claims – and he is, in his long black, fur-trimmed, fitted coat. Unabashedly melodramatic, the story catches us and never lets us go until the curtain falls – and long after.
The wonderful irony of Onegin is that the titular character finally learns he is alive and fully human when his heart is broken.
This is a heart-breakingly beautiful production with just enough humour to give it lift and music and song to make your heart beat a little faster. Strange it is that we leave the theatre singing, "Let me die, let me die/As we all must die" yet feel we have had a glorious, uplifting time at the theatre. See it if you possibly can.
Note: from December 27-31, the role of Tatyana will be played by Hailey Gillis; Onegin by Daren A. Herbert and 'Many Others' by Nadeem Phillip