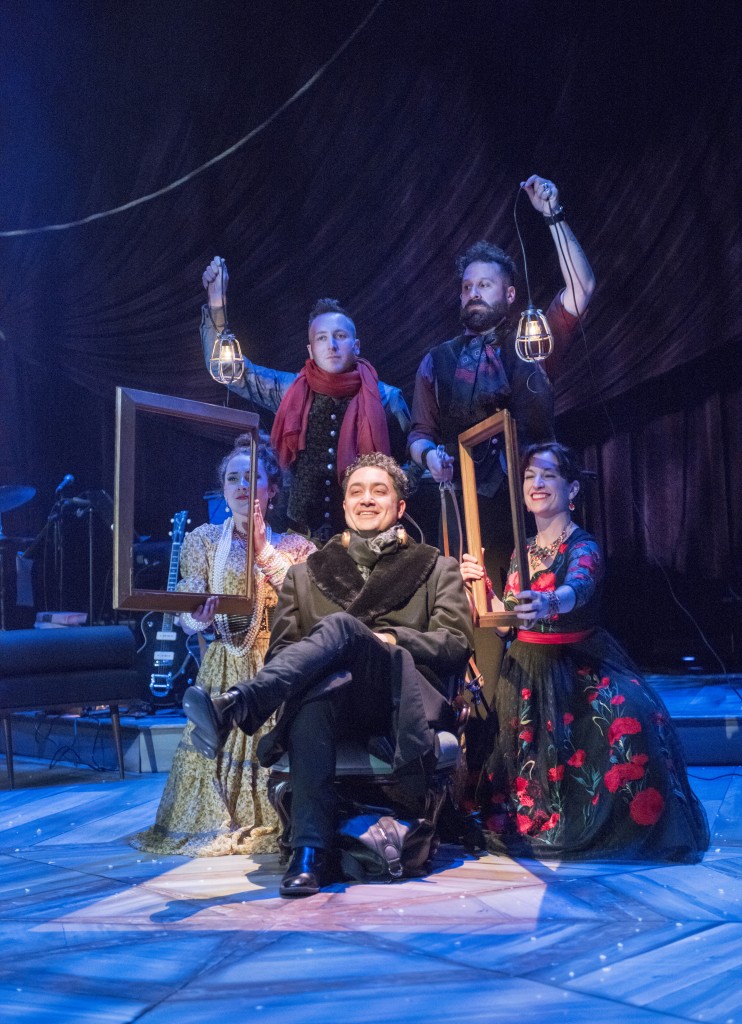 At the Goldcorp Stage at the BMO Theatre Centre until April 10, 2016
604-687-1644/artsclub.com
Posted March 24, 2016
There are times when I just want to write: "See it" and nothing else. This is one of those times.
Onegin, a musical, was first conceived by Vancouver playwright/director Amiel Gladstone when he was the assistant director of the Vancouver Opera's production of Tchaikovsky's Eugene Onegin back in 2008. Gladstone was struck by the story's timelessness and universality but felt it needed updating. The grand scale of the opera also got to him after years of doing hip, minimalist, completely non-melodramatic theatre.
Musician/composer Veda Hille was not initially tempted to collaborate on the project. She's known for quirky, unsentimental lyrics and music that's varied and full of surprises, like Do You Want What I Have Got? A Craigslist Cantata, created with Bill Richardson and directed by Gladstone. She's a self-described "hard-ass" – hardly a romantic.
But when Gladstone suggested 'let's go big', Hille agreed.
Onegin is big. And wonderful. You may leave the theatre with the song, "Let me die/Let me die" ringing in your ears but you'll have a smile on your face. And if you're looking for irony, here it is: Onegin knows he's alive when his heart can still be broken.
You don't have to know anything about Alexander Pushkin's verse novel serialized in Russia between 1825 and 1832 to enjoy this Arts Club's commissioned production. All the characters introduce themselves and explain their part in the story. Irrepressible Josh Epstein, as Lensky, tells us, "I'm a poet in Russia. I'm sure you've heard of me. I'm a romantic." Lensky is passionately in love with Olga (lovely Lauren Jackson) who is the sister of bookish Tatyana (Meg Roe). When handsome, aristocratic Onegin (Alessandro Juliani) arrives to sit at his rich uncle's deathbed, the boredom everyone has been feeling quickly disappears.
There's a pas de deux for Juliani and Jackson choreographed by Tracey Power that will bring your samovar to the boil. Jacqueline Firkins' costumes – notably a flower-pattered coat on Olga – would cause a bidding war if the Arts Club were to auction them off. The orchestra (Veda Hille, Marina Hasselberg and Barry Mirochnick) makes music that is less like Tchaikovsky and more like, to quote Hille, "rockin' with the Russians."
And the story? There's a duel. Someone dies. It's all grand.
And funny. Onegin archly describes himself as "a charming, rakish dandy . . . well-travelled, wealthy – although melancholy". But the full ensemble sings that he's "fucking gorgeous". The f—–g gorgeous part equally applies to Juliani whose Onegin is a sexy, devilish badboy.
While it feels as if there's a cast of dozens on Drew Facey's opulent stage (red velvet curtains, chandeliers, candles), evocatively lit by John Webber, there are actually only seven including Caitriona Murphy and Andrew Wheeler as Olga and Tatyana's parents, and Andrew McNee in various roles, all hilarious. As a Frenchman in a fez, McNee sings a name day tribute to Olga that brings the house down. Indeed, all the voices are terrific from Roe's sweet soprano to Juliani's rich tenor.
As Tatyana, Roe is shy and soulful but when Tatyana shows grace and gravitas diminutive Roe provides it in heart-rending abundance.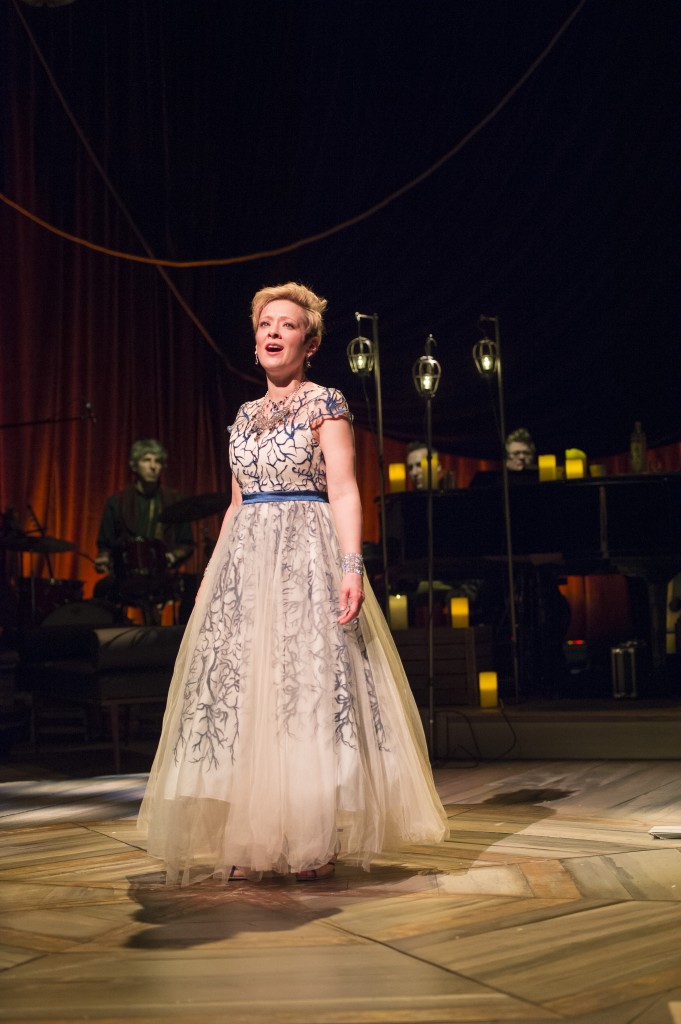 Tchaikovsky took the story seriously and so do Gladstone and Hille in their own way. The production is contemporary, exuberant and entertaining but, faithful to Pushkin and Tchaikovsky, it's also dark. "I will die/I will die/As we all must die", the recurring refrain, is a somber undercurrent.
Like The Overcoat, Onegin should go on to tour the continent; it will look good on any stage, anywhere.
During its creation, Hille confessed to "sprawling messy feelings that led to soaring melodies and hot dreams". If you like the sound of passion, sweeping romance and hot dreams, get yourself a ticket – soon. They won't last long.