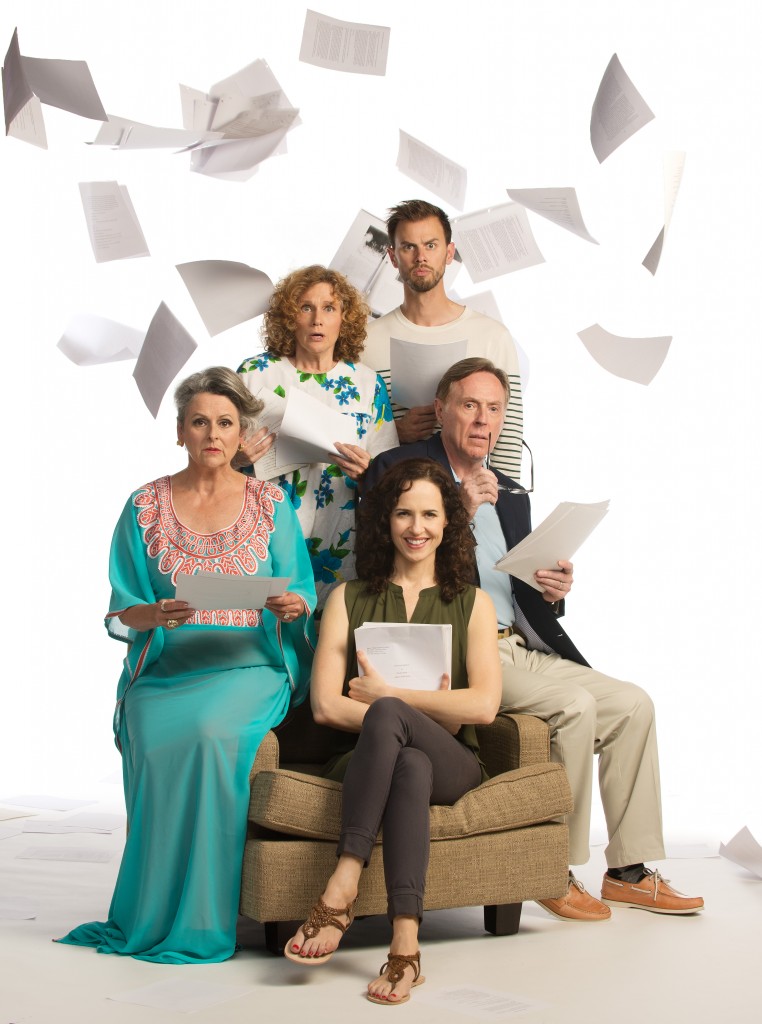 At The Stanley until October 20
604-687-1644/www.artsclub.com
Posted September 27, 2013
Shades of Who's Afraid of Virginia Woolf? American playwright Jon Robin Baitz takes a couple, Polly and Lyman Wyeth, throws in their coming-home-for-Christmas kids, Tripp and his sister Brooke, and, for good measure, adds Polly's recovering-alcoholic sister Silda to this toxic cocktail. And then Baitz just lets 'er rip. If you don't like family dramas/comedies with a lot of caustic but funny backbiting and put-downs, this one's not for you. In spite of the number of times the characters say they love each other, they sure are brutal.
But if you've ever wondered how parents cope with an adult child that's been involved in a crime in which an innocent dies, then Other Desert Cities is an interesting and entertaining exploration of unconditional love and the dark places it can take you.
The desert city is Palm Springs, the year is 2004 and the setting is the Wyeth's super-upscale home: handsome furniture, well-stocked bar, artificial gold Christmas tree sparkling upstage. Designed by Amir Ofek and lit by Adrian Muir, the Wyeth living room is bright and light and screams affluence.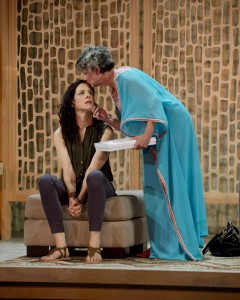 Polly and Silda, quick, clever and in their sixties, were Hollywood screenwriters. Lyman was a Gary Cooper-style actor before becoming an ambassador. Tripp is the producer of a reality courtroom TV drama; Brooke has just finished writing her second novel which, it turns out, is actually a memoir that focuses on the suicide of her older brother Henry – a subject forbidden in the family.
Directed by Rachel Ditor for the Arts Club Theatre, these characters are all articulate, clever and very good at wicked repartee.  Indeed they hardly speak a line that's not smart and barbed. The emotional pain in this family is almost kept under wraps by these snappy, sarcastic one-liners including colourful, politically incorrect put downs (mostly from the mouth of Polly): "chink-food" (Chinese cuisine), "moth-eaten, down-on-their-luck, has-beens" (the tennis club crowd) and "mummies with tans" (residents of Palm Springs).
Gabrielle Rose (as Polly) is particularly acidic but her character's constant drinking and non-stop vitriol hints at some deeply hidden pain. Rose sweeps the stage in a bright turquoise caftan like an Evil Queen of the North. Allan Gray's Lyman is a more conciliatory character until he cracks and joins the attack on Brooke whose soon-to-be-published book will blow this well-respected but dysfunctional family apart. Benjamin Elliott's Tripp is preppy and a bit of a goofball but Tripp is ultimately protective of his sister Brooke (Anna Galvin) who's an open wound of a character: nervous, pill-taking, badly strung-out. Gwyneth Walsh is Silda who, initially, seems to be the sane, decent one despite her battle with the bottle.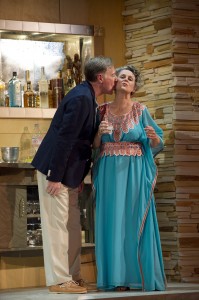 There is a huge secret at the heart of Other Desert Cities – so-titled because of a highway sign approaching Palm Springs. But before the reveal – there's more than one reveal, actually – there's Reaganesque politics and the backlash within the family. Poor little rich Republican kids whose parents put them through expensive schools and who are happy to continue to support them well into their adulthood. It's hard to like any of these people even while we feel sympathy for them.
Until the final reveal. And then things change.
However, there is at least one viewer of the New York production who thinks that playwright Baitz has taken us in: "I suspect the real brilliance of Baitz' play is that so many people would prefer to believe a sappy fiction than to consider the possibility that the Wyeths are indeed as devious as their daughter once believed." I won't say more but considering Polly was a successful screenwriter and Lyman a hambone famous for his death scenes, there does exist a possible alternate conclusion that takes Other Desert Cities to a completely different, much darker place.