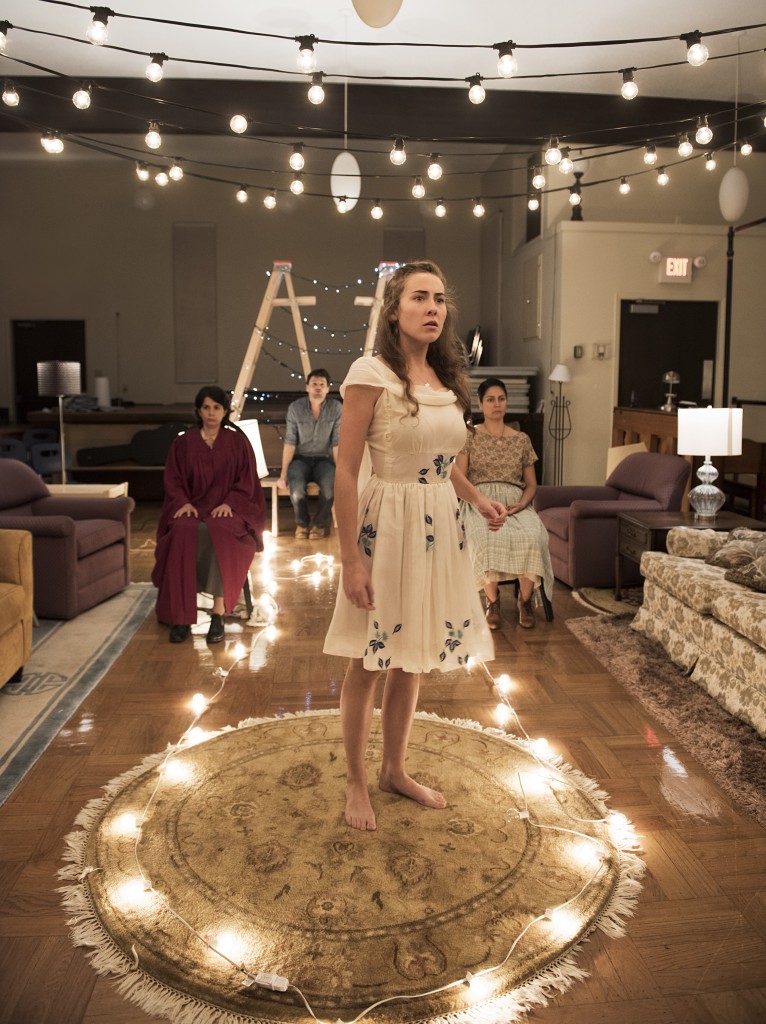 At First Christian Reformed Church (2670 Victoria Drive) until October 18, 2014
1-800-838-3006/www.osimous.com
Posted October 4, 2014
As a young man back in the 1930s, American playwright Thornton Wilder was dissatisfied with the theatre: "I felt that something had gone wrong….I began to feel that the theatre was not only inadequate, it was evasive." His artistic reaction to this dissatisfaction was Our Town, premiering in 1938 in Princeton, New Jersey; it went on to win the Pulitzer Prize for Drama.
Some of these same concerns are also apparent in the mission statement of Vancouver's osimous theatre – "To change the way people see theatre" – under the artistic direction of actor/director Bob Frazer.
"No curtain, no scenery" were Wilder's stage directions for Our Town. When, for example, Mrs. Webb (Dawn Petten) sets the table, we don't need to see plates. And when the newspaper boy throws the paper, there doesn't have to be a paper. What Wilder suggested were a couple of tables, two ladders and a handful of chairs; osimous has followed his directive with very few additions.
As with the critically acclaimed Hedda Gabler, presented last year by osimous theatre in the West End's Roedde House, Frazer seats the audience right inside the action on a collection of old sofas, upholstered chairs and a couple of rows of stacking chairs. And so we not only witness the lives of the some of the men, women and children of Grover's Corners, New Hampshire in 1901, 1904 and 1913, we feel we live there, too.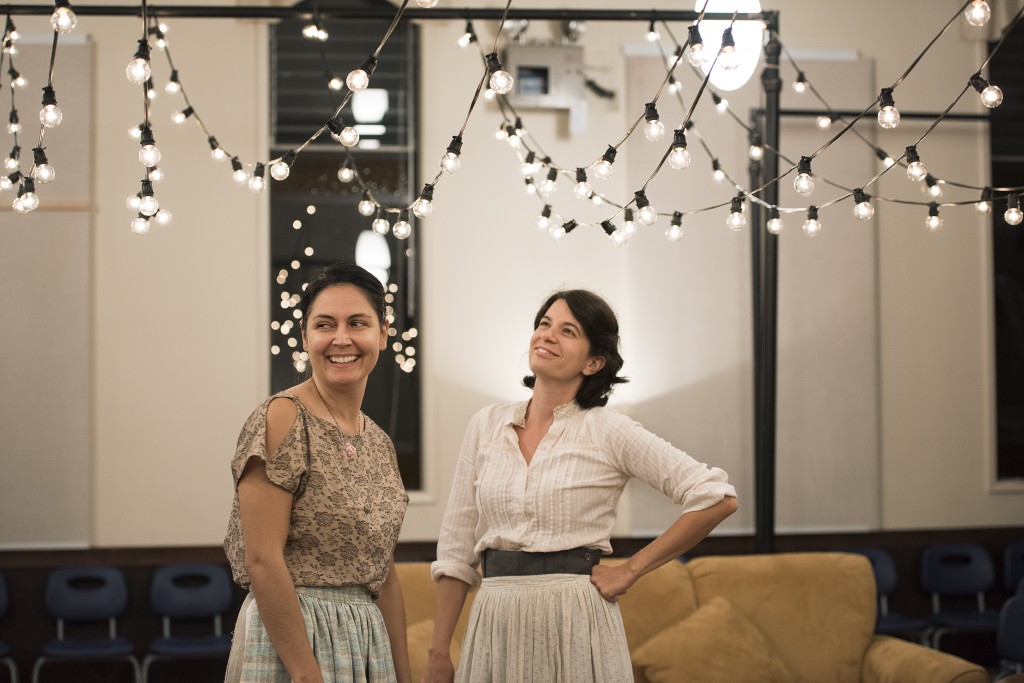 In Our Town, Wilder celebrates ordinary people leading ordinary lives: Dr. Gibbs (Craig Erickson), his wife Julia (Quelemia Stacey Sparrow) and their son George (Chris Cope); newspaper editor Mr. Webb (John Shaw), his wife Myrtle (Dawn Petten) and their daughter Emily (Lauren Jackson). There are no big moments in Our Town; no revelations, no twists and turns, no real conflicts (and definitely no sex or violence) and so we rely completely on the performers to make these characters come alive and interesting in spite of the smallness of their lives. And they do: Erickson's hard-working family doctor hides his feelings behind a gruff façade; Sparrow shows the longing Mrs. Gibbs has to visit Paris; Petten lets us see what heartbreak Mrs. Webb suffers when Emily marries and leaves home. Small moments in small lives are made engaging through skillful, committed performance. Six actors including John Shaw and pianist/violinist Varya Rubin play multiples roles as well as producing sound effects for water being pumped, the clip-clopping of the milkman's horse Bessie, the lonely sound of a faraway train, for example.
Act 3 is mostly Emily's and Jackson's performance is outstanding. Barefoot and open-hearted, Jackson passionately argues Wilder's point: life is wasted on the living. I've never completely been comfortable with Our Town's conclusion; Emily seems unaccountably eager to return to the land of the dead after a brief return to Grover's Corners; she has, after all, had a full, rich life. But I appreciate that we are often too busy to look at the stars, hear the wind in the trees or smell lilacs on a rainy day. Wilder suggests we should stop "spending and wasting time". Life is precious. No argument there.
Nevertheless, I loved this production; it's so 'homespun' you can imagine apple pie cooling on the windowsills; the smell of manure left by Bessie, the milkman's horse; the sound of laundry flapping in the wind. From the moment you enter this church hall-cum-theatre and mill about with the rest of the audience and the actors before the show and during the two intermissions, it's inclusive, familiar and as comfortable as an old sofa. We talked amongst ourselves about our lives, our families, our work. While our own town often feels soulless, Our Town feels like a warm and welcoming community. That's what osimous is all about; we are, after all, in this together.