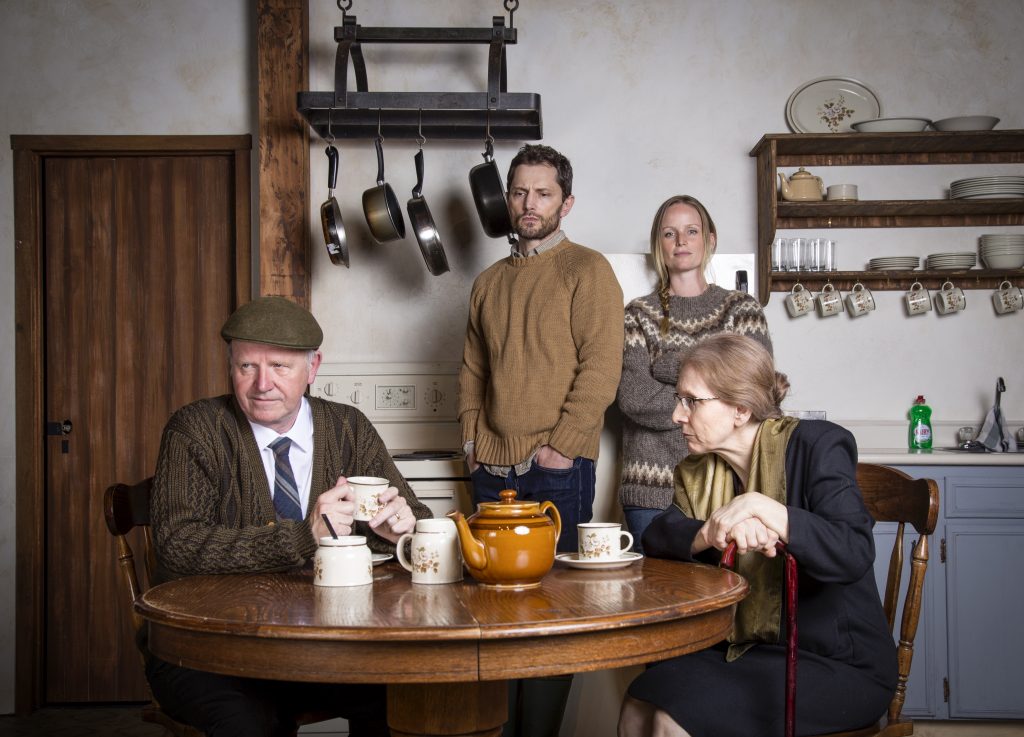 At Pacific Theatre until June 10, 2017
Tickets from $23.95 at pacifictheatre.org/604-731-5518
THIS REVIEW WILL ALSO APPEAR IN THE MAY 25, 2017 PRINT EDITION OF THE WESTENDER
Posted May 23, 2017
Outside Mullingar is unapologetically sentimental but it might charm your socks off because it's just so darned Irish.
We know that middle-aged misfits Anthony and Rosemary – farmers on adjoining lands – will get together but it's their getting together and all that ass-backwards, contradictory dialogue that will keep you engaged. "Come by the house sometime", says Rosemary. "I will", says Anthony. "You won't", replies Rosemary. They both know she's right. He won't.
And it's the wry acceptance of mortality in the play that's so un-Canadian. In a continuous line throughout Irish literature it persists. "I'll soon be gone", say the old timers pragmatically and no one denies it. They're not looking for sympathy; they're stating an unavoidable truth.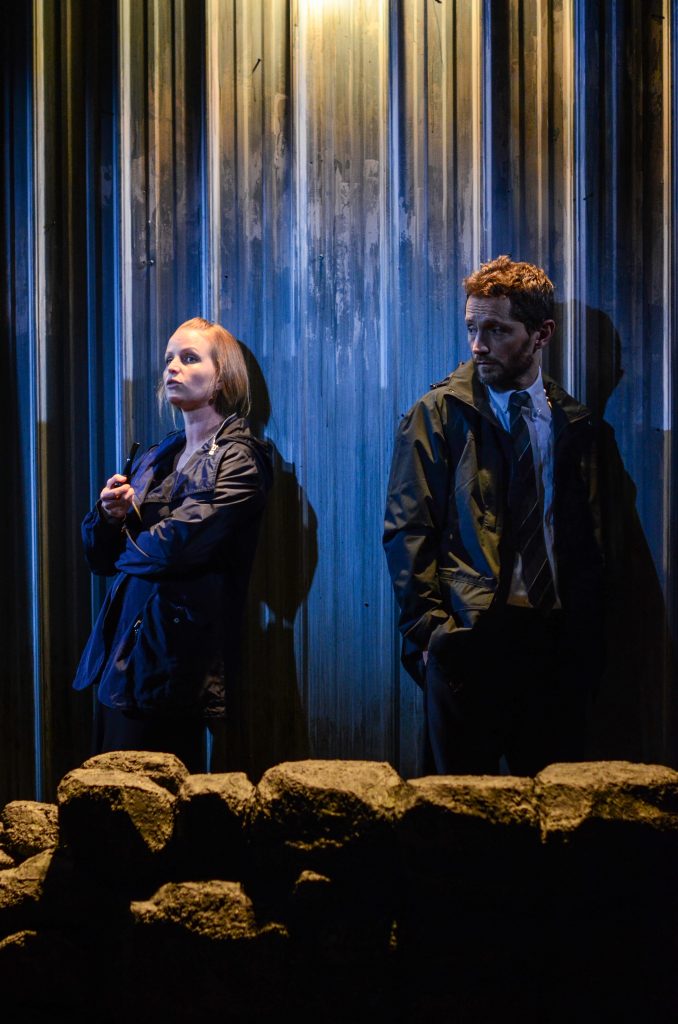 And although it may be stereotypical, the holding of grudges seems so embedded in Irish culture.
New York-born but of Irish descent, playwright John Patrick Shanley is not known for being charming or, for that matter, Irish. In a 2014 New York Times interview before Outside Mullingar opened, Shanley says, "I didn't want to be labeled as an Irish-American writer." But a trip with his aged father to the family farm outside Mullingar in the Irish Midlands brought Shanley to a realization: "I'm Irish as hell." (Read the full interview here: soulfoodvancouver.blogspot.ca)
And, being Irish, Shanley is in love with language: the swirl of it, the sound of it, the scratchiness of it and, most of all, how confounding it can be. Fathers who cannot say, "I love you to" to their sons; lovers who hide behind taunts when what they really want to do is fall into each other's arms.
Directed by Angela Konrad with dialect coaching by Adam Lane Bergquist and set design by Carolyn Rapanos, the Pacific Theatre stage becomes a farmhouse outside Mullingar and the actors – Rebecca deBoer (as Rosemary), John Emmet Tracy (Anthony), Ron Reed (Tony) and Erla Faye Forsyth (Aoife) -– become believably, abrasively, delightfully Irish.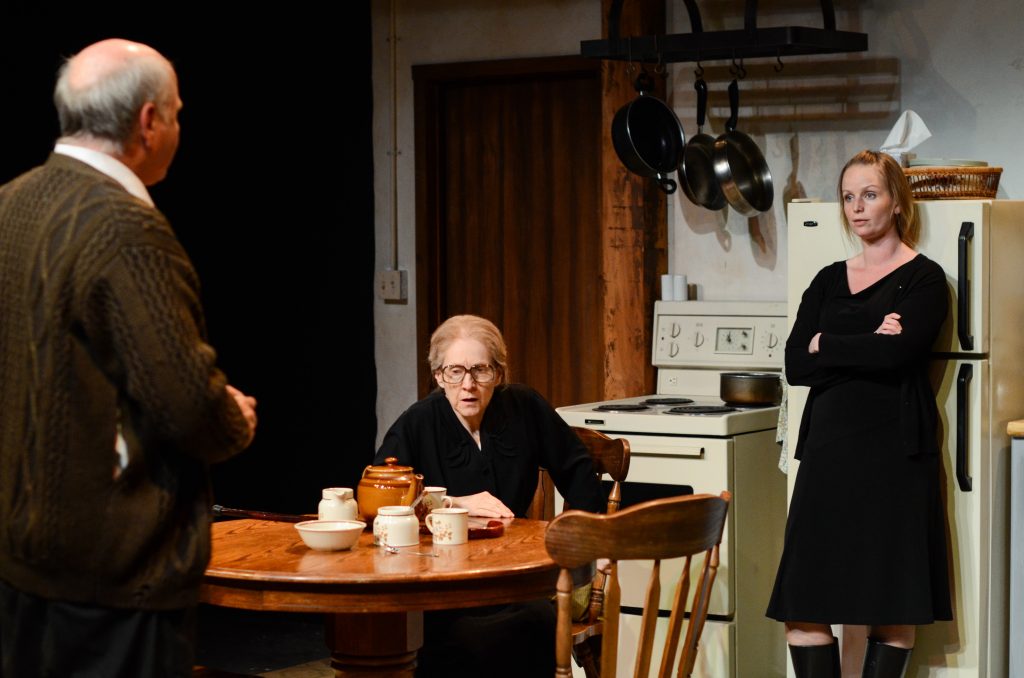 Anthony, at forty-two, is still a bachelor although it is clear he longs for Rosemary who has waited years for him to make a move. A long-standing feud over land has kept his family and Rosemary's at odds but time is passing. It's now or never. And it's Rosemary, firstly tearing strips off Anthony's father Tony, who, miserable old fart that he is, is planning to leave the farm – on which Anthony has toiled his whole life – to a distant nephew in America whom he has never met. Once Tony has died, Rosemary turns her fiery attention to Anthony.
Outside Mullingar opens in old Tony's kitchen following the funeral of Rosemary's father. Anthony has invited Rosemary and her mother Aoife back for tea. Tony is not amused but takes wily advantage of the situation to try to wheedle back a small portion of land he sold years ago to Rosemary's father. The situation goes sideways with old Aoife and Tony at each other's throats. Rosemary has refused to enter the house but stays outside in the rain, smoking her father's pipe.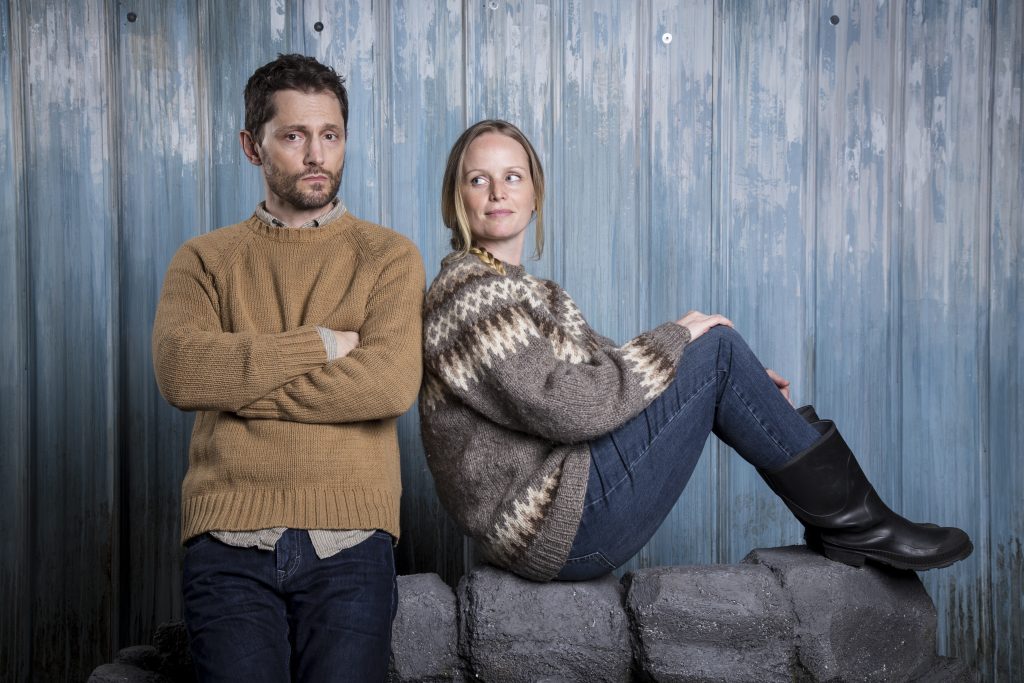 Reed is all salt and vinegar and pig-headedness as Tony but his character's deathbed scene with his son will melt the hardest of hearts. Forsyth, as Aoife, is crotchety and not about to be bullied by Tony.
Tracy's Anthony is awkward and defensive ("cracked", his father says) while deBoer's Rosemary, bodacious in a floral frock in Act 2, is raging and increasingly urgent while Anthony dithers. When the ice melts, it's sweet.
Stellar ensemble acting and a plot that, despite its obvious resolution, Outside Mullingar holds some good surprises. One of these is really quirky; you will not see it coming and it's guaranteed to leave you buzzing.