At the Norman Rothstein Theatre until April 29, 2017
Tickets from $35 at fightingchanceproductions.ca
Posted April 21, 2017
Ryan Mooney, artistic director of Fighting Chance Productions (FCP) revels in risk-taking. Since 2007, he's been running an amateur theatre company whose mandate it is to provide opportunity for young theatre artists, many of whom are still in theatre school. If that's not risk enough, he's taking a chance on Parade, a very dark musical that appeared doomed from the beginning: Stephen Sondheim was approached to write the music and lyrics but declined.
With music and lyrics by Jason Robert Brown and book by Alfred Uhry, Parade eventually premiered in December 1998 on Broadway but, in spite of winning two Tony Awards and six Drama Desk Awards, the show put the producer – Livent – into bankruptcy. Mounting this Western Canadian premiere, Mooney shows once again he has an abundance of chutzpah.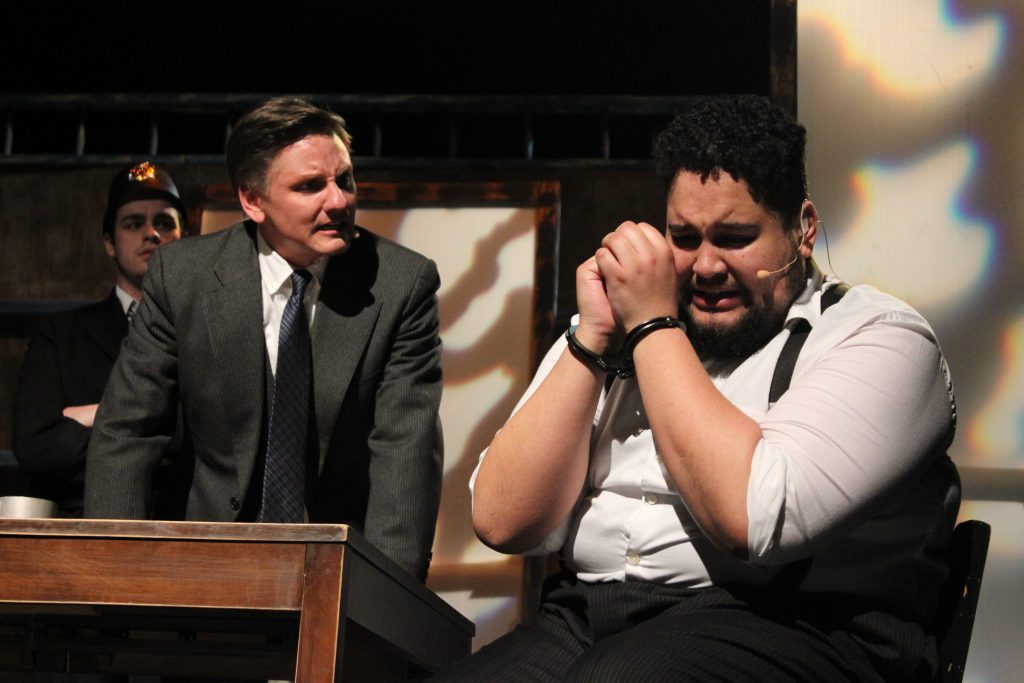 And he's increased the risk – and the possible rewards – by moving from the smaller Jericho Arts Centre stage, where FCP shows are frequently seen, to the larger Norman Rothstein Theatre in the Jewish Community Centre. But it's not merely capacity that lured Mooney there: the central character in Parade is Leo Frank, a Brooklyn Jew, manager of the National Pencil Company in Atlanta, Georgia, who was accused and convicted of the 1913 murder of thirteen-year-old Mary Phagan (winsome Kaila Kask), a worker in his factory. Parade is rife with anti-Semitism but with the brief opening scene – a young Confederate soldier going off to war against the "Yanks" – it also establishes that grudges were still held not only against Black Americans but also by Southerners against the Northerners. Leo Frank had two strikes against him: a Jew from NYC.
This musical is definitely dark. But Mooney's staging is upbeat, with music that ranges from anthemic "The Old Red Hills of Home" to the soaringly lyrical "You Don't Know This Man". Also lifting Parade out of the somber shadows is choreography by Adriana Ravalli. The cast of two dozen bursts through the gloom when the full ensemble breaks into song and dance with haunting harmonies and spirited dancing.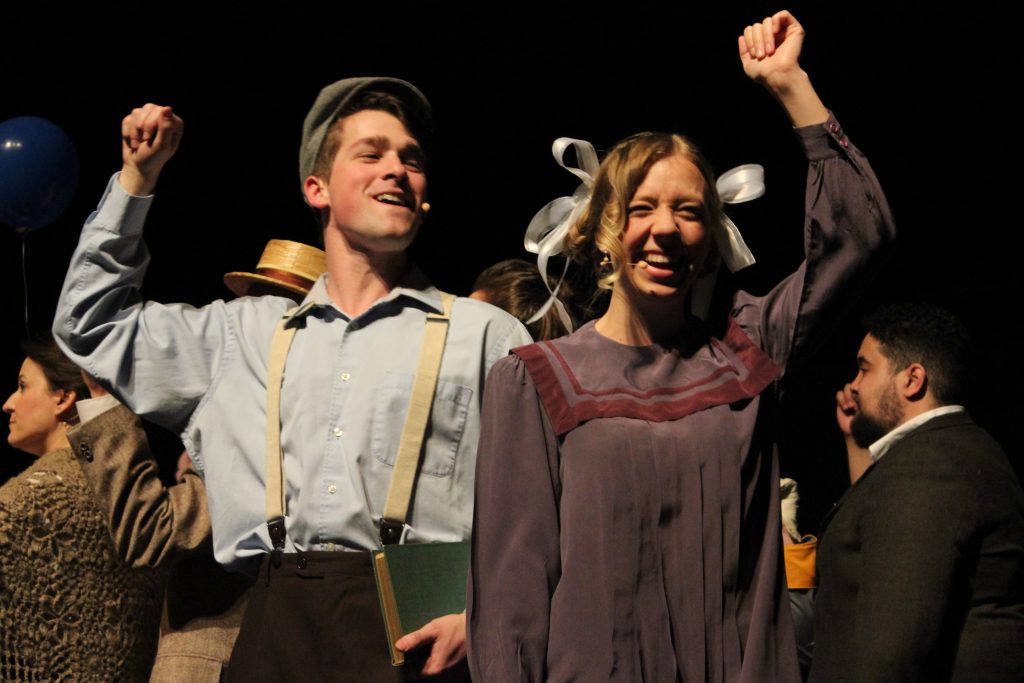 This is a star-studded Parade. Riley Sandbeck is Leo who, for most of the musical, is unsympathetic: cold, condescending to his wife Lucille (Advah Soudack) and, when interrogated by the police, he reacts badly. But Sandbeck redeems Leo and later when Sandbeck and Soudack sing "All The Wasted Time" your heart may break. Soudack's pure, clear voice is nothing short of heavenly.
Ricardo Cunha Pequenino (as Jim Conley) sets the stage ablaze with "That's What He Said", a false accusation against Leo; Sean Anthony (as Hugh Dorsey) is the corrupt prosecutor you love to hate.
Four nooses and a 'hanging tree' leave little doubt how Parade is going to end but just how it will happen keeps anticipation alive. There's a definite sense of urgency as Act 2 comes to a close. Lucille's stoicism as the curtain falls is hard to accept but Parade would be truly bleak if the story ended in rage or despair. Based on a true story, perhaps that is how Lucille Frank found solace.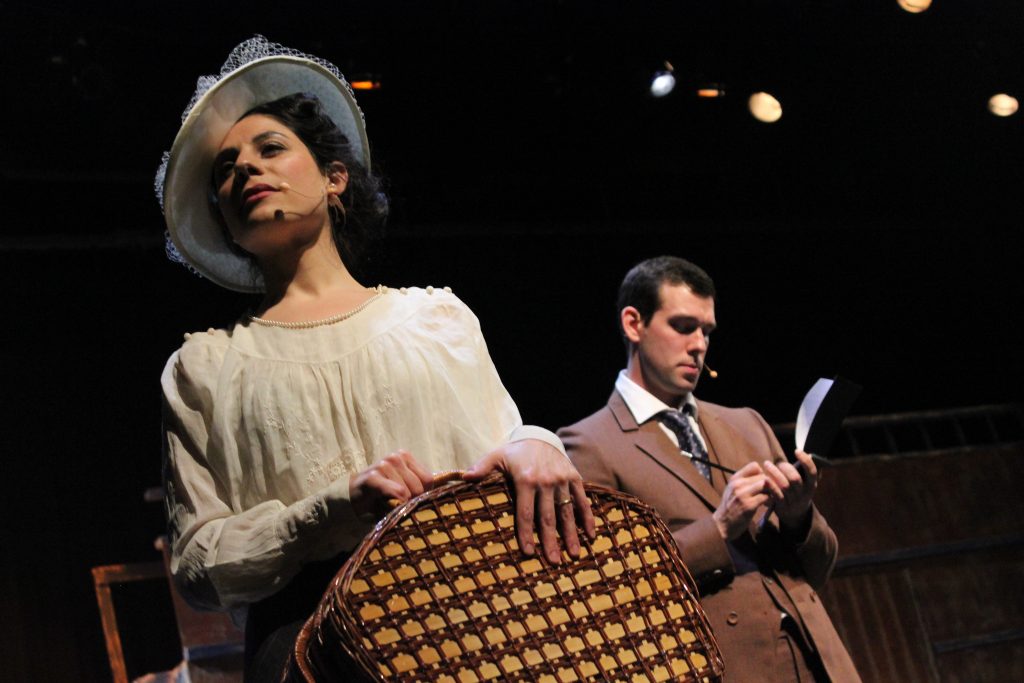 Incriminating lies told by Mary's friends Essie (Emily Smith) and Monteen (Rachel Garnet) are reminiscent of the hysterics in Arthur Miller's The Crucible. As in that iconic American classic, a scapegoat must be found; townspeople, politicians and newsmen in smalltown Marietta, Georgia chose unfortunate Leo Frank.
Director Mooney almost certainly chose Parade for FCP's 2017 season before the US elected Donald Trump but the paranoia and hysteria the new president has raised against Mexicans ("criminals" and "rapists") and Muslims creates the same dangerous environment; Parade, unfortunately, is a timely and a cautionary tale. The production is first-rate with period costumes by Breeze Dampsy and set by Tim Driscoll; the four-piece band, under the direction of Clare Wyatt is lively; and the performances are splendid. Nothing – short of a snowstorm in April – is going to rain on this Parade.