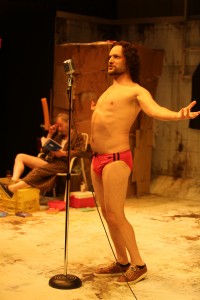 At The Cultch until October 13, 2013
604-251-1363/www.tickets.thecultch.com
Posted September 29, 2013
When everyone else's cheering, clapping and woo-hooing had died down, I wondered what in god's name I was going to say about Irish playwright Enda Walsh's Penelope, produced by Rumble Theatre and The Cultch. Surreal? Stupid? And yet poetic with undeniably strong echoes of Samuel Beckett in the language and dark humour. Some of the lines seem almost – but not quite – lifted straight from Waiting for Godot. In fact, the play could equally have been titled Waiting for Odysseus. The rhythms and the shoulder-shrugging despair are so Becket and so Irish.
From Penelope:
DUNNE:        Even after all this time, the competition.
QUINN:         What else is there?
DUNNE:        You're right.
QUINN:         There's nothing else.
Or:
DUNNE:         Only seems like yesterday that it was yesterday.
BURNS:          It was yesterday.
DUNNE:         I was right then. Right again!
BURNS:          Right.
QUINN:         Time's a tragedy, men.
Drew Facey's design certainly sets the scene – perhaps it even steals the scene: a huge, filthy drained swimming pool smeared with blood and maybe feces; a table loaded with half-empty bottles of booze; a giant barbecue centre stage; plastic lawn chairs; an inflatable water toy. It's a grimy, disgusting mess above which and behind a curtain we see a calm, elegant figure in an emerald gown: Penelope (Lindsay Winch), wife of Odysseus, who patiently awaits the return to Ithaca of her warrior husband after the twenty-year Trojan War.
Hundreds of suitors have unsuccessfully wooed her; only four remain: Burns (Kyle Jespersen), Quinn (Alex Lazaridis Ferguson), Dunne (Sean Devine) and Fitz (Patrick Keating). The others have either left or, we suspect, been killed off by these four. We know that one has recently been murdered or strongly persuaded by Quinn to kill himself.
The men are in Speedos, over which they sometimes wear what the stage directions call a 'swimming-pool robe'. The lights on this setup are bright and intense; no shadows, nowhere to hide.
The four continue to banter and bitch, drink and fight. Jespersen is the bespectacled toady Burns to Ferguson's macho man Quinn. Devine is the arty, effete Dunne and Keating is the literary, Homer-reading Fitz. All very off-the-wall and surreal.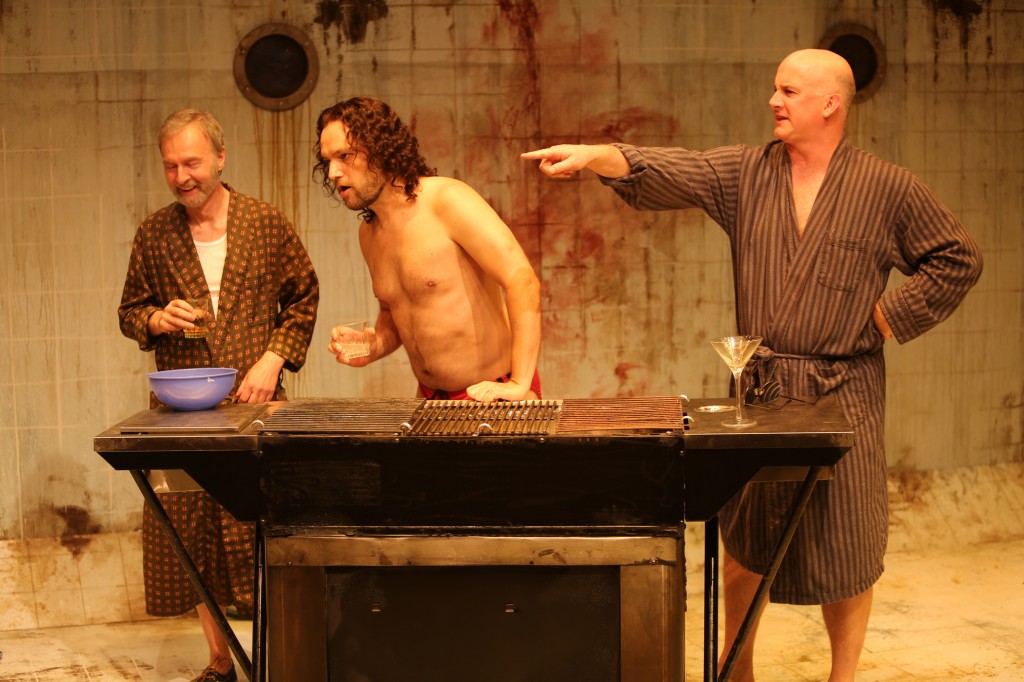 So, the next day I read the script. And I really liked it. What was not so clear in production was clearer in the reading. This is not a reflection on the performers who were absolutely terrific or the direction by Stephen Drover. But there are at least four long monologues that almost demand to be read, re-read and savoured. The writing is gorgeous: beautiful and sad and bleak – or beautiful and cocky and bleak – and it speaks eloquently about what it is to be a man in the 21st century – or, for that matter, any century; it's all about competition. Winners and losers. Penelope has waited for twenty years for what? A warrior king. Where does that leave the likes of Burns, Dunne, Quinn and Fitz? In the bottom of the (gene) pool.
I don't think you should have to read a play to enjoy a production. But in this case, reading the play beforehand would have heightened my enjoyment tremendously. I would definitely have hung in longer for those long monologues and I would have been even more aware of how well Jespersen, Ferguson, Devine and Keating fleshed out the playwright's characters which, after all, typify male 'types': sensitive guy, tough guy, arty guy, literary guy. What DO women want? Well, naturally, they want it all.
As for all the woo-hooing at the end, I have to wonder if the audience really got it. What Walsh is saying is that love is our best bet but in this world it's damned near impossible to find it. Too little, too late for civilization to pull itself out of pool. Not too funny. Perhaps guys in Speedos just make us giddy.