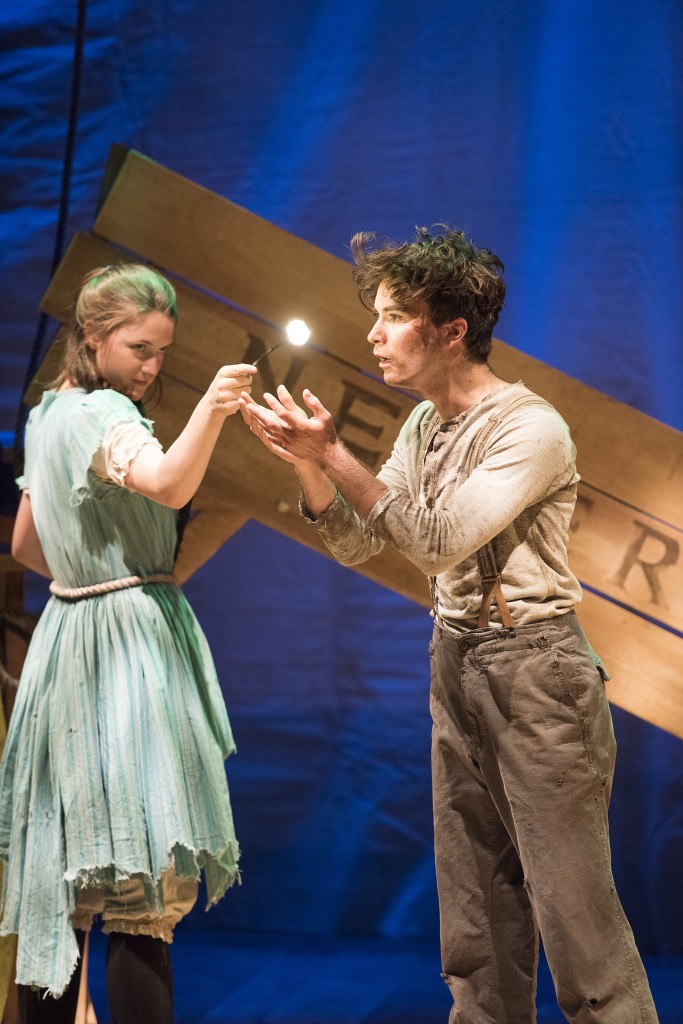 On the Goldcorp Stage at the BMO Theatre Centre until December 27, 2015
604-687-1644/artsclub.com
Posted December 4, 2015
What a rollicking, swashbuckling opening of the brand new Goldcorp Stage at the BMO Theatre Centre. Peter and the Starcatcher is an Arts Club production in this new venue, owned jointly by the Arts Club and Bard on the Beach.
Imagine it's 1855 and two ships set out from Queen Victoria's England: one fast, one slow. They carry identical trunks: one filled with sand, one filled with valuable treasure: "star stuff". Naturally, there are pirates.
If you've ever wondered about Peter Pan's backstory, playwright Rick Elice and director David Mackay make it a voyage so inventive, creative and funny, it will carry you right out of these handsome new digs on 1st Avenue and into the night.
No proscenium, no curtain, the Goldcorp Stage is a highly flexible black box. Lauchlin Johnston's set takes us from dockside – where Lord Aster (Aadin Church) bids farewell to his 13-year-old daughter Molly (Rachel Cairns) – and onto the decks of the Wasp and the Neverland. The show weighs anchor with a rousing sea shanty, "Weigh-heigh, Haul Away".
There's not a smidge of sentimentality in this very smart script. Upon locking eyes with Peter (Benjamin Wardle) for the first time, for example, precocious Molly Aster (who describes herself as "insufferably bright") says there's something about the boy that makes her feel like she "just threw up a little". Could that be love? [The line, apparently, was " I just grew up a little." I like what I heard  better and it suits Molly so perfectly.] As Molly tells Peter, "Girls must be strong, not sentimental". This Molly will grow up to be the suffragette Mrs. Darling in J.M. Barrie's Peter Pan and it will be her children that Peter Pan and Tinkerbell visit years later.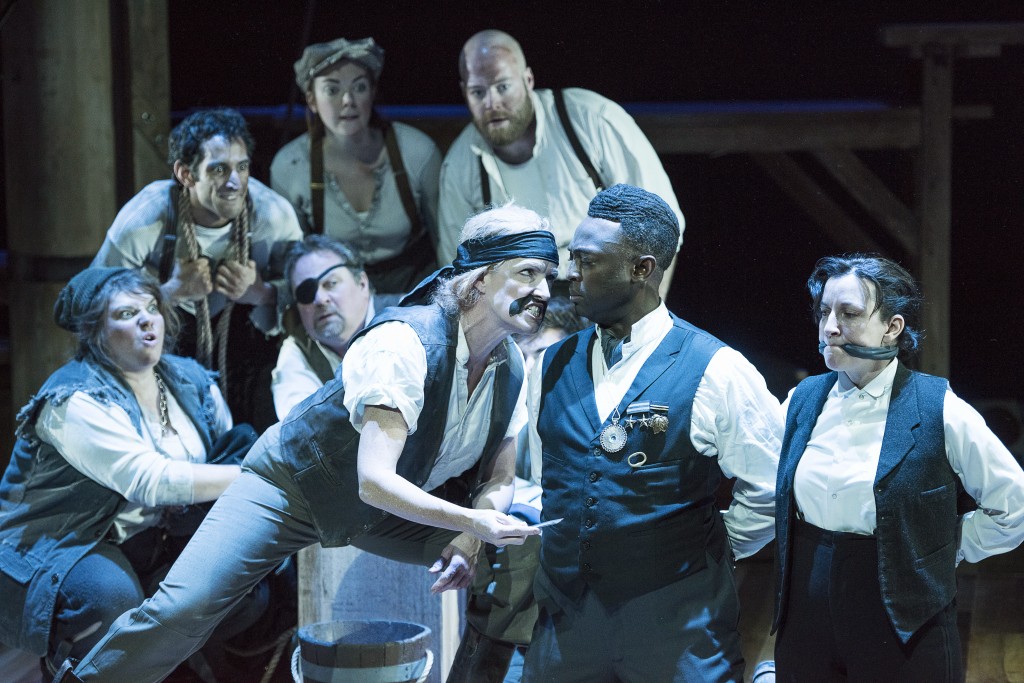 It's a storm at sea of one liners, alliteration and puns. After Black Stache (cross-dressed Colleen Wheeler sporting a mustache) slams the lid of one of the trunks down on his hand – severing it – he orders his mate Smee (irrepressible Emmelia Gordon) to "give me a hand", which Smee does by reaching down into the trunk, handing Stache the bleeding appendage.
Wardle's Peter is endearing and sweet with just the tiniest edge of defensiveness. Peter describes his harsh life in the orphanage before being stolen and shipped for slavery aboard the Neverland. "You can't have a bedtime story without a bed," he tells Molly when she's surprised he's never heard one.
Cairns, as Molly, is spirited, a kind of Nancy Drew forerunner. Molly's full of derring-do and in one of Mackay's most inventive scenes, Cairns crawls around on her stomach in the belly of the ship; rows of performers form the bulkheads and she pushes actors aside to venture from compartment to compartment as rusty doors squeak.
Although Peter and Molly are ostensibly the main characters, Wheeler absolutely steals this show with her outrageous Black Stache: he's a swaggering, suggestive, malaprop-ing nasty and Wheeler has the time of her life with this character. As Stache delivers yet another wicked command, the audience on opening night came close to hissing and booing. Wheeler would have loved it and made mincemeat of us.
Costume designer Carmen Alatorre literally pushes the boat out with a totally over-the-top mermaid chorus line: bustiers with tin cups for breasts, rag mops for hair and long green tails.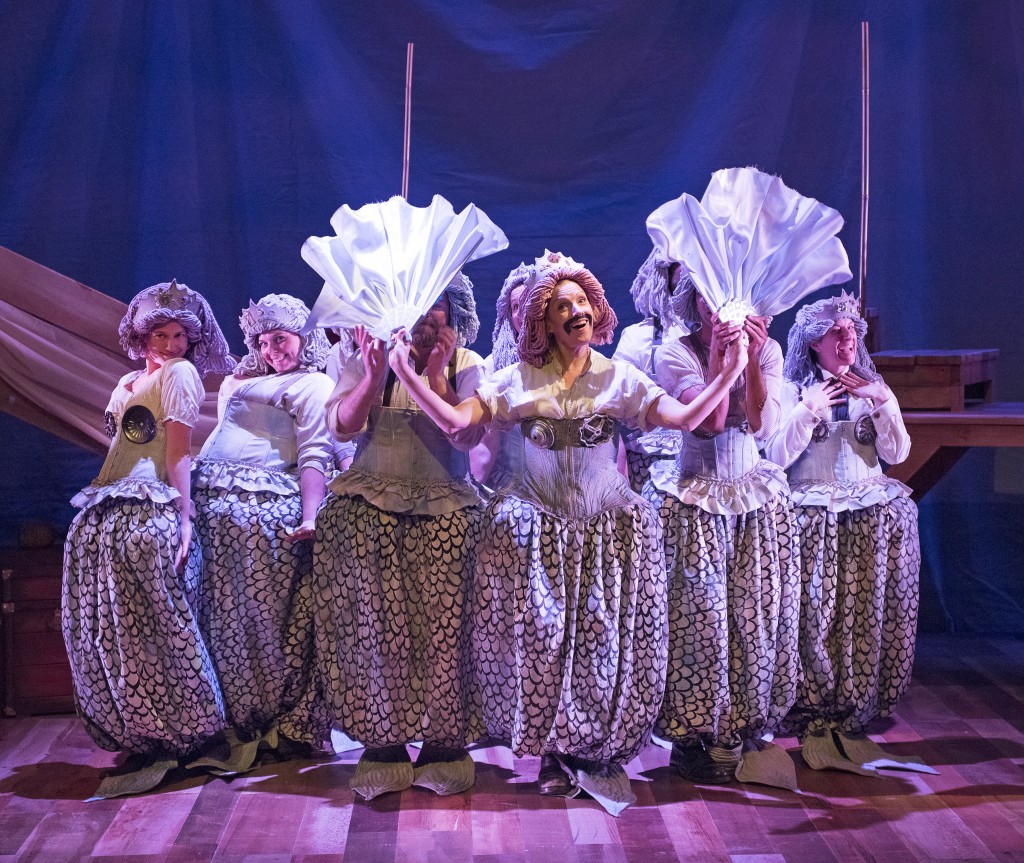 Music by Wayne Barker is played by Caitriona Murphy who doubles as thoroughly decent Captain Scott.
Act 2 goes a bit whacky – more crazy costumes by Alatorre – as the Neverland is wrecked and the passengers and crew are met by Fighting Prawn (Joel Wirkkunen) and the island's savages who intend to feed Molly, Peter, Ted (Chirag Naik) and Prentiss (Katey Hoffman) to the crocodiles.
The journey ends not entirely happily-ever-after – which is a good thing – and the seeds are sown for J. M. Barrie's Peter Pan.
Lots of stars in this Starcatcher – amongst them, the new BMO Theatre Centre with all its gleaming glass and polished concrete.